M&K Sound S300 Speaker System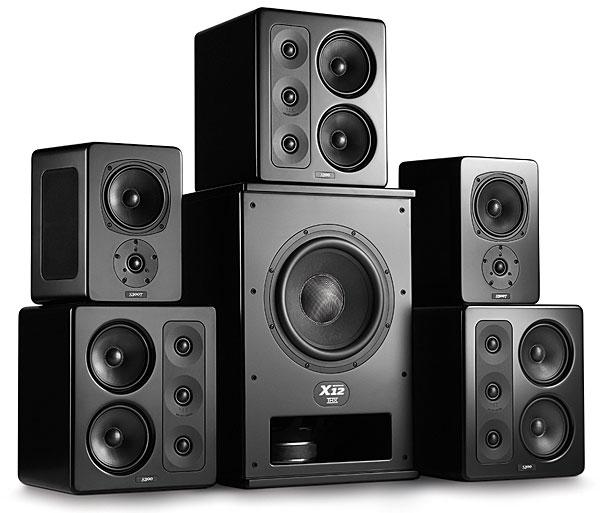 PRICE
$17,700
AT A GLANCE
Plus
Realistic, dynamic sound
Outstanding build quality
Carries on the fine M&K tradition
Minus
Expensive
THE VERDICT
M&K's system is perfect for the movie lover and extremely capable for the discerning audiophile.
It was in February 2000 when I was in a hi-fi store looking at some new electronics and stumbled upon a salesman giving a speaker demonstration to a married couple. I decided to listen in to see if anything piqued my interest. The salesman went through a number of different speakers, and I didn't hear anything remarkable until his last demo: M&K Sound S150s coupled with an MK350 subwoofer. I don't recall the exact track he played, but my jaw dropped when I heard the sound emanating from the speakers. It was as if the entire wall came alive, and I couldn't pinpoint which speakers were active. Much like the wand picking the wizard in Harry Potter, these speakers picked me, and I knew I'd have to own them.
Sadly, it took me three years to convince She Who Must Not Be Crossed to give her blessing, but I've been in audio bliss for over 10 years now with a trio of S150s across the front soundstage and four SS150s across the rear of my home theater.
Earlier this year, I reviewed M&K's outstanding X12 subwoofer and gladly gave it a Top Pick designation. At the time, I eagerly awaited the arrival of M&K's evolution of their S150 loudspeaker: the S300 Series. You've probably noticed that the new product number is twice as high, so does this mean the speakers are twice as good?
A Rich Tradition
It was nearly 30 years ago that M&K unveiled their dual-woofer/triple-tweeter twin-stack driver configuration in the S100B. This was later refined in 1995 with the S150 THX Ultra and then again in 2011 with the S150 THX Ultra MK II. Like the S150s preceding it, the S300 doesn't look like your typical THX-approved rectangular speaker. The Borg would be proud of its 13 x 13.4 x 15.5-inch shape. Compared with that of the S150, the internal volume of the cabinet is nearly twice as much—and it's a lot heavier, too, at 40 pounds.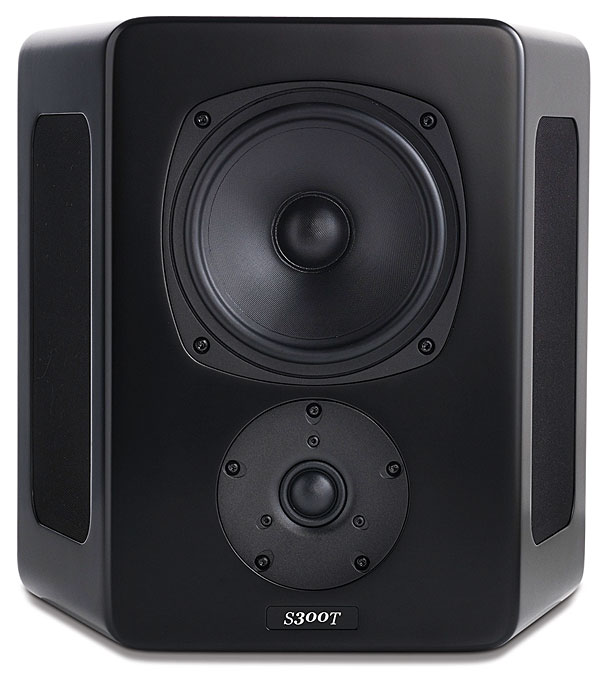 The speaker is handcrafted in Denmark using custom-made drivers from Danish manufacturer Scan-Speak. Included are an open-back tweeter with a cast-aluminum front plate and a 6.5-inch woofer with unique cone geometry and materials optimized for stiffness and internal damping. The identical front LCR speakers have optional adhesive-backed acoustic foam to place between the tweeters (highly recommended if you sit less than 10 feet away) so the drivers don't meddle with each other. The cabinet is a new triple-layer construction with two layers (12 and 9 mm, respectively) of MDF laminated together with 3.5 mm of TAR/asphalt damping material. This is said to minimize cabinet ringing across a wider spectrum of frequencies.
All of the drivers in the LCR speakers are mounted from inside the cabinet, leaving no screws on the front. This lets the woofers sit fully flush against the front baffle with only the diaphragm being visible. While this certainly has a pleasing aesthetic, it also minimizes diffraction. The innards of the speakers include two layers of high-absorbing polyethylene damping plates to help control standing waves inside the cabinet.
The S300T surround speaker keeps enough similarities with the SS150 to make it familiar to me, but these new babies have hit the gym with what looks like some assistance from BALCO. The trapezoid-shaped speakers are quite large at 13.5 inches tall, with the rear width coming in at 13.5 inches and the front at 8.8 (7 inches deep), offering well over twice the internal cubic volume of the SS150. What M&K refers to as a tripole design affords the best of dipole and direct-radiating speakers, with a direct-radiating midrange and tweeter on the front and dipole (side) drivers giving you a diffused sound in order to draw you into the movie environment. While the S300 only comes in a black satin finish, the S300T is available in both black and white.
Rounding out this 5.1 review system is M&K's X12 subwoofer, an 80-pound behemoth that features two 12-inch woofers in a push-pull driver configuration in order to cancel harmonic distortion. For a full rundown of the sub's capabilities, see my April review in print or online, but to summarize: This is one of the best subwoofers I've ever heard in my room, and on bass-heavy sequences, it could literally move the hair on my legs from over 10 feet away.