Miller & Kreisel K-5 Satellite Speaker
M&K's K-5 proves that a small speaker doesn't have to deliver a small performance.
Miller & Kreisel Sound has a habit of being there at the very start of things. The company's timeline stretches all the way back to 1973, when Steely Dan's Walter Becker wandered into Mr. Kreisel's shop and asked him to design a subwoofer and monitoring system for his Pretzel Logic mixing sessions. The rest, as they say, is sub-history. OK, you probably already knew that M&K is synonymous with badass subwoofers, so here's another cool bit of trivia. In 1976, long before the words "home" and "theater" were ever used together in a sentence, M&K introduced their first subwoofer/satellite system. Their pioneering spirit in the pro-sound world is legendary; so, naturally, Dolby Labs depended on an M&K MX-5000 system during their developmental work on Dolby Digital in the early '90s. M&K's list of achievements could easily fill this entire review, so I'll stop myself right now and move on to the subject at hand: their brand-new and most affordable satellite speaker, the K-5 ($149). This little guy, measuring a scant 7.375 by 4.875 by 5.875 inches, can serve with distinction as a front, center, or surround speaker.
When I unpacked the K-5s, I was not a happy camper. I'd requested the K-5's bigger brother, the K-7, but the wires got crossed at M&K. So, I wound up with five K-5s and the matching K-9 powered sub ($550). Yeah, they looked nice enough, but I prefer speakers with more guts than most compact speakers can muster. I'm into big speakers.
But hey, they were sitting there and I didn't have anything else to do, so I checked them out. Hmm, not bad: Even right out of the box, the K-5s sounded damn good. True, on their own, they're bass-challenged; however, once I dialed-in the spunky K-9 subwoofer, the ensemble really sang. I got a little crazy in two-channel mode and pumped up the volume on Moby's Play CD, and the K-5s didn't get weird. Next, I threw on some audiophile faves, like Chesky Records' diva Sara K, and the purity of the sound immediately seduced me. The tweeter, in particular, was a special treat. It's delicate, airy, and very detailed, although I'm sure some folks will feel that it sounds slightly bright. Whatever. I never felt that the K-5 crossed the line and became harsh or irritating. My first encounter turned into an extended listening session, and that's always a good sign.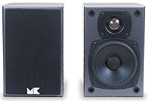 The K-5 looks like just another compact two-way speaker. Its MDF cabinet is wrapped with satin-finished black vinyl, and the front baffle has a cool silvery titanium finish. A ravishing beauty it's not, but the overall look is mildly distinctive. You can use the K-5 in either a horizontal or a vertical orientation, for any or all channels of a home theater or stereo system. Each 5-pound speaker comes packed with a flush-mount wall bracket, or you can use M&K's adjustable ST BT 5 wall brackets ($50/pair). For most of my listening tests, I sat the K-5s on a set of Target Audio FS70 28-inch-tall floor stands. Oh, before I forget to mention it, M&K's metal-and-plastic-nutted binding posts are pretty sturdy—just go easy torquing them down or the plastic jobbies will slip (don't ask).
The M&K engineers cooked up a fresh set of drivers for the K-5 and its bigger brother, the K-7. The 1-inch fabric-dome tweeter features a powerful neodymium magnet, and the 4-inch woofer sports a treated-paper cone, a substantial cast-metal basket, and dual magnetic shielding. Most power-handling ratings strike me as wishful thinking; however, based on the abuse I heaped on the K-5s, their 150-watt specification seems fairly credible. M&K's phase-focused crossover network, which is similar to the designs they use on their professional studio monitors, maintains the drivers' wide dispersion. Quality-control efforts go beyond the run-of-the-mill frequency-response and distortion tests; M&K techies actually play music through each K-5 to make sure it's up to snuff.
I compared the K-5 with my old fave, the $180/pair Energy Take 2 compact speaker, at matched levels. Wow, these are two very different-sounding speakers. The Take 2 sounds a bit cloudy and flat compared with the vibrant K-5. I guess the Take 2 is really showing its age. Sure, neither speaker has much going on under 100 hertz, so I used the K-9 sub for all of my K-5/Take 2 comparisons. Even with the sub, the Take 2s couldn't muster a fully natural sound from the guitars and voices on Steve Earle's soulful acoustic number "Valentine's Day." They really stifled the groove. The K-5s were far more transparent and vivid beasts, rendering Earle and company with a more-immediate presence. The K-5s can also play a lot louder without distress than the Take 2s can. Driven full-range in a music system with no bass management, the K-5s delivered sound pressure levels up to the low 90s in my large listening room—that's fairly loud. I guess M&K's pro-sound heritage means something after all.
When I hitched it to my Pioneer VSX-27TX receiver, the K-5/K-9 combo came surprisingly close to sounding like a floorstanding speaker. That's why I felt it was fair to go ahead and compare it with my NHT home theater setup (SuperTwo floorstanders up front, a SuperCenter, and SuperOne satellites in the rear). I admit that it didn't look like a fair fight: The tiny K-5s were dwarfed by the 39-inch-tall SuperTwos. Remember, I had the K-9 pumping out the under-100-Hz bass, so the contest wasn't that uneven. Yes, the NHT array yielded a more-completely developed upper bass and a fuller-bodied midrange, and it didn't get flustered when I pushed it to loud levels on the Men in Black DVD. The K-5s weren't as happy at those levels, but their image focus was clearly better than that of the SuperTwos. The little guys projected a nicely fleshed-out three-dimensional soundstage.
The SuperTwos' bottom-end prowess didn't stomp all over the pint-sized K-9. The little sub's midbass was tighter, and it went just about as deep. Of course, the K-9's 8-inch woofer got into trouble when I pushed it too far; beyond a certain level, it totally lost its composure. You should plan on using the K-5/K-9 combo in a smaller (or shall we say, more-intimate) home theater. Summing up: The M&K ensemble was lively and limber, and the SuperTwos were comparatively pleasant and relaxed.