McIntosh Unveils Scaled Down Version of its Flagship Speaker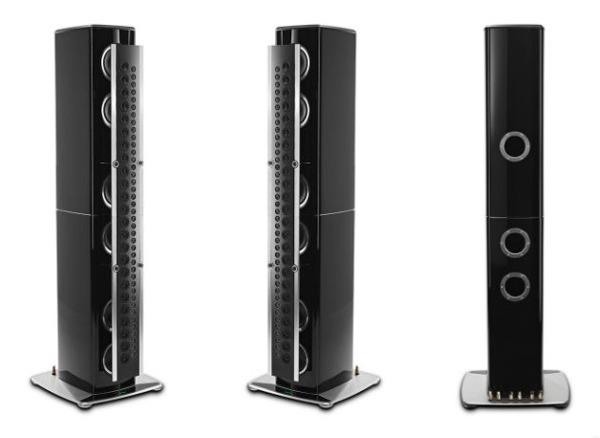 McIntosh today introduced an "equally impressive but more accessibly sized" version of its 7-foot XRT2.1K flagship speaker.
Although it's 14 inches shorter, 173 pounds lighter, and has 11 fewer drivers than its big brother, the new XRT1.1K is still a looker with a 64-driver line array comprising 24 (2-inch) upper-frequency midrange drivers and 40 (0.75-inch) tweeters bolstered by four 6.5-inch woofers and two 6.5-inch low-frequency midrange drivers — the same ones used in the XRT2.1K.
McIntosh's line array layout, which suspends a column of tweeters and upper-frequency midrange drivers in front of six large drivers in a ported tower-style bass enclosure rated down to 16 Hz, is designed to yield a wide and even sound field with "exceptional stereo imaging in nearly all listening positions."
The XRT1.1K is a three-way design rated to handle up to 1,200 watts of power — 800 watts less than the four-way XRT2 — and has a crossover network that employs high-current, low-loss capacitors and inductors to ensure an even frequency response over the audible range. The inductors were chosen for their linearity at high power levels, which helps prevent distortion at any frequency, according to McIntosh. The network also employs self-resetting PTC type fuses to provide an extra measure of protection for the drivers.
Like the XRT2.1K, the XRT1.1K looks as striking as it sounds. The bass cabinet is finished with seven layers of high-gloss piano black paint with touches of brushed and black aluminum, while the line array evokes the classic McIntosh front panel with its black center section and silver trim. The steel spiders that suspend the array are capped with magnetic covers that resemble McIntosh control knobs to complete the look. The black-knit speaker grilles (not shown in photo) attach via magnetic fasteners for quick and easy removal.
The tower is supported by a base plate made of machined aluminum and glass with four adjustable feet and a McIntosh logo that can be illuminated when used with the company's amplifiers.
McIntosh's gold-plated Solid Cinch binding posts are designed to prevent speaker cables from coming loose and have separate pairs of binding posts for mid/high, low, and subwoofer frequencies to accommodate tri-amping or tri-wiring.
For more information, visit mcintoshlabs.com.