A Marriage Made in Movie Heaven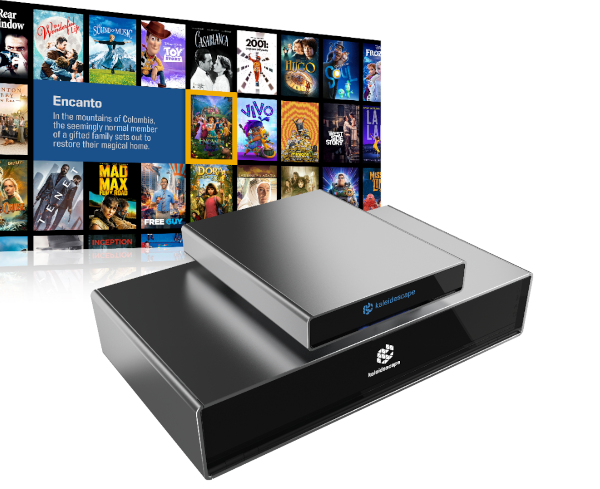 Hands On with the Kaleidescape Strato C Movie Player and Terra 48TB Movie Server
Reviewing A/V products began as a hobby that led to some paid gigs starting 16 years ago. Years of reviewing fantastic equipment opened my eyes to two concepts: Better equipment does come with a cost, but there's this thing called "The Law of Diminishing Returns." For example, in the AVR world, a $1,000 receiver offers a lot more features and functions than a $300 one — more power, more HDMI inputs, more channels, more robust onboard EQ, etc. But what about a $3,000 model versus one that costs $1,000? Likely it will also offer more, but not necessarily three times the value.
A major benefit of reviewing AV gear is having weeks or even months of hands-on time to evaluate products to get a feel of how good they are. The catch is sometimes you don't want to see a useful piece of equipment leave your home. That was the case with the Trinnov Altitude 16 surround processor I reviewed last year. After about three months I fell in love with it — particularly its best-in-class room correction with its ability to remap your speakers within the 3D space of your room. When I have friends and family over, this capability is one of the things I highlight by turning it on and off. The difference is astounding.
Ultimately, I couldn't part with the Trinnov and had to convince "she who should not be crossed" that we needed to keep it. She relented, but that was one of the toughest sales jobs I've ever tackled — and I sell things for a living! The processor has been in my A/V rack for over 18 months and remains the best upgrade I've ever made to my theater. I have zero desire to change it. But does that mean other upgrades are out of the question? Certainly not!
Enter Kaleidescape
Here's where Kaleidescape enters the picture. Kris Deering reviewed the Strato S 4K UItra HD movie player in 2020 and followed up last year with a review of the Compact Terra 12 TB movie server. Both received well-deserved Top Pick designations. Turns out, Kaleidescape has another movie player dubbed the Strato C Movie Player ($3,995), which like the Strato S, is a premium 4K Ultra HD movie player but with a couple of differences. First, it has a smaller form factor — it's about half the size of the S. Second, it doesn't include onboard storage, meaning it requires either a Terra, Compact Terra, or a Strato S server on the same network to serve movies to the player.
Compact Terra servers are available in 6-terabyte ($4,995), 12TB ($7,995), or 22TB ($10,995) capacities. These models hold roughly 100, 200, or 350 4K movies each. For larger collections, the full-sized Terra servers are available in 48TB ($17,995) and the newer 88TB ($25,995) capacities, which hold up to 800 or 1,500 4K movies, respectively.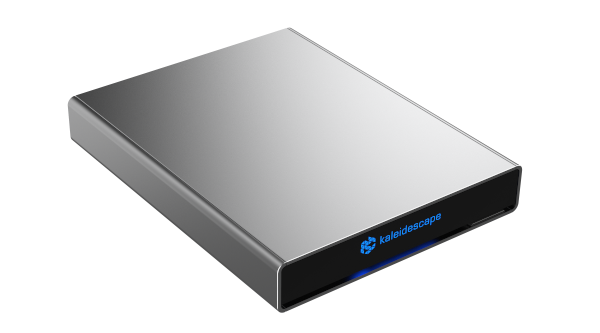 Kaleidescape offered to provide a Strato C player (above) and 48TB Terra server for me to check out and I was happy to oblige. The server came preloaded with 42 titles selected by Kaleidescape and Trinnov Audio as part of an ongoing collaboration between the companies. The products arrived at my home via UPS in two boxes and I did the installation myself, although some may prefer to have an A/V integrator do the job for them. Since I had space in my equipment rack, I installed both components there. However, you can install the server anywhere in your home — it doesn't need to be in the same room as the Strato C.
Each unit is powered by an external 12-volt power supply. Kaleidescape includes 1.5-meter shielded Cat 5 and HDMI cables in the box. The Strato C is one quarter the size of the full-size Terra server. In fact, it can be placed next to a Compact Terra server and still fit into one rack space. The rear panel has the power input, dual video outputs (one with audio to serve older HDMI 1.4 systems), coaxial and Toslink digital audio outputs, a USB port, a Gigabit Ethernet port, an IR input, and a service port.
One thing that doesn't come with the player is a remote control but you can buy one separately for $39. I programmed my URC MX-990 universal remote to control the player without any issues, and the unit is fully compatible with popular control systems and other universal remotes. Kaleidescape also offers an app for both Apple and Android that not only controls the player but provides access to the Kaleidescape movie store.
The Terra movie server (above) is a standard-width component with a more traditional form factor and "2RU" height; overall dimensions are 17 x 3.5 x 10 inches (W x H X D). The front panel sports a Kaleidescape logo — which can be turned off in the software interface — and the unit is cooled by two fans in the rear panel. One item worth noting: Gigabit Ethernet is a requirement given the bandwidth needed to seamlessly stream 4K video and lossless audio throughout your home. Wi-Fi is not an option.
Set It Up
Once I installed and powered up the components, they showed up on my local network. The Server has a central interface and is accessible from any web browser if you type in its IP address. The page is separated into three sections: Movies, History, and Settings.
The Movies page lists all of the titles housed on the server. The History tab shows the available storage on the unit and a rundown of everything you've downloaded sorted by the Start Time, Title, Source, Type, and Status. For example, I could see that I downloaded Top Gun: Maverick in 4K HDR on Aug 22 at 9:01 pm from the Kaleidescape Store and it took 15 minutes (file size was 68.1GB and the download speed was 622.3Mbps). Finally, the Settings Page shows you your Movie Server(s) and Movie Player(s). Each has a settings page that is accessed with a click of your mouse.
The server settings are basic and split into two sections: Network and Control. Network shows your current network configuration and gives you two options — DHCP or Static IP. The Control page deals with communications through the serial port and Control Protocol Device ID. I didn't need to change anything there.
The Strato C settings are much more complicated and broken down by Video, Audio, Network, Control, and finally, Lighting & Shades. The first four are self-explanatory to an A/V enthusiast; the last one allows you to integrate Kaleidescape with a Lutron RadioRA 3 or HomeWorks lighting solution. I don't own either of these systems, so I wasn't able to test how well they work.
Setup time was less than 30 minutes, including unboxing, moving things around my rack to accommodate the new equipment, plugging everything in, and configuring the two units to speak with each other over the network. Easy peasy!
My one and only prior experience with a Kaleidescape system was during a visit to Kris Deering's home in the Pacific Northwest. The purpose was to visit an old friend and see the new JVC NZ9 projector he installed. Experiencing the Kaleidescape firsthand piqued my interest. Using the system was very intuitive and within 10 minutes of playing around with the various menus, I felt completely at home. So, when I got the review system up and running, it was already familiar.