Mark Levinson Makes Audiophile Ownership Less Expensive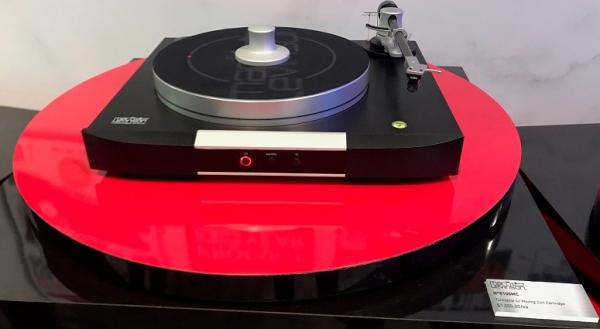 There are those marquee brands in the high-end world that carry instant name cachet and immediately call to mind cost-no-object designs that most mortals can only aspire to owning. Dropping names like Krell, McIntosh, Trinnov, and Wilson Audio lets fellow AV aficionados know you're familiar with truly high-end. Mark Levinson is a company that definitely belongs on that list of names, and with the company's 5000 Series of products, they are trying to make membership in the audiophile owners' club a bit less daunting, and also attract the next generation of music loving audiophiles.
At CES Levinson unveiled the No 5105 Turntable, a premium precision-engineered turntable with a completely original custom design at a price point that won't require cleaning out your 401K.
Featuring the same industrial design elements found throughout the Levinson line, the No 5105 is beautiful to behold and will be a statement piece that commands the attention of any room lucky enough to have it, even before the needle drops. The front panel is a one-inch thick, bead-blasted, black-anodized, solid aluminum machined and contoured to flow into the sleek glass display. Tinted glass recessed into the front panel house aluminum Speed and Standby control buttons, with the iconic Mark Levinson hourglass knob designed echoed in the heavy record weight.
The table includes a custom 10-inch high-gloss black carbon fiber tonearm tube which is fused to a solid aluminum headshell with an integrated finger lift. A 14-pound solid aluminum platter rotates on ultra-precise bearings, with maintenance-free brash bushings ensuring years of reliable operation.
To further stabilize the platter, the 5015 features a nearly 2-inch thick solid aluminum plinth machined from a single billet and resting on three adjustable aluminum feet. An easily visible integrated white bubble level assures listeners that the deck is perfectly level. While no weight was available, the entire deck is shockingly heavy, outweighing most AV receivers.
The No 5105 augments the Levinson turntable line-up, providing a far more affordable option to the still current No 515 that retails for $12,500. The No 5105 will be available either with or without a factory-installed moving coil phono cartridge. Pricing starts at $6,000 without cartridge and $7,000 for the version that includes an Ortofon Quintet Black cartridge. Both versions will be available in Summer 2020.