The Magfinicent Seven (2016)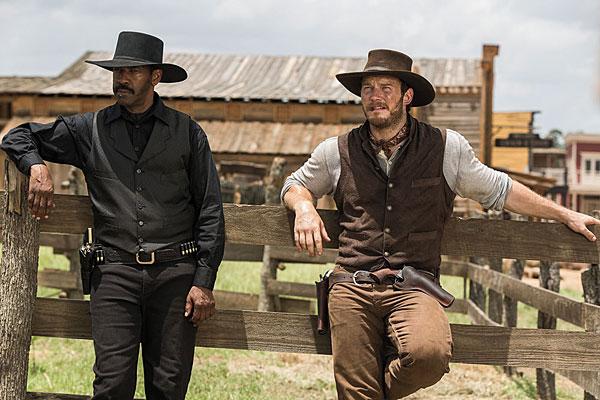 Having an ensemble cast can be tough for a director to get right, but director Antoine Fuqua hits the ball out of the park here. Each character's development comes slowly and naturally as the film progresses and never feels forced or contrived. The film is a remake of the original 1960 film, which was a reimagining of the Japanese film, Seven Samurai by Akira Kurosawa, but it feels fresh and new throughout. The chemistry between the seven heroes is outstanding, and there's a perfect blend of action, drama, and well-placed comedy. The ending is a bit over the top, but that's the Hollywood way.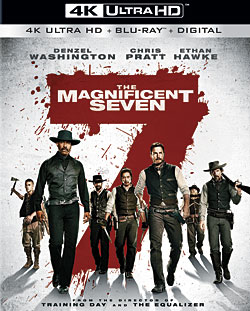 The movie was shot using a variety of film-based cameras with a 35mm negative, and the 4K UHD release is sourced from a 2K master. There's a resolution uptick versus the 1080p Blu-ray that can be seen in fine detail in clothing, facial pores, and the elaborate Western sets, but the true star of the video encode is the fabulous cinematography from Mauro Fiore, which is spectacular. HDR highlights are put to great use, with sun streaming through windows and layered shadows in the corners of various indoor shots.
The Dolby Atmos track is outstanding, and from the first scene you know you're in for a treat as an explosion that takes place off-screen fills the room with a copious amount of bass. Gunfire rings out on many occasions as if you're a spectator in the shooting gallery, dialogue is always clear and intelligible, and the sweeping score complements the onscreen action.
The supplements are housed on the Blu-ray Disc and feature four deleted scenes, six featurettes that delve into the cast, the director, location shooting, a closer look at the villain, training the gunslingers, and adapting the elements of the 1960s score to a present-day audience. Finishing things off is a Vengeance Mode viewing option that cuts into the film with vignettes about the production and lasts nearly three hours, along with a UV Digital Copy of the film.
Blu-Ray
Studio: Sony, 2016
Aspect Ratio: 2.39:1
Audio Format: Dolby Atmos / TrueHD 7.1 core
Length: 133 mins.
MPAA Rating: PG-13
Director: Antoine Fuqua
Starring: Denzel Washington, Chris Pratt, Ethan Hawke
When industrialist Bartholomew Bogue starts to terrorize and take control of the town of Rose Creek, its concerned citizens pool their money in order to hire a group of mercenaries to drive the villain—and his private army—from the town. The widow of one of Bogue's victims hits the road and meets Sam Chisholm, who accepts the job and goes about recruiting six other men to the task, all with varying skills that complement one another in order to bring justice to Rose Creek.