Listen Up: The 2012 Academy Awards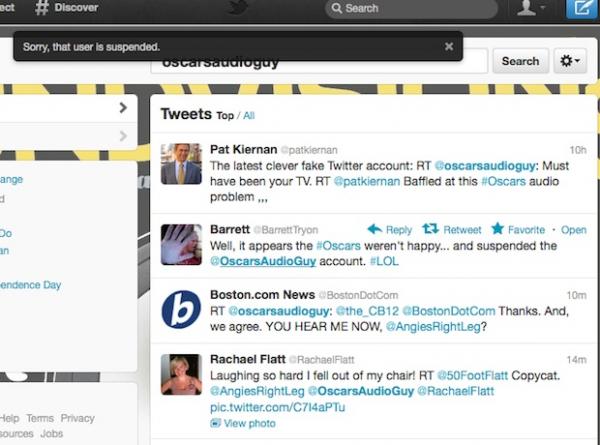 While most folks were talking about either Angelina Jolie's leg, or J-Lo's alleged wardrobe malfunction, many people noticed a more glaring problem during the broadcast of the 2012 Academy Awards. While the show is generally a model of excellence in production, almost immediately viewers noticed a problem with the audio feed.
Some viewers described it as feedback. Other people were convinced someone's cell phone was beeping in the audience. Trust me, words that an audio engineer never wants to hear about their mix were flying around Twitter and Facebook. Words like "metallic," "resonance," "tinny," "grating," and more. Makes sense that a silent film won Best Picture, no?
Barrett Tryon, who works in TV in Colorado Springs, went so far as to start a Twitter feed from @OscarsAudioGuy. An early tweet: "Give me some tin cans and string and we can create the 84th Academy Awards wherever you'd like." His last post of the evening was in regards to finding new employment. Let's wish him luck (or hope that he was kidding - his Twitter account, sadly, was indeed suspended). Considering that the Academy Awards broadcast is usually nominated for an Emmy award for best sound mixing for a variety or music series or special, someone very well may really be looking for a new job this morning.
So what was going on during Sunday's broadcast? Early on some theorized that it was strictly a problem with the microphones, but after some microphones were swapped out, the problem remained. People weren't noticing the problem on the music feed, pre-taped pieces, or even the audience mics. But later reports narrowed down the problem. People listening in Dolby Digital 5.1 weren't hearing the issues; it was only being reported by those listening in stereo. In fact, many people were able to switch back and forth between surround and stereo, and reported that the problems went away in surround and returned when they switched back to stereo.
Other viewers listening in surround noted that the main presenters microphones were mixed into all three front channels: left, center, and right. This all points to the most likely (although we may never know) explanation: the problem was a phasing issue, resulting from the downmixing of surround into stereo. It makes sense – the pre-recorded segments, music, and audience were most likely mixed in stereo, not 5.1 surround, with nothing in the center channel to run amok when downmixed.
What did you hear? Do you have a theory to explain the problem? Unless someone from ABC speaks up - and we kind of doubt they will - we may never know for sure. My personal theory? Sunspots.