LG 84LM9600 LCD Ultra HDTV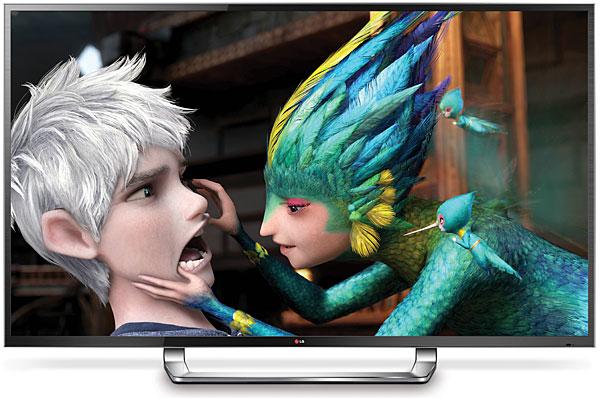 PRICE $17,000
AT A GLANCE
Plus
Extensive color control
Sparkling 3D
Minus
Black level could be better
THE VERDICT
A good overall performer and a solid first 4K effort from LG.
It's rabbit season at the Sound & Vision ranch. The bunnies are reproducing at a torrid rate, and you can barely take aim at one before another dozen pop up.
We're not talking cottontails here, but rather HDTVs. Yes, it's that time of year again, when the new sets arrive en masse in anticipation of the upcoming end-of-year holiday season. The hot tickets this year are 4K (more precisely, 3840 x 2160) or, as it has been dubbed by the industry, Ultra HD, and OLED. On the 4K front, two new LG sets, at 55 and 65 inches, recently hopped into view to fill out a 4K lineup that began with the big 84LM9600—the latter our subject here.
What's Up, Doc?
The 84LM9600 is a big fella, but reasonably thin. Our sample was delivered by two rugged stevedores, on hiatus from the set of Axe-Men, to free it from a wood crate that likely weighed more than the set. But I suspect the actual consumer packaging will be the typical, heavy-duty cardboard box.
Considering its size, however, the 180-pound (with stand) LG is less of a back-breaker than you might expect. A narrow black border frames its reflective screen, and all the inputs and outputs (some of them requiring special, provided adaptors) are on the back. That's where you'll also find the two woofers in the set's reasonably listenable audio system. The printed owner's manual provides a minimum of information—little more than how to connect sources and turn on the set. For more information, you'll have to call up the 188-page onscreen User Guide on the TV screen or download it onto your computer or tablet.
Fire up the set, and a Home menu fills the entire screen, dominated by links to the set's Internet apps. Fortunately, the remote control offers direct access to a Q. (quick) Menu that opens a less intimidating range of selections across the bottom, including access to the inputs and settings. The latter include the usual range of picture modes, only some of which provide the most important controls, including the two Expert modes and one Cinema mode (those were used in this review). The Expert modes are ISF certified and can be locked following calibration.
Those important controls include Color Gamut (including a BT709 option—otherwise known as Rec. 709 HDTV standard, favored by reviewers), Gamma, Color Temperature, both 2-Point and 20-Point White Balance, and a full Color Management System offering Saturation, Tint, and Luminance for all the primary and secondary colors.
The Sharpness control (in 2D) is separated into H (horizontal) and V (vertical) selections. Even when these are turned to zero, there's some white-line edge enhancement, visible on test patterns but not on real-world sources at a normal viewing distance.
TruMotion (motion compensation) offers several selections, including a User mode (in 2D) with separate adjustments for Judder and Blur. But even with that, I left TruMotion off for all my serious viewing.
The LG employs LED edge-lit local dimming. This is not as effective as local dimming that uses full array LED backlighting in multiple zones behind the screen, but it nevertheless provides a needed black level enhancement. There are three selectable levels: Low, Medium, and High. Counterintuitively, the max-imum and most effective setting is Low.
That's a minor oddity, but I discovered another, more bothersome issue with local dimming: It shuts off automatically when you switch from 2D to 3D (but not the reverse), even when the Settings menu indicates that LED Local Dimming is turned on. To re-engage it, you have to turn the LED Local Dimming control to another position—such as Off—then back to an active setting. I suspect this could (and should) be fixed with a firmware update.
The set's remote control, dubbed the Magic Remote, was, for me, the most frustrating such device I've ever used. You point it at the screen and move a cursor to the control you wish to select. But its aim drifted badly, and more often than not, I found myself pointing it at the floor to make a selection on the screen. LG says this was endemic to my sample, which used earlier technology, and that this has now been solved (and reported on) elsewhere. The set also offers limited voice recognition and additional motion detection features via this remote, but I didn't test these.
LG's Picture Wizard feature, seen in past LG sets, is also included. It's designed to assist you in setting up the basic picture controls and can provide a reasonably usable pre-calibration result.
As with all LG LCD sets, the 84LM9600 uses passive glasses for 3D. These are lighter, more comfortable, and cheaper than most active glasses. They also provide a brighter 3D image with less potential for ghosting. The set comes with six pairs; extras are available at $25 for a two-pack. The main downside to passive-glasses 3D is that it reduces the vertical resolution at each eye by half. That's a disadvantage in a 1080p set, where the 3D vertical resolution per eye drops to 540p, but in a 4K set such as this one, with a native vertical resolution of 2160, each eye sees a full HD 3D vertical resolution of 1080p.
With special glasses (but not the standard 3D glasses), the set also offers Dual Play gaming. Two players wearing these optional glasses can each view just his part of the action without the need for a split screen.
LG's Smart TV features may be used either wired or, with the built-in receiver, wirelessly. They include access to such sites as Netflix, YouTube, Vudu, Twitter, Facebook, and more, presented in an organized form on the Home screen. You can also watch TV on your smartphone with LG's Smart Share Plus, and watch or listen to music, photo, and video files over your home network. You can also use the set with an external keyboard, mouse, or (LG-compatible) gaming controller.