Lexicon's SL-1 Speaker Lets You Steer Sound Around the Room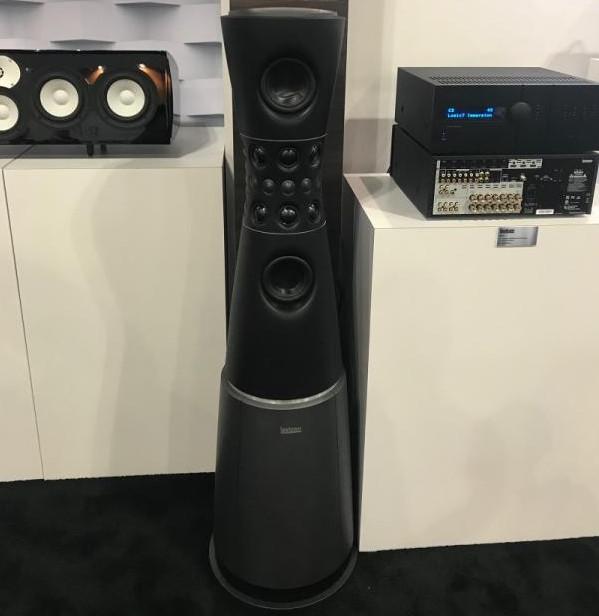 Launched at the high-end Munich audio show this past May, Lexicon displayed its new SL-1 active loudspeaker at CEDIA. The flagship system takes a radically different approach to providing either a pinpoint audio image or room filling sound by employing a ring of individually amplified and controlled drivers. The speakers can be freely positioned and use advanced beam steering technology to aim and focus the sweet spot almost anywhere in the room to ensure the best possible sound at the listening position.
Each SL-1 tower has 33 drivers, including twelve 0.75-inch tweeters, sixteen 2-inch midrange drivers, four 5.25-inch woofers, and a 10-inch subwoofer. The tweeters and midrange drivers are arranged in a ring around the circumference of the speaker, allowing the sound steering technology to aim the sound where desired. A total of 23 amplifier channels deliver 650-watts (RMS) to each speaker and, when activated, a discreet LED ring on top of the speaker indicates the width of the audio image or where sound is being pointed.
The speakers require only a connection to power as the Lexicon SLC-1 wireless controller, which is included as part of the package, remotely accepts all source connections. The SLC-1 has inputs for four HDMI connections that support both Dolby Digital and DTS audio as well as HDCP 2.2 signals up to 4K resolution and an HDMI output supporting ARC (audio return channel). Analog and optical audio inputs are also provided.
The SLC-1 connects to the home network via either standard Ethernet cable or Wi-Fi (802.11 b/g/n/ac), with the system supporting multiple audio formats including PCM, AAC, FLAC, MP3, and WMA in up to 24-bit transmission. The SLC-1 also supports Bluetooth and Google Cast for streaming audio.
Audio is controlled by using the SoundSteer mobile app available for Android and iOS. By connecting to the speakers, the sweet spot can be adjusted in real time, steering or widening the sound for optimal performance at any seating location. Users can also store presets to recall preferred seating positions or sound configurations.
The Lexicon SL-1 speaker system will be available at the end of Q1 2020 at a suggested retail price of $50,000 for the system.