Latest Software Reviews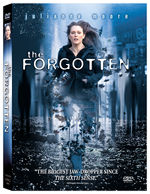 DVD: The Forgotten—Columbia/TriStar
A twisting, turning, supernatural story,
The Forgotten
stars Julianne Moore as Telly, a woman grieving the loss of her 8-year-old son. The only problem is, everyone around her insists that the boy she misses so desperately never actually existed. As she continues to cling to her memories, she finds herself sinking further into a nightmare. Although the heart of the film is about the unbreakable bond between parent and child, the story offers enough government conspiracy and
X-Files
-type intrigue to give it wider appeal.
Featuring a gorgeous 1.85:1 anamorphic picture, the DVD offers a lot of detail, even in the darkest scenes. It moves seamlessly between the nightmare's blue-hued colors and Telly's warm, bright memories. The Dolby Digital 5.1 audio provides clear, easy-to-understand dialogue, and rich-sounding music and bass-loaded effects.
The extras package consists of deleted scenes—including an alternate ending—that are both integrated into the full-length film and available separately. (However, as with most deleted scenes, these were probably best left on the cutting-room floor.) A making-of documentary called "Remembering the Forgotten," and a feature-length commentary from director Joseph Ruben and writer Gerald Di Pego round out the package.—Christy Grosz
DVD: Catwoman—Warner Brothers
Halle Berry revived the comics' most seductive villain in 2004. Aside from a new midriff-revealing leather catsuit (meow!), there's little to recommend this movie, which produced a hairball at the box office.
Patience Phillips is a put-upon graphic designer who pays with her life after she overhears damning information about her company's latest cosmetic cream. Resuscitated by a mystical Egyptian Mao cat, she stalks the night with polished claws and lips, on the prowl for revenge against the cosmetic firm's owner and his icy wife (Sharon Stone). The filmmakers actually expect us to believe that the lithesome, lovely Patience is a bumbling, fashion-challenged nitwit who can't land a date. Yeah, right. Even Catwoman's whip-cracking can't save this mess.
Fortunately for us, the 2.35:1 anamorphic transfer highlights every one of Berry's curves. Much of the action occurs at night, yet every detail of Catwoman's costume—what little there is—is fully displayed. The Dolby Digital 5.1 mix is equally impressive. Sound effects seem to come from every direction as Berry swishes around the screen.
The most worthwhile supplement is a 30-minute look at the history of the character. For those who grew up with Batman on TV, it's an enjoyable blast from the past, featuring interviews with every actress who has portrayed the felonious feline, from Julie Newmar to Michelle Pfeiffer. Adam West himself is even on board to assess the actresses who have foiled Batman over the years. Oh, how we longed to be in his boots.—Gary Frisch
LATEST VIDEO