Latest Software Reviews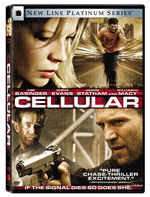 DVD: Cellular—New Line
Abducted Jessica Martin's frantic wire-connecting on a smashed-up landline phone finally connects her with cell-phoned surfer-dude Ryan (Chris Evans) in
Cellular
, an action thriller that has just enough cool touches to make it effective. After Jessica (Kim Basinger) is threatened by three men looking for her husband, she is forced to protect her child, give up his locale, and beg this skeptical stranger to believe her and help her. Ryan eventually does and is determined to aid and not lose their tenuous phone link. Part
Speed
, part
Phone Booth
, this ride is filled with crashes and chases and is a high-octane trip that's a taut 95 minutes.
The 2.40:1 anamorphic picture is crisp if not spectacular, and the Dolby Digital 5.1 soundtrack makes nice use of the subwoofer and surrounds. Dialogue is understandable and not drowned out by the bombast, and the crackling phone effects are impressive throughout. Extras are unusual and refreshing. A short documentary on phone history and how the technology has progressed electronically over the years is entertaining and not techspeak-driven, and a segment on the 1999 LAPD Rampart Division corruption scandal, which inspired certain story elements, is fascinating and engrossing.
Performances are first-rate, but Evans steals the show. Completely believable, he nails the desperation, emotion, and pressure of a skeptic who is inexplicably drawn into this chaos and must be completely trusting. The simple setup and plot are clever. If you're a fan of nonstop bedlam, hop on board.—Tony DeCarlo
DVD: Fast Times at Ridgemont High/Dazed and Confused: The Ultimate Party Pack—Universal
Films like Fast Times at Ridgemont High and Dazed and Confused come along about once every 10 years. Both manage to cut through the sexual hijinks and drug jokes inherent in all so-called "teen flicks" to really capture what it was like to grow up in a particular time and place. I can watch both of these movies over and over, and that's why I love them: I get older, and they stay the same age.
Both Fast Times and Dazed have been available on DVD for years, but now they have been remastered and packaged together. You don't have to buy The Ultimate Party Pack to get both films—but it would be a lot cooler if you did. Fast Times is frustrating, as the new Special Edition still does not contain the multiple deleted scenes that air each and every time Fast Times is shown on commercial television. The menus and extra features (including the commentary from director Amy Heckerling and writer Cameron Crowe) are also identical to the initial release, but at least the soundtrack has finally been remastered from mono into Dolby Digital 5.1.
Dazed and Confused fares better, although it had to, as the original release contained no bonus features whatsoever. The soundtrack has also been remixed in Dolby Digital 5.1, and both films sport new anamorphic 1.85:1 transfers that are big improvements over the originals. Dazed does offer nine deleted scenes but unfortunately still doesn't feature commentary from director Richard Linklater. While the absence of some much-needed bonus material does not automatically qualify these releases as bogus, with a little more attention to detail, they both could have been totally awesome instead of just all right, all right.—Gary Maxwell
LATEST VIDEO