Latest Software Reviews
DVD: Rodgers and Hammerstein's Cinderella—Image Entertainment
Audio: 3
Video: 3
Extras: 4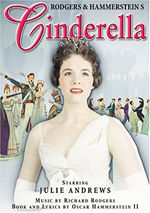 Originally devised as a Broadway-caliber musical for CBS in 1957,
Cinderella
is making its very first appearance on home video since it aired live on the network to a record-breaking audience.
Starring a youthful Julie Andrews as the girl who marries a prince, this musical looks and sounds surprisingly good for a television program that was thought to be lost for nearly 60 years. While the 1.33:1 black-and-white picture lacks detail and is marred by dust and dirt, it has a decent amount of contrast throughout. Meanwhile, the single-channel Dolby Digital soundtrack, though lacking a lot of dynamic range, still delivers the classic songs with aplomb.
A nostalgic set of supplementary material rounds out the package. Most notably, the disc offers Richard Rodgers and Oscar Hammerstein's appearance on The Ed Sullivan Show, in which Rodgers conducts the orchestra and Hammerstein performs a beat-poet-type recitation of the lyrics to "Do I Love You (Because You're Beautiful)." (It's quirky, but it somehow works!) And the making-of documentary, "A Lovely Night" features interviews with a handful of the surviving cast members, including Andrews, and delves deeply into the fascinating history behind the film's presentation.—Christy Grosz
DVD: The Rocky Anthology—MGM
Video: 4
Audio: 4
Extras: 1
Despite some unfortunate '70s style curses, Rocky is a simply timeless tale of the American spirit, and the start of something big: The second installment is a little heavier-handed but still wildly satisfying. The rest become more cartoonish—the Cold War–themed IV is almost laughable now—until the franchise flamed out with V.

These are the best-ever presentations of the entire quintet, all 1.85:1 anamorphic with spiffy high-definition remasters. The image is basically clean, save for a digital haze in shadowy or smoky areas of the frame, which are fairly common. Reds and blacks are especially strong. All carry Dolby Digital 5.1 soundtracks and, a rarity for MGM, Rocky is given a DTS track. I wish I could say that the 1976 landmark has been remixed to stand toe-to-toe with today's best blockbusters, but rear-channel use is timid, although fidelity is solid. Rocky is the only movie in this set with its theatrical mix also included, in this case, mono. The original and the first sequel are configured single-sided, dual-layered, while III, IV, and V are dual-sided, single-layered, with full-frame versions on the flipside.
All of the bonus materials from the previous edition have been dropped. Only the five trailers remain, the sole "new" extra here being A&E's Biography of star/writer/sometimes-director Sylvester Stallone, in a plain cardboard sleeve. My biggest gripe though: still no direct chapter access to the "Gonna Fly Now" training sequence!—Chris Chiarella
LATEST VIDEO