Latest Software Reviews

DVD: I [Heart] Huckabees—20th Century Fox
I don't know if I hearted Huckabees, but I liked it an awful lot. It's an odd film (I expect nothing less from David O. Russell, the writer/director of
Three Kings
and
Flirting with Disaster
) about an environmental activist (Jason Schwartzman) who hires a pair of existential detectives to help him find meaning in a coincidence that he's experienced. With an incredibly strong cast at his disposal, Russell manages to explore weighty philosophical, political, and social subjects in a way that's both thoroughly relentless and charmingly playful.
Twentieth Century Fox has released two DVDs. The basic DVD (reviewed here) features a 2.35:1 anamorphic version of the film on one side and a 1.33:1 version on the other. Both have Dolby Digital 5.1 soundtracks and dual commentary tracks, one with Russell alone and one with Russell, Schwartzman, and costar Mark Wahlberg. The special-edition DVD adds another disc of extras.
The 2.35:1 video has solid color and detail, while the soundtrack spends most of its time in the front channels, clearly rendering dialogue and the catchy score. Schwartzman and Wahlberg aren't both present for every scene during the cast commentary; instead, they jump in and out (costar Naomi Watts also chimes in briefly), which gives the track a chaotic energy befitting the film itself. Russell's solo track is much more linear, but it's still quite interesting.
I [Heart] Huckabees isn't for everyone. If you have an off-kilter sensibility and spend an inordinate amount of time pondering the nature of the universe, you must at least rent this one.—Adrienne Maxwell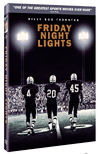 DVD: Friday Night Lights—Universal
It's almost summertime, and, for you die-hard football fans who can't wait until pigskin season, here's the movie to get you through the interim. Friday Night Lights is the true story of Permian High School's football team and their road to the Texas state championship game. If you're from Texas (or anywhere that lauds high school football Fridays), then you're no doubt familiar with just how important high school football is in these towns.
The DVD is presented in a 2.35:1 aspect ratio, and the anamorphic transfer is above average. The fleshtones are accurate, and, although most of the scenes are a bit muted, you'll find a few images, like the Cougars' red jerseys, to be vibrant and saturated. A great deal of the action takes place at nighttime, and the dark background displays nary a hint of an artifact. Scenes are also nicely detailed. The Dolby Digital 5.1 mix is sufficient, and dialogue is cleanly rendered in the center channel. The football scenes could have been more impactful, with steadier bass work during tackles or especially hard hits, but what you do hear is enough to pull you right into the action of the movie.
Extras include audio commentary from director Peter Berg, 21 minutes of deleted scenes, a featurette on Tim McGraw, who also stars in the film, and a four-minute player cam. The highlight, though, is a featurette, "The Story of the 1988 Permian Panthers." It introduces us to the 1988 football players as they are today, along with a few reels of Boobie Miles (legendary Permian fullback) scoring TDs.—Amy Carter
LATEST VIDEO