Latest Software Reviews
Get Shorty Collector's Edition—MGM/UA
Fresh off his success in
Pulp Fiction
, John Travolta cemented his mid-'90s comeback with
Get Shorty
, a fun, clever adaptation of Elmore Leonard's novel about a loan shark who decides to get out of the business and into The Business, aka movie-making. Travolta so thoroughly inhabits the character of Chili Palmer that it's hard to believe he initially turned down the role. It was Quentin Tarantino who ultimately convinced Travolta to take the part. (Where was he when Travolta decided to take
Battlefield Earth
?)
The above is just one of many interesting anecdotes gleaned from the new two-disc Collector's Edition, which has about an hour and a half of featurettes offering both old and new interviews with the cast and crew, as well as outtakes, one deleted scene with an intro by director Barry Sonnenfeld, and a 10-minute look at the soon-to-hit-theaters sequel, Be Cool. Also aboard is Sonnenfeld's solo commentary track from the 1996 laserdisc, which repeats some of the information from the featurettes but provides some worthy tidbits of its own.
Two discs really aren't necessary for this amount of content, but that leaves plenty of room for a nicely detailed 1.85:1 anamorphic picture with accurate colors and fleshtones. The Dolby Digital 5.1 soundtrack calls upon the surrounds and sub primarily when re-creating the lively, hip soundtrack, but dialogue is perfectly clear.
This new package is certainly better than the 1997 DVD, but I'd hardly classify it as a must-own if you already own the original. My advice: Rent Shorty.—Adrienne Maxwell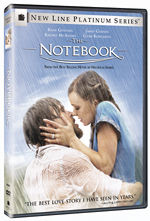 The Notebook —New Line A sweet, charming story of enduring first love, The Notebook follows Noah (Ryan Gosling) and Allie (Rachel McAdams), two teenagers who indulge in a heated summer romance that Allie's mother frowns upon. However, despite efforts to keep the couple apart, a chance meeting seven years later brings the twosome back together again.
One look at the gorgeous, warm-hued opening sequence demonstrates that this platinum-edition disc lives up to its name. The 2.35:1 anamorphic picture provides a well-detailed, contrasty picture that is equally adept at bright highlights and dark sequences. Although the talkie soundtrack doesn't much challenge the Dolby Digital 5.1 audio, dialogue is up-front, and music is rich-sounding.
Stellar extras include two separate commentary tracks from director Nick Cassavetes and Nicholas Sparks, whose novella was the basis for the screenplay. Four featurettes, including an illuminating look at Cassavetes and his family's film pedigree, cover a variety of aspects of the production, including casting and location scouting. The most innovative supplement is a wonderful commentary track from the film's editor, who explains the decision-making process behind several deleted scenes.
This slick package is well worth adding to any collection.—Christy Grosz
LATEST VIDEO