Latest Software Reviews
DVD: Mona Lisa Smile—Columbia TriStar
Video: 3
Audio: 3
Exras: 4
In Mona Lisa Smile, Julia Roberts stars as Katherine Watson, an art-history professor who comes to teach at Wellesley College, an all-women's school in Massachusetts. It's 1953, and, naturally, Katherine teaches the women more than just Picasso. It's a predictable movie; if you've seen Dead Poet's Society, you have a pretty good handle on how this film will play out.
The video, a 1.85:1 anamorphic transfer, fully captures the beauty of Massachusetts during the changing months: Crisp fall leaves and delicate winter scenes are nicely presented. Some background noise is evident in a majority of the scenes, and some of the darker scenes are cloudy, but the richly detailed colors make up for these imperfections.
The audio, presented in Dolby Digital 5.1, is just average. The movie is largely dialogue-driven; so, if you're looking for heavy sub work, you won't find much here. Still, just when I thought only my front speakers were working, someone would enter the scene from a side door and I'd hear it slam shut in the surrounds.
The extras package gives this DVD a nice boost. You get a music video from Elton John ("The Heart of Every Girl"), theatrical trailers, and three featurettes that are truly worth watching: "Art Forum," "College Then and Now," and "What Women Wanted."—Amy Carter

DVD: Duplex—Buena Vista
Video: 4
Audio: 3
Extras: 1
Fitting squarely in the subgenre of urban real-estate nightmares (e.g., Pacific Heights, The Super), Duplex is an innocuous but uneven film about a young married couple (Drew Barrymore and Ben Stiller) who buy the brownstone of their dreams, only to find that the old lady in the rent-controlled apartment upstairs is part of the deal. As in director Danny DeVito's Throw Momma From the Train, the geriatric tenant is a nagging problem that must be, shall we say, neutralized if our heroes are to maintain their sanity and their investment.
The DVD's 1.85:1 anamorphic presentation boasts great clarity, nice contrast, and surprisingly rich colors. A full-screen version can be found on the flip side. The Dolby Digital 5.1 soundtrack, meanwhile, won't test your surround system but is always clear and intelligible. Together, picture and sound add up to a more-than-satisfactory viewing experience.
It's in the extras that this disc falls short. There's a grand total of eight minutes of material. You get a few minutes of straight behind-the-scenes footage and three short deleted scenes. A certifiable bomb at the box office, I can only surmise that Miramax decided to cut their losses and not bother to endow this DVD with anything more. Still, this is good fun for a night at home when all the hits are out of stock.—Gary Frisch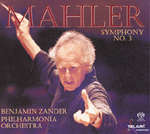 SACD: Mahler—Symphony No. 3, Benjamin Zander and the Philharmonia Orchestra (Telarc)
Rich, sprawling, ambitious, and perhaps a bit trying, Gustav Mahler's Symphony No. 3 is the longest symphony ever written, according to Guinness. On this triple-SACD set, conductor Benjamin Zander leads the Philharmonia (of London) through an exceptionally lucid performance. The conductor—who has been known to preface concerts with a lecture about the evening's program—then uses the third disc to provide deep background about the symphony, following up with a phrase-by-phrase guide that leaves no tone unturned.
Even without the lecture, this recording would've been a massive undertaking. It includes two choirs: the Ladies of the London Philharmonic and the Tiffin Boys' Choir. Zander also goes out of his way to follow Mahler's orchestration. Typical of his attention to detail is the use of a post horn; he describes it as "a tiny, famously intractable instrument." To produce a rapid series of notes mimicking a bird, an English horn has been modified by removing keys and plugging holes with putty.
Telarc's fastidious recording beautifully complements this obsessive care. It has a little more bite than many of the label's other DSD (and CD) recordings and has better low-level resolution, which helps during the symphony's many quiet passages. Use of the surrounds transcends the usual hall ambience when the boys' choir imitates bells in the rear, while the women's choir and orchestra remain in front. This is one of the most revelatory moments in the history of surround orchestral recordings, and it deserves to become widely used as demo material.
A fortissimo bravo to Zander and Telarc. There's no better way to begin fathoming this difficult but rewarding work.– Mark Fleischmann
LATEST VIDEO