Klipsch Synergy B-20 Speaker System Page 2
The Girl Who Played with Fire is a Blu-ray Disc with a Dolby Digital (not lossless) soundtrack—always a disappointment. I viewed this second installment in Stieg Larsson's Millennium trilogy with dubbed dialogue because my brain finds imperfectly synchronized words and lips easier to process than reading subtitles. Although the movie initially goes light on surround effects, the soundfield gets fuller as it progresses. This reminded me of the benefits of having identical speakers anchoring all four corners.
It was during that last selection that I finally dealt with a problem that had bothered me throughout the movie demos. The sub's bright blue LED power indicator was competing with the onscreen image. It's located just 3 inches below the sub's top surface, and because I'd placed the sub near the center speaker, my eyes were continually drawn downward from the screen to the blue dot. Of course, I could have moved the sub—but when I review a sat/sub set, I prefer to keep the sub and center close together to optimize the dovetailing of vocal elements. My solution was to place a small piece of duct tape over the LED. It didn't entirely obscure the blue dot, but it did reduce its intensity to something I could ignore. I wished I'd thought of it earlier.
Dialing in the Bass
As my music demos began, I worked a little harder to get the sub into proportion with the other speakers. As a rule, inadequate bass bothers me more in music than it does in movies. Options were limited. My reference AVR has no EQ or low-volume modes. While it does have bass and treble controls, I mostly avoid these because they typically introduce as many problems as they solve. So I resorted to even more basic tricks, first raising the sub crossover from 80 hertz to 100 Hz. This immediately improved the drum weight and bass lines, which suggests that the speakers needed more bass support from the sub. I also literally dialed in the sub's volume control, moving from my usual default setting of about 33 percent of the control's range to about 60 percent. This process didn't involve much agonizing or constant tweaking. Once I made the changes, I was satisfied with the results.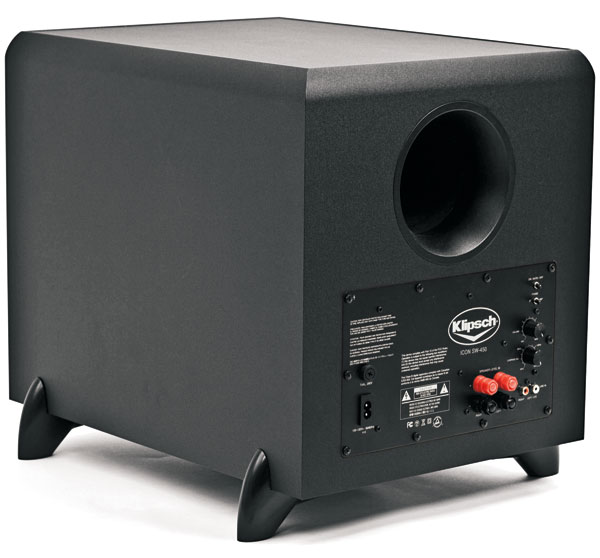 The Home Theater slush pile continued to yield interesting specimens from the early years of high-resolution surround music releases. David Bowie's Heathen is a 2002 SACD with surround and stereo soundtracks but no CD layer. Longtime Bowie associate Tony Visconti—who coproduced and played some of the instruments—also supervised the 5.1-channel mix. The result is both distinctive and a model for how a thinking person's rock album might translate to the multichannel medium. Bowie's voice was present in all channels, but it was anchored most strongly in the center, with the highest volume level and the lowest amount of processing. The C-20 delivered it with as much naturalness as I could have hoped for. Instruments filled the soundfield, and while the surrounds were in constant use, they weren't intrusive.
I was happy that my configuration included four identical B-20s. Dipole/bipole speakers have their virtues, especially for listeners who find surrounds intrusive even when they're at proper levels. However, if I'd used non-matching speakers in the front and rear corners, it could have interfered with elements suspended between the front and surround channels, so I was happy with my configuration choice. Bowie's return to form, Visconti's involvement, the adroit use of surround as a music medium, and the Synergy speakers' tight focus combined to make this a constantly involving listening experience.
E-klek-trik by David Diggs is a smooth pop-jazz album as well as a 2001 DVD-Audio release from Silverline. The surround soundtrack is delivered in Dolby Digital and DTS for the convenience of those without DVD-Audio players. Again, there was no CD layer (DVD-Audios never have them). This time, the mixer seemed to have assumed that the listener wouldn't be smart enough to achieve a strong match among the front three channels—an assumption that has blighted many surround music discs since day one. So while the center wasn't quite silent, it was notably underused. Still, with four identical speakers anchoring the corners, the soundfield was strong enough to add an extra dimension to the languid, conventional musical material.
Murray Perahia is one of the best living classical pianists. His ongoing Sony Classical releases continue to show him at the top of his powers, with an ideal balance of refinement, dynamics, tone, rhythm, and flow. The CD on deck was his new album of works by Brahms including the Handel Variations and several shorter pieces. You'll recall that I quibbled above about the B-20 and C-20's differing tweeter sizes and enclosure materials. But when I switched this two-channel content from its original stereo to 5.1, the timbre matching between the center and satellite speakers was acceptably close. The balance among the three front channels was optimum, and the soundfield in general had more of a concert hall feeling. The piano was well imaged and rooted in space. Although the image inevitably moved with large side-to-side movements of my head, the Klipsch system (especially the center speaker) let the soundfield maintain its structural integrity. The old audiophile trick of closing my eyes paid rich dividends as my brain shifted its processing power from visual input to pure musical contemplation.
The Klipsch Synergy series is a fine candidate for anyone who needs to mate an affordable A/V receiver with affordable speakers. For speakers so affordable and so efficient, they achieve a remarkable clarity. Mated with a $600 AVR, these speakers can give you a great system for less than $2,000. Your neighbor who paid two or three times as much might well be jealous of the soundfield specificity of these little marvels. Your other neighbor with an HTIB definitely will be.

LATEST VIDEO