Klipsch Reference RB-61 II Speaker System
Price
: $3,350
At A Glance
: 90-by-60-degree Tractrix horn • Extremely focused imaging • More decibels for your watts
The story of Klipsch is often told, but the storytellers, myself included, typically fail to mention two of the three key principals. Every audiophile has heard of Paul W. Klipsch. He founded the loudspeaker company that bears his name in 1946 and spent several decades patiently perfecting his use of horn-loaded drivers to provide—and here I'll just quote the Klipsch mantras—high efficiency, low distortion, controlled directivity, and flat frequency response. Paul was also known to take notes during sermons so that he could grill the minister afterward on the fine points of theology.
The unsung hero and heroine of the story are Fred and Judy Klipsch. Fred saw a newspaper ad for Paul's company, discovered they were long-lost cousins, and in 1989 he and Judy bought the company. Operations moved to Indianapolis, although distribution remained in Klipsch's (and President Clinton's) birthplace of Hope, Arkansas. Today Klipsch is a power in many kinds of audio: home theater, two-channel, per sonal, wholehouse, custom installation, cinema, and industrial.
By this strange series of circumstances, Klipsch has remained until now one of the few family-owned companies in the speaker business, maintaining a steady heartbeat as it has continued to assert the principles of its founder.
With the recent sale of the company to Audiovox, the Klipsch story is starting a new chapter. Fred Klipsch is stepping down as CEO of the Klipsch Group but will serve on the boards of both Klipsch and Audiovox. You may be relieved to hear that Audiovox plans to operate Klipsch as a standalone entity. Operations of the Klipsch and Audiovox brands will not be merged, with the possible exception of car audio. The third chapter of the Klipsch story may be worth reading—but the debut of the Klipsch Reference II series gives us one last chance to linger over chapter two, the era of Fred and Judy Klipsch.
Version 5.0
The Klipsch Reference II is the fifth generation of a line introduced in 1999, well into the Fred and Judy era. Its 17 models include four bookshelf ( I call them monitor) speakers, four centers, four surrounds, and five floorstanding models. Pricing runs from $300 per pair for the RB-41 II monitor to $3,200 per pair for the RF-7 II tower. The 5.1-channel system under review includes two RB-61 II monitors ($550/pair), the RC-62 II center ($550), two RS-62 II surrounds ($600/each), and the SW-310 subwoofer ($1,050), for a total of $3,350. (Note that Klipsch sells a similarly designated RB-61 II package that uses the same front left/right monitors and woofer but smaller center and surround speakers for $2,550).
The Roman numeral II signals a bevy of improvements, including drivers, crossovers, and other elements. Perhaps most noteworthy, Klipsch's Cerametallic woofer—anodized aluminum with a thin ceramic layer on both sides—is now folded at the outer edge to tighten and stiffen the cone in an effort to further lower distortion.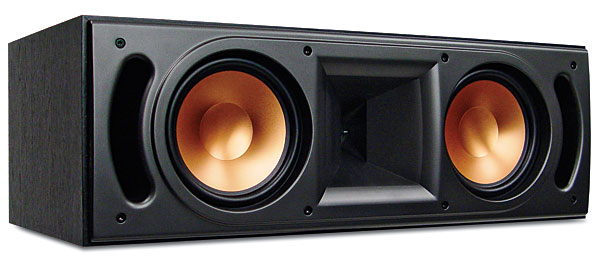 All Reference II models include 1-inch titanium-domed tweeters deeply recessed into a Tractrix horn (except the architectural models, which have different waveguides). While the horn appears square and smooth at first glance, its flare disperses sound at 90 degrees horizontal by 60 degrees vertical. This allows for startlingly high sensitivity ratings: 95 decibels for the monitor, 98 dB for the center, and 97 dB for the surrounds. (See HT Labs Measures for our test results.)
The higher the sensitivity, the less power is required from your A/V receiver for a given volume level. However, be warned that these speakers' high resolution makes them unsuitable for cheap, dirty, distortion-laden amps. A few exquisite watts are what they need.
The RB-61 II monitor is a basic two-way design with one tweeter, one woofer, and a front slot-shaped port. While the monitors, center, and surrounds all have magnetically attached grilles on front and gold-plated, plastic-nut binding posts on back, only the monitors have biwire/biamp terminals. The RC-62 II is a horizontal center speaker with one tweeter flanked by two woofers and two ports at the outer edges.
The RS-62 II surround has two angled baffles with a single wraparound grille, the same driver array as the monitor (but doubled), and a total of four small ports at the sides. At first glance, it appears to be a bipole/dipole design, a type of surround that places the listener in a diffuse soundfield. However, during my listening demos, I found that surround effects were stronger and more directional than I'd expect with such a design. I queried Klipsch and was surprised to learn that this model fits neither the definition of a classic bipole nor dipole. Instead, the two pairs of drivers generate 180 degrees of surround coverage, with each 90-degree horn providing half of that. While you can't completely avoid interference patterns, the difference here is that the design intention is not to accentuate the null field associated with bipole/dipoles. Klipsch refers to this using the trademarked phrase Wide Dispersion Surround Technology.
Note that the RS-62 II isn't sold in mirror-imaged pairs. This is to allow flexibility in placement. If they can't go in the side-surround position, they can be placed farther back.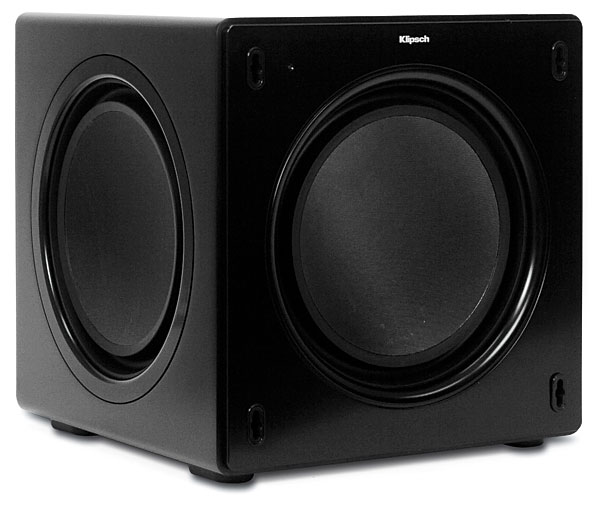 The SW-310 subwoofer has three drivers, all with 10-inch woven-fiberglass cones, one active and two passive. In lieu of a port, the two passive radiators contribute bass from the sides of the enclosure in a highly controlled manner. This eliminates the audible vices of port turbulence and chuffing.
I ran the SW-310 at a higher percentage of its volume control's range (one-half in lieu of my usual one-third). I also raised the subwoofer output by several decibels in my A/V receiver, which indicates less gain in the SW-310's internal amplifier than I'd expect. With these settings, the sub gave me the bass output I needed. With all five speakers having 6.5-inch woofers in good-sized cabinets, it almost goes without saying that the sub crossover operated at 80 hertz.
Associated equipment included a Rotel RSX-1550 A/V receiver and Oppo BDP-83SE universal disc player. All movie demos were on Blu-ray Disc.
The Deep End
Battle: Los Angeles (with DTS-HD Master Audio soundtrack) plunged me into battle scenes that started early and never let up. I quickly discovered that the RC-62 II's superb control of dialogue allowed the entire system to run at a low to moderate volume that made aggressive ballistic and explosive effects relatively easy on the ears. This was merciful, since my reference AVR has no low-volume listening modes to narrow dynamic extremes.