JVC Procision DLA-X750R 3D D-ILA Projector Review Page 2
One of the first things I noticed when setting up the projector was the comparatively lengthy amount of time it took to lock onto an HDMI signal. This is a problem we've noted in the past with JVC's line, and I was hoping the new HDMI inputs would help. Alas, it looks as if those wait times may have stretched out a few seconds longer instead. The good news is that the new inputs are infinitely more stable once they've locked on. This was readily apparent with 4K sources, which, on the previous model, varied from pretty temperamental to downright unwatchable. I would see more than an occasional hiccup with the image using the DLA-X700R, but I didn't see a single one on the new model. Still, the time to lock onto a signal is far longer than what I experienced during my recent reviews of the Epson PowerLite Home Cinema 2045 (Sound & Vision, May 2016 and soundandvision.com) and Sony VPL-VW665ES projectors (Sound & Vision, April 2016 and soundandvision.com), and I hope this is something JVC can address in future firmware updates or follow- up models.

Setup was a snap with the motorized lens control for zoom, focus, and lens shift, which offer more refined operation than other brands' controls. Fine-tuning focus was a breeze with the JVC compared with the recent Sony I reviewed, but be sure you turn off the internal test patterns in the setup menu along with e-shift to get the best results when focusing. Otherwise, your results may not take full advantage of the projector's excellent lens performance.
The DLA-X750R offers a wide variety of picture presets, but few deliver what I would call an accurate image. The closest to start would probably be the THX preset, but I'd recommend using the User presets, which allow adjustment of every facet of the image setup from basic settings all the way to color gamut and gamma. Ultimately, I set up the User 1 Picture mode using the Custom 1 color profile, 6,500 for color temperature, and a custom Gamma profile set to 2.4 in the submenu. (You can find a full listing of my picture settings at soundandvision.com.) These presets gave the best baseline in terms of accuracy, though some minor calibration adjustments were needed to dial in the image perfectly.
Like the last few models I've reviewed, the DLA-X750R had an issue resolving digital video level 17 when contrast and brightness were set up properly. JVC does have different input signal modes that allow you to see head and foot room above white and below black, but I typically stick with their Standard input mode, which clips head and foot room but allows for more contrast and fewer issues with gamma tracking. Take care when setting the brightness, so as not to raise the black floor when setting up the projector. Continuously raising brightness to try to resolve digital 17 can hurt the projector's overall contrast capabilities. Unless you have the tools to properly measure gamma and contrast, I would suggest you raise brightness only enough to make out digital 18 and leave 17 unseen.
The 6,500 color temperature preset tracked well overall, and only some minor tweaks were needed to dial in the grayscale. Using the projector's controls, I was able to get an accurate grayscale that measured at an average Delta E of 1 from the standard (a Delta E of less than 3 is considered imperceptible to the eye). The same goes for the gamma.
JVC has made some minor tweaks to their onboard color management system (CMS), eliminating orange from the options, and providing adjustments for only the standard primary and secondary colors. The Custom 1 color preset was very accurate out of the box and needed only some minor tweaks to saturation and hue. You should take care with the CMS, though; while it's easy to get the 100-percent saturation points of any color correct, the results at lower saturations can be grossly inaccurate. If you're going to attempt a calibration, it's best to use the 80-percent saturation points as your reference to ensure better saturation tracking throughout the gamut than what would be attainable by simply concentrating at 100 percent. Overall, the out-of-box colorimetry was so good, I think all but the pickiest of videophiles will be more than satisfied. You can read more about this in our Test Bench section.
In Use
I did all of my viewing on my reference Stewart Filmscreen StudioTek 100 screen, which is a 120-inch-diagonal, 16:9 model with a gain of 1.0. I also employ a Carada Masquerade masking system for 2.35:1 films, though I did some of my viewing without the mask to take into account contrast levels with content that had black borders.
During my time with the DLA-X750R, I watched a wide variety of content from Blu-ray and a few different media players, including the Sony FMP-X10 4K media player, the Roku 4, and a Redray 4K media player. This allowed me to look at both 1080p and native 4K content.
I spent the majority of the time viewing 1080p content from Blu-ray, which represents the bulk of high-quality media content at the moment. We've had some excellent-looking Blu-ray releases recently, so I had a lot to choose from. One of the highlights was the recent drug-war film Sicario, which was lensed by the celebrated Roger Deakins. The film features some of the best cinematography of 2015, and it really showcased how good this projector is. Fine detail was superb throughout the film, and the deep blacks of drug tunnels and the shadow detail in night sequences looked fantastic. The increase in contrast performance in my setup versus the DLA-X700R was immediately obvious, but I was even more impressed by the dynamic iris and its performance in some of the tougher scenes. Image pumping was never an issue, despite the difficult material.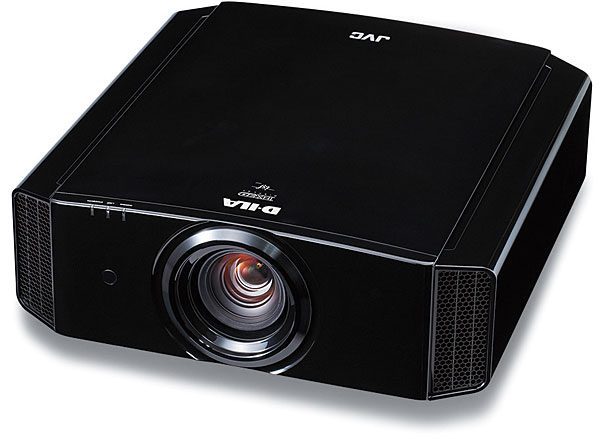 Of course, I also looked at the long list of clips that I typically go to for evaluating fine detail, color, contrast, and black levels. The JVC shined with most of the content, but I did have some concerns. As mentioned before, I had some minor quibbles with the projector's black uniformity. This was limited to only the most difficult dark material I use for testing (such as Aliens vs. Predator: Requiem and The Tree of Life), but it wasn't an issue with 99 percent of the material I watched, including some films that most would consider very dark (Zero Dark Thirty and Riddick). I hope this is something JVC will look into and address with future models, as the performance in every other area was so high that this stuck out more than it would have on a lesser projector.
JVC has made some substantial improvements to their e-shift system that derives a quasi-4K image using only a 1080p imaging device. They've also improved the image-processing settings that work in tandem with the 4K mode as well as 1080p playback. Evaluating 4K performance with their prior line was difficult because 4K content was sparse at that time and typically limited to the cheesy short demo clips you see in stores. This time around, I had a lot of options from different streaming services like Netflix, Amazon, and Vudu, along with some movie content from the Sony media player we had on hand and the Redray player provided by JVC.
There wasn't a very big gap in 4K performance between the previous e-shift model from JVC and the native 4K projectors I've reviewed from Sony. This year's JVC models have nearly closed that gap, with only a tiny edge going to the native 4K projectors when they display the most difficult slow-moving video-based material. For film content, which features more motion, the gap is pretty much gone. With the DLA-X750R, fine object detail looked as good as or better than it did with the Sony VPL-HW665ES I recently reviewed, and the increased contrast performance of the JVC took it past the Sony for overall picture quality. The JVC definitely outperformed my expectations in this regard, especially when we're talking about a projector that retails at around half the price.
The 4K streaming sources varied in quality thanks to the compression, but I was surprised at the quality displayed by Netflix and Vudu. A standout was the Netflix 4K version of their series Marco Polo. Fine detail in both foreground and background was exemplary—a showcase for what 4K can bring to the table. On the movie side, I did some comparisons between Vudu's UHD streams of Magic Mike XXL (the only UHD title in their library that has a true 4K master) and The Lego Movie. Both showed finer detail than what I saw on their Blu-ray counterparts, though compression artifacts were more noticeable. I'm looking forward to the new Ultra HD Blu-ray format and its promise to finally deliver reference-quality UHD playback and HDR.
I did find one bug, though, when it came to 4K. For some reason, the projector enables clear motion drive (CMD)—JVC's frame-interpolation system—when you feed it a native 4K source, even if the menu says this feature is off. This results in the dreaded soap-opera look. Cycling the function through its on options and then back to off eliminates the problem for the rest of your viewing time, until you power the projector off and on again. JVC is aware of the issue and will be addressing it in a future firmware update. I heard reports of a similar issue when the projector is fed 3D sources, but I never had the same problem with 3D playback.
Speaking of 3D, JVC didn't mention 3D performance at CEDIA. Nor do they make any claims of improved 3D on their Website's product pages. However, this new JVC's 3D delivery has improved significantly over that of previous models and represents the best 3D I've seen from a non-DLP-based projector. The 3D on JVC's earlier designs was pretty good overall, but they still exhibited noticeable ghosting with the most difficult material. On the DLA-X750R, however, most of the torture clips I use for evaluating ghosting in the image (for example, Despicable Me and A Turtle's Tale: Sammy's Adventures) were virtually ghost-free! Couple that with the increase in brightness, and you have some great-looking 3D. If you're a 3D aficionado and you've been steering clear of LCOS designs because of their 3D performance, you now have a high-contrast solution for 3D that nearly rivals 3D on DLP.
Conclusion
It would be easy to cast a stone at JVC for not releasing a true native 4K projector this year. I'm not going to lie and say I wasn't secretly hoping for one as well. But I also know that there's no free lunch. JVC has spent years refining their 1080p projectors and their e-shift 4K solution, and we've continually seen the improved results. Would I rather have a native 4K projector that costs more but doesn't perform to the same levels when it comes to contrast, image enhancements, and brightness? I don't think so. And even though 4K content is gaining more ground, it still isn't anywhere near as prevalent as 1080p is right now. I would much rather see JVC continue to improve their projectors and release 4K when they can achieve similar performance and realistic price points—especially when you see how good their projectors are compared with the native 4K solutions we already have out there at pretty significant price premiums.
While this year's models aren't perfect, nearly every area of performance has taken a big step forward. If you're in the market for a projector that makes the most of the content we have now and what is promised shortly, I can't think of a better front-projection solution on the market today. The DLA-X750R gets my highest recommendation and our Top Pick.