JVC Procision DLA-X70R D-ILA 3D Projector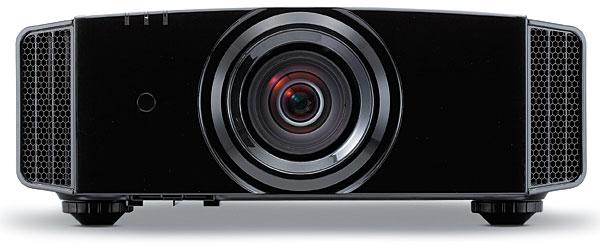 Price
: $8,000
At A Glance
: Superb black level and shadow detail • Accurate 2D color • Complete but complex features
JVC has a problem—a problem more projector manufacturers wish they had. When the company launched its relatively affordable DLA-RS1 LCOS projector several years ago, it created a sensation. Every model year since then brought new updates. Expectations rose, and prior to every CEDIA (the September trade show that is the traditional launching pad for new home theater projectors), we've wondered what JVC would next bring to its lineup. The cosmetics have changed several times, but more importantly, a basic run of slow but steady improvements has continued. It has even inspired other projector manufacturers to up their game, and the increased value available to the consumer across the market in general has been substantial.
At last September's CEDIA, Sony drew headlines with its VPL-VW1000ES, a $25,000, true native 4K-resolution projector whose 2D/4K performance I reviewed in our February '12 issue. JVC simultaneously launched a range of more affordable models that will not accept a 4K source but seek to provide the key benefits of 4K projection by using 2K imaging chips in a creative 4K simulation. It's not an unreasonable approach given that, outside of your own digital photographs, there is virtually no 4K source material yet available to the consumer. JVC's process, called e-Shift, is available in its two top consumer models and two identical pro versions that differ only in their model numbers and distribution channels. The DLA-X70R reviewed here is the second from the top, with the high-end DLA-X90R ($12,000) differing
in its use of handpicked D-ILA imagers that are said to deliver higher contrast, and the inclusion of a 3D emitter and two pairs of 3D glasses, which are extra with the DLA-X70R.
A Feature Creature
The DLA-X70R looks cosmetically identical to last year's DLA-X7, a squarish shape with a centered lens, exhaust vents at the front corners (with no significant light leakage from them—or from anywhere else), and inputs at the back. All lens adjustments—focus, zoom, left and right shift, plus a sliding lens cover—are motorized. The zoom lens has a throw distance range of approximately 9.9 feet to 20.1 feet for a 100-inch diagonal (87 inches wide), 16:9 screen.
Test patterns built into the projector aid in making the lens adjustments, but you can turn them off and tweak the settings using an external source of your choice. Once set, the lens controls can be locked to prevent tampering.
A new feature this year is Lens Memory. You can save up to three different options, each of which can hold your desired settings for zoom, horizontal and vertical lens shift, and focus. This feature did require slight tweaking with each use, as the repositioning was off slightly in our sample, but in any event, we've seen it work flawlessly at trade shows. It still proved extremely convenient for my current setup, which uses separate screens for 16:9 and 2.35:1 sources. The shift between them in this review was done by readjusting the projector's own lens; no anamorphic lens was used or required. If you go the anamorphic route, however, the JVC has an aspect ratio setting that provides the appropriate vertical stretch. This anamorphic stretch may also be used with 3D sources. Last year's first generation of 3D projectors from JVC didn't have sufficient processing power to do both 3D and the vertical stretch simultaneously.
The DLA-X70R offers 12 Picture Modes, including five User options. There are three Custom color temperature memories, each offering both Gain (high) and Offset (low) settings for red, green, and blue. There's also a bushel of other color temperature choices, including fixed settings from 5500K to 9500K in 500K increments, and four others (High Bright and Xenon 1, 2, and 3) that are not accessible if you set up the projector, as I did, in one of the User Picture Modes. There are also 18 possible Color Profiles, which are actually color gamuts (often called color spaces, although this usage is technically inaccurate).

There is a full Color Management System (CMS) with control over Hue, Saturation, and Brightness for each primary (red, green, and blue) and secondary color. Oddly, it also adds a seventh color, orange (for which there is no standard), and a fourth control for each color, Axis Position. I found these two additions superfluous and left them at their default positions (zero). The color management worked well, although using it was tedious; the controls were often interactive and unintuitive.
The above combinations of available Picture Modes, Color Profiles, and Color Temperatures will be dizzying for the average user. My advice: Ignore most of them—as well as the entertaining explanations offered for them in the manual, some of which claim they mimic the color profile of various film stocks. The only color space—again, and more correctly, color gamut—you are concerned with is the color gamut used to transfer the source to video. For HD video, that color gamut is Rec709.
The only two Color Profiles I used were Standard and Cinema 2. For the latter, I applied extensive corrections via the color management system. If you're doing a preliminary setup on the fly, I'd stick with the 6000K or 6500K color temperature settings until you decide to get a professional calibration (a treatment deserved by all good projectors).
The DLA-X70R is THXcertified for both 2D and 3D, but the optional THX picture mode was not perfectly accurate on our sample, and it unfortunately locks out the settings needed to improve matters (Color Temperature and Color Management). The projector may also be set up for two additional User modes, ISF Day and ISF Night, but that process requires special software available only to ISF-certified calibrators.
In addition to the glut of Picture Modes, Profiles, and Temperature options, Dark/Bright Level controls offer subtle variations on the basic Brightness and Contrast controls. I left them alone. Ditto for most of the other special features.
Clear Motion Drive (CMD) is JVC's frame interpolation feature, which offers five modes, plus Off. My favorite was the latter. The first two modes use dark frame insertion, which appears to turn off the e-Shift 4K feature (as does entering the code for a dealer demo mode; more on this in the e-Shift sidebar). The second two interpolation modes are effective in smoothing out most kinds of motion blur, if you don't mind that they make film-based material look like live-action sitcoms or soap operas. I do, which is why I didn't use this feature in this review, apart from confirming that it works relatively well—if that's your poison. As with most projectors, particularly of the LCD or LCOS variety, there is some motion blur with CMD off, although, for me, it was not enough to be an issue.
For 2D sources, the projector operates at a refresh rate of either 120 hertz or 96 Hz, depending on the source frame rate; 96 Hz is used for 24-frames-per-second 3D sources (48 Hz for each eye).
There are five preset and three Custom Gamma settings. The Custom menu lets you tweak not only the overall gamma using an onscreen curve, but also the red, green, and blue gammas individually. Messing with the latter three is an invitation to either a perfect result or premature gray hair. I left them alone (although I have nothing to loose on the hair front). But I did spend many fun hours getting an optimum white gamma curve. All of the preset options (Normal, A, B, C, D) looked too light and washed out, and measurements confirmed that they all produced very low gammas. The Custom settings (not accessible in some Picture Modes, including 3D) offer steps from 1.8 to 2.6. On average, these settings measured a bit more than two steps higher than the actual measured gamma. For example, I found that setting the Custom Gamma to 2.5 resulted in a measured gamma of around 2.3. For me, this was good across most of the range, but it crushed dark shadow details just a bit too much. As a compromise, I dialed in 2.5 (for a 2.3 result), then readjusted the bottom end so the actual gamma dropped to 2.2 at 30 percent brightness and below. Unfortunately, you can't do this without test tools. Your calibrator may be able to manage it, but it's time consuming. Before calibration, I recommend using a Custom Gamma setting of 2.4 or 2.5. If you're adventurous, you can then try increasing the settings on the custom curve at 30 percent and below gradually until dark scenes find a happy medium between crushed or washed-out shadow detail. If the result doesn't look right, you can always enter the Custom Gamma menu again and reset it for a simple 2.4 or 2.5 setting.