Jumanji: Welcome to the Jungle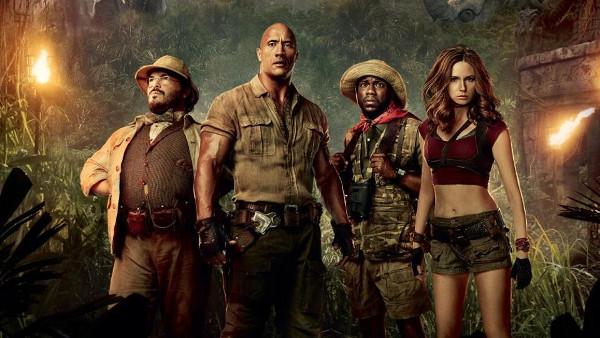 Jumanji
. After choosing their avatars, the foursome is transported into the game's jungle setting and assume their roles. They soon discover that not only have they taken on the look of the characters, but have inherited their strengths and weaknesses. To survive the game and get back home, all must work together to pass the obstacles placed in front of them, but the stakes are higher than they could have ever imagined.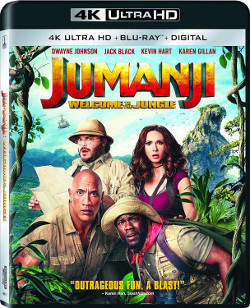 While the original film brought the characters from the Jumanji game into the real word, the sequel places our unlikely heroes in the actual game. The strategy works extremely well by not rehashing the original film — a pitfall of many sequels. Furthermore, the casting from top to bottom is perfect, with Dwayne Johnson as the comedic star holding his own against funnymen Kevin Hart and Jack Black. Add in the beautiful Karen Gillan, and you have a quartet of actors that play perfectly together to deliver one of the funniest movie experiences I've had in years.
Shot digitally and captured at 3.4K, the film was downscaled to 2K for its theatrical run, then upconverted to 4K for this Ultra HD Blu-ray release. The video shows slight improvement over the regular Blu-ray version, with enhanced detail in closeups and a tad more color saturation in the jungle settings.
But the real star of the show here is the Dolby Atmos soundtrack, which is absolute demo-worthy material from start to finish. The track draws you into the picture and places you in the middle of the game. Each time the group is about to enter a new level, a drum beat occurs that makes heavy use of the LFE channel. Also, every time a character respawns, the overhead speakers come alive when they are dropped back into the group.
Supplements are housed on the included Blu-ray and include a Gag Reel, five behind-the-scenes featurettes that delve into the production, and a hilarious music video, "Jumanji, Jumanji," featuring Jack Black and Nick Jonas. Also included is a Movies Anywhere digital code.
UHD Blu-ray
Studio [and film release year]: Sony 2017
Aspect Ratio: 2.39:1
Audio Format: Dolby Atmos
Length: 119 Minutes
Director: Jake Kasdan
Starring: Starring: Dwayne Johnson, Kevin hart, Jack Black, Karen Gillan
A group of kids discover an old video game console in the basement of their school with an unknown game called