JL Audio M3 Marine Speakers: Ready for the High Seas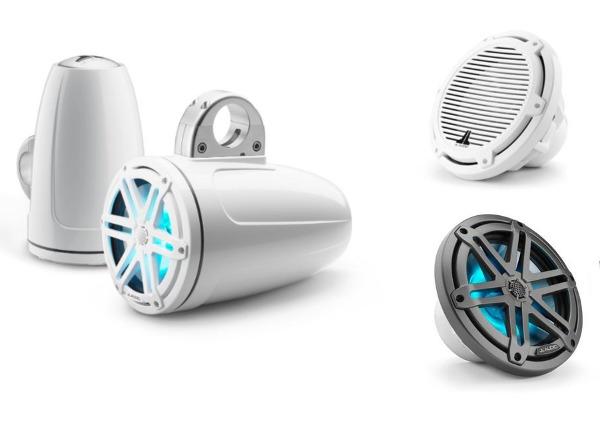 You might know Miramar, FL-based JL Audio for making some of the best home and car subwoofers money can buy, not to mention fine car stereo speakers and amplifiers, but did you know they also build killer marine speakers?
In February JL expanded into the marine space with the high-end M6 line of speakers and subwoofers, built and stringently tested to withstand prolonged exposure to UV and saltwater and acoustically engineered to produce "powerful, low-distortion bass and evenly disperse smooth sound in an open-air boat environment."
The company is now offering the lower priced M3 series of high-performance speakers designed for use on all types of boats. The line comprises coaxial speakers, subwoofers, and a striking enclosed speaker system JL calls a "marine tower" — all made with marine-grade materials designed for "outstanding reliability under real marine conditions" and backed by a two-year warranty against defects in materials and workmanship.
The M3-650X features a treated 0.75-inch silk-dome tweeter coaxially mounted over a 6.5-inch high-efficiency, long-excursion woofer, while the M3-770X combines a 7.7-inch woofer with the same tweeter. Both are 4-ohm speakers rated to handle 60 and 70 watts of continuous power, respectively, and designed to operate without a dedicated enclosure. Grille options include a Sport Grille with a gloss white or gunmetal finish or a gloss white Classic Grille, both available with optional built-in LED illumination Prices range from $230 to $300 for the 650X and from $300 to $370 for the 770X.
For deep bass on the open water, the 10-inch M3-10IB is a 4-ohm infinite-baffle subwoofer that doesn't require an enclosure. It's rated to handle 175 watts (continuous) and has the same grille/illumination options as the coaxial models. Prices range from $230 to $270.
The standout product in the M3 line is the M3-770ETXv3 marine tower (left in photo), featuring a 7.7-inch coaxial speaker mounted in a sleek injection-molded gloss white enclosure with a carry handle. The 4-ohm system is rated to handle 70 watts of continuous power. Price is $780/pair with built-in LED illumination or $680/pair without illumination. A zippered gray neoprene protective cover is included.
For models with built-in LED illumination, JL offers an optional "mount-anywhere" RGB controller (MLC-RW) with a knob for adjusting the illumination color and intensity.
The M3 series is sold through JL Audio car audio and marine dealers and will be incorporated into boats from more than a dozen brands, including Boston Whaler and Chris Craft, as original or optional equipment. All products are built at the company's Miramar, Florida factory.