JBL Studio 230 Speaker System Page 2
Snitch
stars Dwayne Johnson as a dad squaring off against drug kingpins to get his son out of jail. Commendably, the movie makes a big point of highlighting the devastating effect of mandatory-sentencing laws on first-time offenders—though that doesn't get in the way of action-packed scenes full of truck and car chases, flaming smasheroos, orgiastic shoot-outs, and other assorted mayhem. I'd have expected the JBLs to make much of this excruciating bombast, but to my surprise, the high-decibel explosions and ballistics had their desired dramatic effects, with few irritating side effects. The speakers uncovered every possible detail, and thanks to their low distortion, the assaultive effects went down like a spoonful of honey in a cup of tea. Shotgun blasts, with substantial amounts of information in the sub, were also well controlled, with strong, clean impact. When I'd set up the sub with test tones, I noticed it could produce deep pitches with relatively little overhang, and the more challenging moments of this soundtrack benefitted from its disciplined bass response.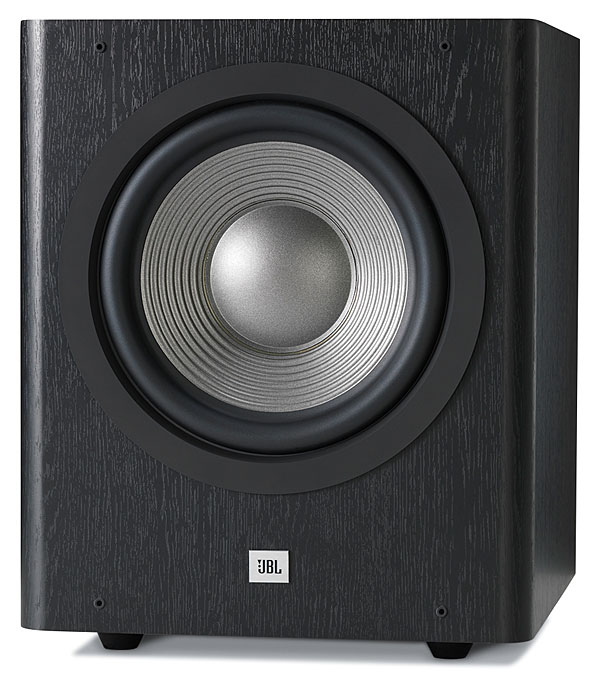 As I browsed through the 2013 DTS Demo Disc, the Studios continued showing off their ability to take heavy-duty effects without wilting, notably in the explosive Battleship warfare and the clattery confrontation between Snow White and Ravenna in Snow White & the Huntsman. But they also performed finer feats of resolution in the cave scene from Prometheus, with the delicate tech effects inside the cave itself. Even old-school mono like the title sequence of Singin' in the Rain benefitted from the waveguide treatment; I've never known it to feel so wet. These speakers are great for movies. In fact, they provided more consistent satisfaction with movies than with music.
Often, the Studios' knack for pulling elements out of a soundtrack for closer examination was gratifying. In All the Boys Love Mandy Lane—the kind of fun movie in which uningratiating teens get bumped off one by one—pop songs driven by female voices were dazzling. I resolved on the spot to buy Juliette Commagere's slow-motion reinterpretation of America's "Sister Golden Hair," but I found to my chagrin that her version isn't available for download.
Dark Intervals and Shiny Leather
With music tracks, the Studio 230's brightening power could be an asset or a liability, depending on the recording, and even small differences could lead to unpredictable results. For example, among several Keith Jarrett solo piano albums on vinyl, one beneficiary was Solo Concerts, captured live in Bremen and Lausanne. The presentation had beauty to spare, even with the speakers' added emphasis. Next up was the studio set Staircase; though beautiful through many other speakers, it came off glassy and hard. In the Sun Bear Concerts, taped in five Japanese venues, the Kyoto and Nagoya segments were sonically equivalent to Solo Concerts, and amazingly, the JBLs uncovered a subtle recording chain (or pressing?) distortion in the Osaka tracks that I'd never detected before. The somber, majestic Dark Intervals, an early digital recording from 1987, will never win any audiophile beauty contests, though it's amenable to sweetening—which the JBLs resolutely refused to provide.
Even with decidedly non-audiophile recordings, the JBLs blew hot and cold. The more pop-friendly Velvet Underground LPs with Doug Yule replacing John Cale—the self-titled 1969 set and the following year's Loaded—served up a little more texture via the HDI waveguide tweeter, becoming almost plush. Of course, the opposite happened with the determinedly non-pop White Light/White Heat, which became an even more forbidding (though musically brilliant) blare. Overdoing the zesty viola drone on "Venus in Furs," from The Velvet Underground & Nico, qualified as a misstep. That instrumental part should intoxicate, not irritate, in a good system. And yet, it's obvious that the JBLs supported both a Keith Jarrett marathon and a Velvet Underground binge, so they had more than their share of involving qualities.
However, the JBLs were at their best with well-recorded orchestral material like Mahler's Symphony No. 6 with Ivan Fischer leading the Budapest Festival Orchestra (FLAC 96/24). Everything I listen for—the tonal quality of the string section, the layering of the other sections, and the overall orchestral balance—got ticked off my list. With a total running time of 79 minutes and a final movement lasting nearly a half-hour, this typically long-limbed Mahler symphony affords plenty of time to get fatigued or uninvolved. But that didn't happen. The Studios did a splendid job.
Incidentally, if you don't like subwoofers, the Studio 230 has enough bass to function without one. In the Beatles' Abbey Road (CD), the monster drum part and swooping bass line of "Come Together" were quite solid and well pitched with the speakers running full-range, as was the climactic drum solo on "The End."
The JBL Studio 2 isn't a speaker series for all seasons, though it would please some listeners considerably. At the top of the list are those who need a loudspeaker design that minimizes harmful room interaction while maximizing vocal and soundfield clarity. These speakers also might be the ones for you if your current system leaves you starved for detail, or if you tend to listen at low-to-moderate volume and still wish to hear all the detail your recordings offer. On the other hand, if you don't like bright, don't buy them; they don't have the kind of warm tonal balance that other listeners might crave. Still, these affordable and ingeniously engineered speakers will bring rich rewards to listeners and rooms that respond to their strong suits.