JBL Offers Truly Wireless Atmos 9.1 Bar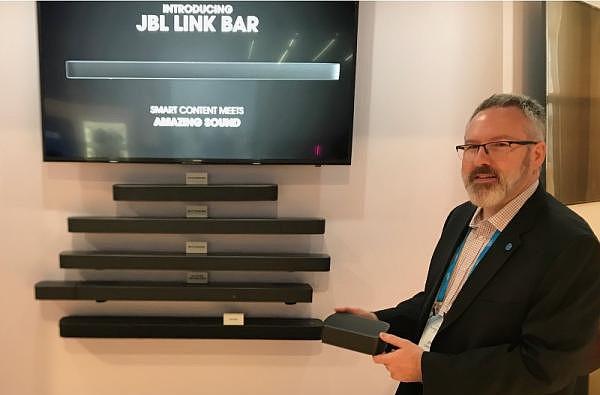 JBL launched a new suite of soundbars at CES, but by far the most exciting for
Sound & Vision
readers will be the company's new Bar 9.1, JBL's first soundbar with Dolby Atmos built-in. The bar not only delivers full 5.1.4 Atmos and DTS:X immersive audio playback, but does it with
true
wireless operation of the surround speakers.
While many subwoofers offer wireless connections to their companion subwoofer and even surround speakers, these surround speakers still all require connection to power, adding another bit of cable clutter to deal with, and requiring the speakers to remain in a near permanent location, something many homeowners don't want. The Bar 9.1 has surround speakers that attach magnetically to the sides of the main bar so they can be removed and powered for up to 10 hours on internal rechargeable batteries. (In the accompanying image, Jim Garrett, Senior Director, Product Strategy and Planning, Harman Luxury Audio, is holding one of the detached surround speakers.)
Each of the rear speakers features an upfiring Atmos driver to deliver true surround and height effects from the rear channels. Once the movie is over, the speakers can be reattached to the bar, eliminating clutter and automatically charging them up for the next movie session. For those extended trilogy viewing nights – or for users looking for a permanent surround installation – the rear speakers can be wall-mounted and powered locally. The main bar includes the three primary front channels as well as two additional upfiring drivers to complete the 3D theatrical experience.
For cinematic bass reproduction, the Bar 9.1 system includes a 10-inch powered subwoofer.
Beyond Atmos and DTS:X playback, the bar also supports streaming from Google Chromecast and Apple AirPlay 2, as well as Alexa Multi-Room Music and Bluetooth support.
The bar supports 4K video passthrough, including Dolby Vision, as well as offering an eARC-capable HDMI connection. It includes 820 watts of total system power to deliver room filling sound in almost any space, and a microphone can aid in setup, detecting speaker location, room layout, and listener position.
While the ceiling height and hard material construction in the demo room definitely helped the Bar's performance, I was really impressed with the height information that seemed to emanate from directly overhead as well as the cohesion between the front and rear channels.
The Bar 9.1 will be available this Spring for $999.