Hands On with JBL's Versatile, Voice-Activated LINK 20 Speaker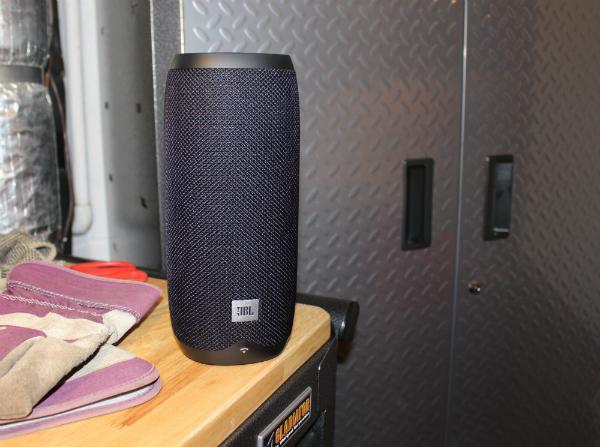 Voice-activated speakers are hitting the market hot and heavy with everyone vying to be the only system you'll invest in. Amazon is hoping you'll pick Alexa, and Cortana is hoping to get some traction in the market. Once you're a Google family, odds are you'll stay there. To that end, JBL just released a new line of Google Assistant voice-activated speakers, and the LINK 20 is the perfect balance of features, sound quality, and portability. Yup — that's right — a voice-assistant that's not only portable, it's waterproof too so it can go anywhere.
The JBL LINK 20 (MSRP $200) sits in the middle of the LINK product line; I will be reviewing the top-of-the-line LINK 300 in a few weeks. The LINK 20 is a similar shape to the Amazon Echo and Harman/Kardon Invoke. It's an 8.2" high, 3.6" round cylinder. It has two 50mm speakers powered by a 20-watt amplifier. And unlike most other speakers on the market, the LINK 20 plays in stereo. Yes, you read that right. It has stereo playback and supports Spotify Premium and HD audio streaming up to 24bit/92kHz.
The LINK 20 has Bluetooth in addition to Chromecast and a Wi-Fi connection is required to take advantage of all that the Google Assistant has to offer. You can set up multiple LINKs throughout the home to all play the same music — even using the LINK 10 or LINK 300. That feature is easy to set up on the Google Home app. Once the system is set up, you don't need the app for anything else. If you are out of WiFi range, it is possible to use with a hotspot, but it is a bit complicated and actually requires two phones.
Volume controls are conveniently placed on the top, along with a Google button that activates the voice assistant, so you're not constantly shouting "Hey, Google." One great thing about this system — the Assistant will activate by either "OK, Google" or "Hey, Google." My phone only perks up with an "OK, Google" command so I can use "Hey, Google" exclusively for the LINK. I desperately wish the hot word was programmable, though, because neither phrase exactly rolls off the tongue.
Perhaps the most exciting feature of the LINK 20 is its portability. As long as I had Wi-Fi, I could take it anywhere. It provided tunes while I worked in the garage, and I could ask Google Assistant for advice and to change tracks and adjust the volume while my hands were too greasy to pick up my phone. It is waterproof, with a IPX7 rating for 30 minutes underwater at 1 meter, as long as the USB charging port cover is sealed properly, so I could use it outside without fear of a sudden shower. Of course, I should have asked Google Assistant for the forecast before I headed out, but it's good to know it can withstand a rain shower.
The LINK 20 has a 6000 mAh battery that provides up to 10 hours of playback, depending on your volume setting. The battery takes about 4.5 hours to reach a full charge. There is a micro-USB port and the LINK 20 comes with a bright orange charging cable and wall plug; this is one cord what won't accidentally get lost or left behind.
The frequency response of the LINK 20 is listed as 65 Hz - 20 kHz. I'm surprised that it claims that much bass. The sound of the LINK 20 is clean and quite natural in the frequencies it does produce, but there just isn't much bass. I would always prefer no bass to crappy bass, so the LINK 20 just cuts off the low-end and keeps a neat, clean sound. The midrange and high-end are clear and accurate, with little coloration or distortion even while playing quite loud outdoors. Indoors, there's none of the harshness in the upper range of female vocals that many other small speakers exhibit.
I have a small stash of portable Bluetooth speakers that I rarely bother to take outside or into the garage with me. I just don't want to mess with them while I'm working in the yard, or have dirty, greasy hands. Yet I've found that I haven't gone to work outside without the LINK 20 since I got it. It doesn't play extremely loud or have a ton of bass, but its advantages far outweigh that. Portable, waterproof, completely hands-free, with stereo playback and Google Assistant all make the LINK 20 an indispensable addition to my tech library.