JBL L82 Classic Makes Old New Again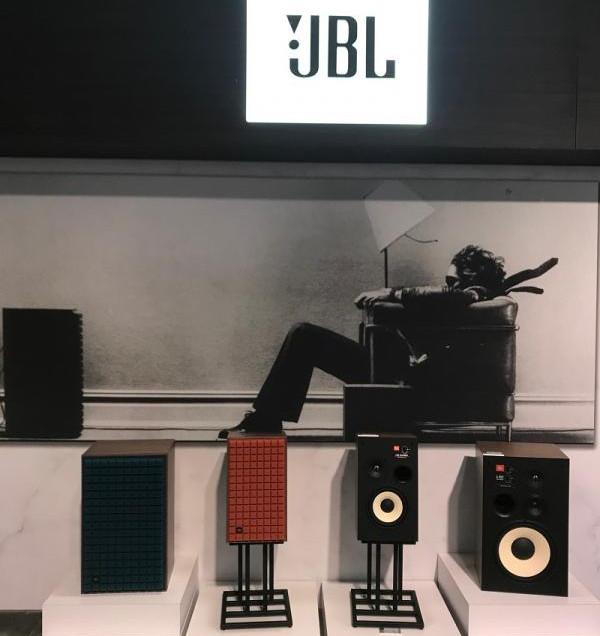 Who doesn't remember the iconic Maxell tape ad with the guy sitting in the chair and his martini being blown away by great audio? The speakers in that ad were JBL L100s, an all-time best seller for JBL, and a 3-way model originally released in 1970. A couple of years ago the company resurrected this design by introducing the L100 Classic, a retro-styled design with updated technology that quickly became a surprise hit. This year JBL is introducing a new model to this retro-styled line, the L82 Classic Bookshelf.
Designed as a shrunken-down version of the L100 Classic (still available at $4000/pair), the L82 is a more compact 2-way design built around an 8-inch mid-bass driver. It retains the classic retro styling, featuring the same genuine, satin walnut wood veneer as the L100 Classic and offered in the same three iconic Quadrex foam grille colors: black, orange, or blue. (FYI, JBL tells me that the orange has been the most popular choice by far.) The speaker is designed for music lovers who want all the styling and design of the L100 Classic, but in a more compact, décor friendly design.
The L82 Classics feature the same 1-inch titanium dome tweeter with acoustic lens waveguide as found on the L100 classic, with a front panel high-frequency attenuator on each cabinet to tweak the sound in your listening environment. As the tweeters are significantly offset from the center of the cabinet, the speakers are packaged and sold in mirrored pairs to ensure proper phasing and imaging. The 8-inch cast frame white poly cone woofer delivers full range sound with enough bass to support whatever music you prefer. I found the sound to have weighty low end extension, with the tweeter delivering detailed and airy highs.
The LS82 Classics will sell for $2500/pair. And if you can't settle on just one grille color, JBL has you covered, offering additional grilles for sale at $199/pair. An optional JS-80 floor stand is also available at $250/pair. The speakers and accessories are expected to be available in April.