JBL CONTROL 1Xtreme Speakers
Xtremely good on the desktop.
What you are about to read is partly a review of the JBL speakers known as CONTROL 1Xtreme, partly an essay about how I rediscovered stereo, and partly a tale of audiofool upgrade fever run amuck.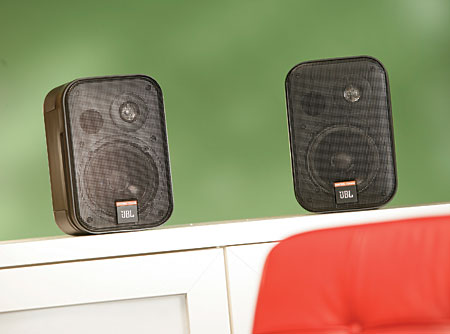 Not long ago, I was reviewing a fabulous multiroom Sonos system. It required the use of at least two pairs of speakers. I grabbed the surround-channel pair from my system but had to leave the other five channels intact. Having given away all of my other spare speakers to penniless friends—having piles of speakers lying around a small apartment is a mixed blessing—I had nothing left. I needed another pair and needed it immediately, so I did something unheard of for an audio critic—I went out and bought speakers. Oh, how the mighty have fallen, I thought as I took the subway to a sleazy discount store on the Lower East Side of Manhattan. Seventy-five dollars later, I returned home with a pair of JBL CONTROL 1Xtremes under my arm. Getting $125 off a list price of $199/pair seemed a good deal, and the package was factory fresh.
Familiar Faces
The CONTROL 1Xtreme is not exactly a stranger to me. It bears a striking resemblance to the 20-year-old JBL Pro III. I've owned a pair of Pro IIIs since the late 1980s—they serve as my TV speakers, hooked up to my video monitor's 4-watt-per-channel amps, blaring out the police-blotter news and weather report every night before bedtime. I Googled the ancient model number and found a ham-radio buff who swears by them. Theo Kalomirakis, the home theater interior-design guru, used them as surrounds in his first system, which also included JBL's giant, theatrical horned speakers in the front. Kalomirakis has since moved on to fancier gear, but I spent many happy evenings in his Brooklyn home (next door to the Rev. Al Sharpton) listening to the Pro IIIs belt out Dolby Pro Logic surround effects.
What's Inside
I was curious to see how the latest iteration would differ from the original. The CONTROL 1Xtreme looks identical to the Pro III with its round-cornered enclosure with a heavy metal grille. The enclosure is an intriguing hybrid of plastic and rubber, the latter forming top and bottom pieces that deaden the speaker's contact with whatever surface it's resting on. Pull off the grille, and you'll see the tweeter in the upper right corner of the enclosure, the port on the left and slightly lower, and the woofer at the bottom. Mesh hides the Pro III's 1-inch titanium tweeter, while a transparent plastic phase plug protects the CONTROL 1Xtreme's titanium-laminate tweeter.
On the back is a threaded insert to use with JBL's optional mounting kit. As you'd expect in a rigorously low-priced product, the terminals are wire clips, not binding posts. However, they do happen to be heavy-duty wire clips, not the kind that snap off in your hand. I managed to jam them full of thick, 12-gauge generic cable (also purchased on the Lower East Side).
The CONTROL 1Xtremes had a pleasing sound in my bedroom when I linked them to the two-channel amp of the Sonos remote system. The JBLs actually sounded better in my bedroom than my larger reference monitors did in the living room with another Sonos amp. My reference speakers sound amazing with my Class AB reference receiver; mated with the slightly gritty Class D amps in the Sonos system, though, they were too revealing. The JBLs proved that discretion is sometimes the better part of valor.
Xtremely Multitalented
That would have been the end of the story if the CONTROL 1Xtremes had ended up in the back of a closet. As it happened, though, I was dissatisfied with the tinny built-in speakers on my new IBM 17-inch LCD monitor. What would the JBLs do for an IBM ThinkCentre desktop that is loaded with MP3s? I had a fancy English amp to work with and nothing to lose. So, I connected the JBLs to an old but reliably great-sounding Onix OA-21S integrated stereo amp. The result kept me entertained for weeks.
I loved this little system I'd built out of scraps. It became my faithful companion every evening. Usually, I would read a book while the system played in the background. At 50 watts times two, it is an energy-efficient alternative to my 100-watt-times-five surround rig. But, as often as not, the system distracted me from my book, and I wouldn't turn a page for hours. The JBLs and the Onix were playing well into the night, long after I had shut down the IBM for the day. So, to cut the PC tether, I added another museum piece from my collection, a beautifully overbuilt Rotel RCD-965 Limited Edition CD player. Now I had a standalone system.
Putting It Together
My MP3s sound pretty good—especially the new ones, encoded at 192 kilobytes per second with Windows Media Player 10, which now rips MP3s at blinding speed without a plug-in. But the JBLs acquired more refinement when I fed them CDs. That in turn made me spin the Onix's volume knob with greater abandon. As I passed the 85-decibel mark, I realized I was missing something—bass. Now I was in the grip of an upgrade fever, so I raided my collection for a Pinnacle SubSonic subwoofer with 350 watts powering two 6.5-inch drivers. (See our July 2002 issue for a full review with the Pinnacle Quantum satellites.)
Any sensible person would have stopped there. I had two great little speakers, a great little sub, a hard drive loaded with MP3s, and a CD player designed for the gods—in short, the sweetest 2.1-channel desktop system anyone could desire. What could possibly be missing? Well, how about a turntable? After all, my apartment is loaded with old vinyl, the Onix has a phono input, and one of my two turntables was gathering dust. So, I threw in a 22-year-old Luxman PD-289 with a brand-new Shure M97xE cartridge. Now my desktop system had a high-resolution source with an all-analog signal path—not a single digital chip in the whole system, barring the PC.
Colorful Sound
It wasn't the most neutral system I've ever assembled, but it was addictively pleasurable. The CONTROL 1Xtremes still bore the distinctive midrange coloration and upper-bass boost I've known and loved since I first heard the Pro IIIs. Austere recordings suddenly bloomed in tonal colors that would have surprised the engineers that recorded them. Recordings that were already warm tipped over into congestion, but that only happened in a serious way with maybe one disc in ten. Pulling off the grilles helped—it's hard to beam anything pristine through perforated metal. I dialed in a fairly low sub crossover, about 90 hertz, to keep the sub from bloating an already fat sound.
When I was seated at my desk, the highs and upper mids were as gentle as a balmy summer breeze. There are very few speakers that sound good 2 feet from your face, but the JBLs are among them. At much louder volumes, when I moved to my armchair 14 feet away, the system had more dynamics than any desktop rig I've ever used. However, it compressed at a lower volume than my reference surround system.
Build Your Own System
Would you like to try this at home? The CONTROL 1Xtreme sells at a discount on the Internet. Pinnacle's SubSonic is still a current product. You probably won't find the Onix amp for sale unless someone flogs one on eBay, but one of NAD's three integrated stereo amps would make a fine substitute. Rotel still makes superb CD players, and, unlike my old Limited Edition piece, they're HDCD compatible. Luxman no longer sells to the U.S. market, but Music Hall offers several good budget turntables, and you can order the Shure M97xE cartridge from Amazon.com.
Although JBL doesn't seem to be doing much to promote this speaker, the CONTROL 1Xtreme is both a certified bargain and a potential underground sensation for multimedia systems. It's big enough to serve as a standalone speaker for casual listening but small enough not to hog your desk. Up close and personal, it's a slick diplomat, and, farther back, it's a powerful entertainer. Mine are now the standard against which I'll judge all multimedia speakers.
Highlights
• Sweet little speaker; perfect for casual listening on desktop
• Voiced to sound gentle when played at close quarters