Jack Reacher: Never Go Back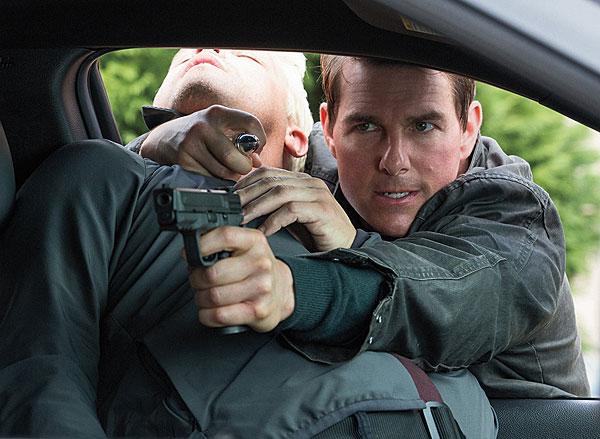 Matters are complicated further when Reacher is informed that he's been delinquent in child support payments for a daughter he never knew he had. And to top it all off, he's framed for a brutal murder. Reacher must engineer a clever escape with Major Turner, and a thrilling chase ensues with the entire intelligence community hot on their tail—otherwise there'd be no movie. The already anorexic plot gets further bogged down when Reacher's supposed teenage daughter becomes a target herself.
The 4K UHD picture offers fine sharpness and detail, like the patterns and textures of a carpeted airline partition or the embossed stitching on an officer's uniform. There is also considerably less film grain overall than in the standard HD version. But with our protagonists continually on the move, the action moves swiftly with them, and the 4K image suffers from minor digital strobing issues like when the camera pans past a chain-link fence and the image can't fully delineate between the fence and the background behind it.
The sound is rendered for Dolby Atmos but will revert to a Dolby TrueHD 7.1 for those unequipped. There is superb punch and excellent directionality from the surrounds with fistfights, gun battles, car chases, and large crowd scenes, while never overpowering the center-channel dialogue track. Quieter moments feature nice ambience like the ever-present hum of a plane in flight and background chatter in a crowded airport.
Extras are featured on the accompanying HD disc and consist of six featurettes that exhaustively detail the making of the film with interviews with the cast, director Ed Zwick, author Lee Child, and numerous others. A Digital Copy is included but is redeemable exclusively through iTunes.
As a straight-up action film, Jack Reacher: Never Go Back is entertaining and fun as long as you don't look too far beneath the surface.
Blu-Ray
Studio: Paramount, 2016
Aspect Ratio: 2.40:1
Audio Format: Dolby Atmos / Dolby TrueHD 7.1 core
Length: 118 mins.
MPAA Rating: PG-13
Director: Edward Zwick
Starring: Tom Cruise, Cobie Smulders, Danika Yarosh
Tom Cruise is back as Jack Reacher, the ex-Army major, now aimless drifter hitchhiking around America carrying nothing with him but the clothes on his back and his cell phone. When an Army colleague that he's never met, Major Susan Turner, is arrested on suspicion of espionage, Reacher takes it upon himself to investigate and clear her name. He of course knows she's innocent because they've flirted on the phone and she's surprisingly hot for an Army major.