The Wizard of Oz Returns to the Big Screen in IMAX 3D September 20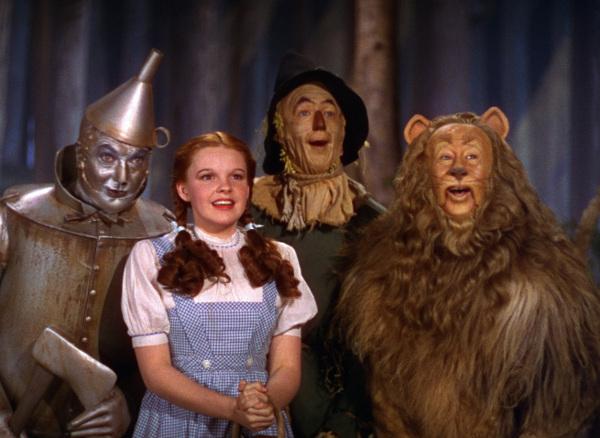 75th Anniversary Collector's Edition Blu-ray Box Set to Follow October 1
Marking the 75th anniversary of The Wizard of Oz, Warner Bros. has produced a remastered 3D version of the film that will return to the big screen for a one-week engagement in IMAX theaters across North America beginning September 20, 2013.
Following the theatrical release, Warner Bros. Home Entertainment will release The Wizard of Oz 75th Anniversary Collector's Edition box set on October 1, 2013, a limited and numbered five-disc set with a list price of $105. The set will feature Blu-ray, Blu-ray 3D, DVD, and UltraViolet versions of the film; a new documentary, The Making of The Wonderful Wizard of Oz; and bonus features and collectibles.
Three more editions will also be available: a standard Blu-ray release ($19.98) plus a two-disc 3D/Blu-ray set ($35.99) and a two-disc DVD set ($16.95). All four editions will include the following:
The Making of the Wonderful Wizard of Oz documentary – A candid overview of how a troubled production overcame the odds to become an integral part of American culture with contributions from historians John Fricke and Sam Wasson, composers Stephen Schwartz and Marc Shaiman, critics Leonard Maltin and Michael Sragow, and Bert Lahr's son John. The film includes historical interview clips with Judy Garland, Ray Bolger, Buddy Ebsen, Margaret Hamilton, Mervyn LeRoy and others.
Limited edition memorabilia – A collectible 75th Anniversary journal; Sparkle Ruby Slippers Globe; Noble Collection three-piece enamel pin set, a Map of Oz, and a 48-page hardcover book. The collection is numbered.
The 3D conversion, a long and complex project initiated by Warner Bros., included ultra high resolution (8K) scanning of the original Technicolor camera negative and creating a depth-map of each frame to construct 3D imagery.
"People have asked for years about The Wizard of Oz 3D conversion. My answer was always, 'We're not doing it until it's perfect.' And now it is," said Ned Price, Warner Technical Operations' vice president of mastering. "As a kid, I was so enthralled by this film. Watching it, you just want to enter the frame, enter the Land of Oz. This new version will allow you to do just that."
Visit the official The Wizard of Oz 75th Anniversary website for more information.