It's a Great Time to Bring A/V Into Your Backyard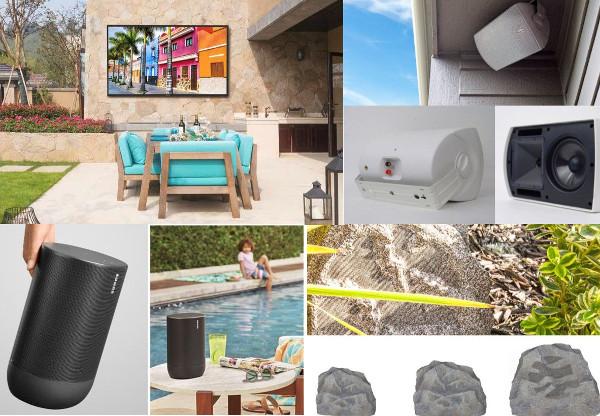 The inimitable Robin Williams once said, "Spring is nature's way of saying let's party." Living in the Northeast, I couldn't agree more. Summer's just around the corner and lockdown rules are finally being loosened to allow parks, beaches, and businesses to open. But the thing is, your backyard never closed. And what better time to take the music and other entertainment you enjoy inside your home to the great outdoors.
If you like the idea of taking your A/V outside, the first question to ask is: Do you want a permanent installation or a simple portable solution that allows you to enjoy music on an as-needed basis. Either way, here are a few options to consider if you like the idea of relaxing in the backyard while listening to music and sipping on a glass of wine.
Permanent Possibilities
Speakers designed for permanent outdoor mounting come in several varieties but two popular options are weather-resistant speakers built to serenade a patio or deck area from under the eaves of your house and "rock speakers" or satellite speakers with integral stakes designed to be placed inconspicuously in a landscaped area.
While experienced do-it-yourselfers can certainly handle setting up a permanent outdoor audio system, many people hire a custom installation company to create a self-contained setup or one that ties into the home's central A/V system.
There are countless examples of speakers designed for surface mounting outdoors, many from familiar names in home audio, including JBL, Klipsch, and Paradigm, which rank among the most installed brands, according to the recent Outdoor Technology study from the industry trade publication CE Pro.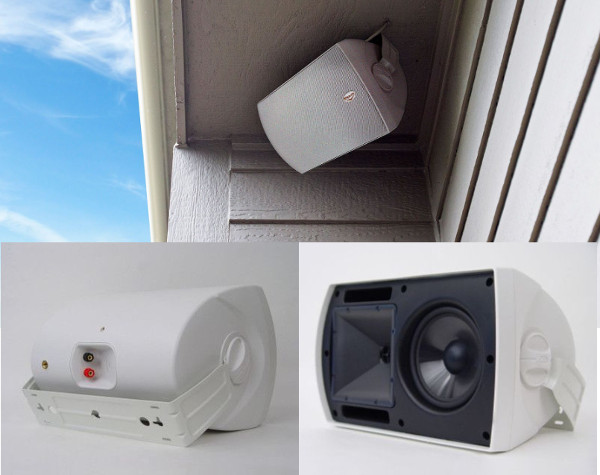 Klipsch's AW (All Weather) line of outdoor speakers, for example, offers four high-efficiency models that pair the company's signature Tractrix horn-loaded tweeter with different-size woofers in a paintable UV-resistant plastic enclosure with an aluminum grille and integral stainless-steel mounting bracket. The main difference between the models is enclosure size, bass output, and much volume they put out for a given power input (sensitivity).
The top-of-the-line AW-650 ($599/pair) mates a horn-loaded 1-inch titanium tweeter with a 6.5-inch woofer, while the entry-level AW-400 ($274/pair) pairs a 1-inch polymer tweeter with a 4-inch woofer. In terms of bass and sensitivity, the AW-650 is rated down to 70 Hz (±3 dB) and boasts has an impressive 95 dB (@1 watt/1 meter) sensitivity spec; the 400's bass output is limited to 91 Hz (±3 dB) with a respectable 91 dB sensitivity rating.
klipsch.com
If you're looking for speakers that will disappear into the landscape, custom installation specialist Sonance is one of many companies offering speakers that masquerade as rocks. Three "durable and corrosion-free" models are available in a brown or gray granite-like finish with a natural stone texture and contours. Each is housed in a fiberglass-reinforced plastic enclosure designed to withstand exposure to UV, high heat, wind, rain, snow, and has an IPX4 rating, meaning it has been tested for resistance to water splashes from a nearby pool.
The RK63 and RK83, available at BestBuy for $386 and $619, are two-way models featuring a 1-inch tweeter and a 6.5- or 8-inch woofer, rated down to 50 and 40 Hz (±3 dB), respectively. Sonance rounds out the line with the RK10W subwoofer ($439 at Best Buy), which packs a 10-inch woofer rated down to 35 Hz in a 37-pound "rock" measuring around 19 x 17 x 14 inches.
sonance.com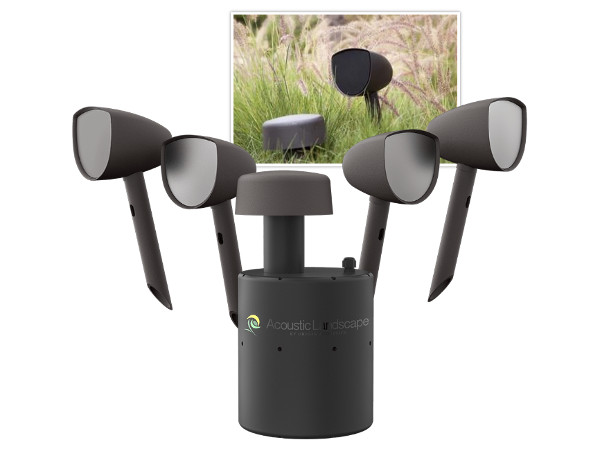 Origin Acoustics, a speaker company founded in 2014 by custom installation pioneer Jeremy Burkhardt, offers four series of outdoor speakers, including the Acoustic Landscape line featuring a sub/sat system comprising low-profile speakers and an in-ground subwoofer. Each satellite combines a 0.75-inch tweeter and 4.25-inch woofer in a weather-resistant plastic enclosure and comes with a mounting stake so you can "plant" it in a landscape bed. The subwoofer is rated down to 32 Hz (±3 dB) and houses an 8-inch woofer in a weather-resistant plastic cylinder that gets buried in the ground; bass is radiated through a pipe with an earth-colored mushroom cap that is easily hidden in foliage.
Origin says a single channel of "any premium AVR" can power up to four satellites. The system is available in configurations with a subwoofer plus four (AS4.1), six (AS6.1), or eight (AS8.1) satellites designed to cover up to 1,500, 2,000, or 2,500 square feet, respectively. The AS4.1 bundle is available on Crutchfield for $1,700 or you can buy a pair of AS4SATs for $400.
originacoustics.com
crutchfield.com
If you're going through the trouble to permanently mount speakers outside, why not add a TV? Just be prepared to dig deep into your wallet, as TVs designed to withstand the elements are luxury items that don't come cheap.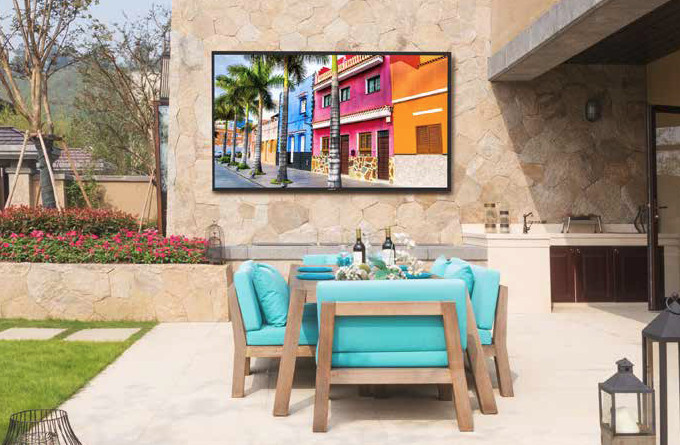 Peerless-AV, one of several companies specializing in outdoor TVs, recently added an 86-inch model to its UltraView series of "all-season" 4K TVs designed for use in direct sunlight and built to operate at temperatures between –22° to 122° F. Encased in aluminum to protect against inclement weather, the TVs are said to be three times brighter than a typical indoor TV and include an ambient light sensor that automatically adjusts screen brightness for optimal viewing (and power consumption) and an IR (infrared) extender input and IR repeater output for integration with home control systems. Other highlights include a waterproof remote control, built-in speakers, and a sealed rear compartment with A/V connections, including a USB port and three HDMI 2.0 inputs. Though the TVs are described as "maintenance free," the company recommends using the supplied dust cover when the TV is not in use to prolong its life.
The UltraView series has four models: the 49-inch UV492 ($3,479), 55-inch UV552 ($4,059), 65-inch UV652 ($5,219), and 86-inch UV862 ($13,919). Peerless also offers the Bluetooth-enabled Xtreme Outdoor Soundbar ($506) as an audio upgrade for its outdoor TVs. The 200-watt, four-driver soundbar has an IP65 rating, meaning testing has shown it to be dust tight and able to withstand powerful streams of water. Other brands specializing in outdoor TVs include SunBrite, Séura, and SkyVue, which is running a spring sale with substantial discounts through Monday (5/26/20).
peerless-av.com
Stealth Acoustics ups the ante with its line of Patio Theater systems, which includes the amazing Transformer — a massive 120-inch LED-backlit LCD TV that folds into a weatherproof fiberglass enclosure when it's not in use. More than just a hideaway TV, it's a complete turnkey theater system with a preamp, control system, and power amplifiers that drive a built-in subwoofer and LCR (left/center/right) speakers. It even includes professional networking gear to ensure reliable wireless signal reception. The cost is steep at $120,000 but all you have to do is plug it in and hit play.
As resident custom installer John Sciacca put it when he saw the system in action at CEDIA Expo last fall, it "goes from nothing to something awesome in less than a minute." You can read his report here. The company also offers fixed outdoor theater setups with (diagonal) LED-backlit LCD screens ranging from 103 to a crazy 184 inches and the choice between a 2.1 and 5.1 integrated audio system.
stealthacoustics.com
Portable Options
Thanks to an abundance of portable Bluetooth/wireless speakers from known (and unknown) audio brands, there are more options than ever before for bringing music outside onto your patio or deck.
It took wireless speaker pioneer Sonos forever to get around to making a battery-powered model you can take outside, but it was worth the wait. The Move ($399) is a versatile two-way system housed in an IP56-rated dust/waterproof enclosure built to withstand a 6-foot drop. The speaker supports Wi-Fi/AirPlay 2 and Bluetooth connectivity as well as voice control via Amazon Alexa or Google Assistant and comes with a convenient charging base that makes it easy to recharge its 10-hour battery without having to mess with connecting cables. It even includes Sonos' Trueplay automatic calibration system, which adapts the sound to the surrounding environment — boosting the bass when it's in an open space and applying equalization to achieve the best possible sound when it's indoors.
Sound & Vision's Leslie Shapiro was thoroughly impressed with the Move: "It's convenient, easy to use, offers a choice of voice assistants, supports plenty of streaming options, and, bottom line, sounds great." All of which made it an easy choice for our Top Pick designation. You can read Leslie's report here.
sonos.com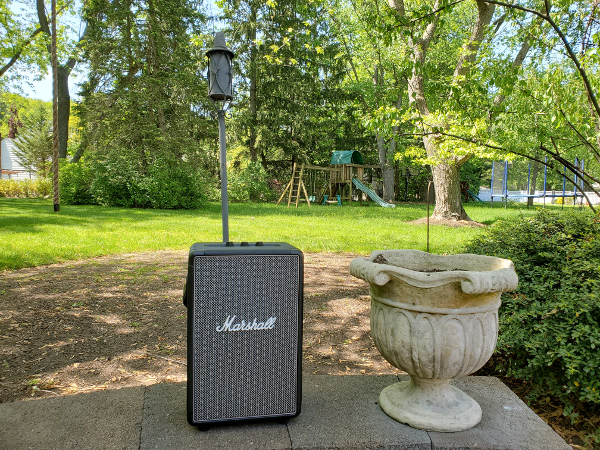 For something completely, different and special in its own unique way, Marshall, the U.K.-based maker of the iconic guitar amplifier, recently expanded its line of well-crafted Bluetooth and Wi-Fi-enabled speakers with a portable Bluetooth model that looks (and feels) like a miniature version of the classic Marshall cabinet used by countless rock guitar gods (past and present). The Tufton ($399) packs five speakers — a woofer, two full-range drivers (one rear facing for multidirectional sound), and two tweeters — and 80 watts of power in a sturdy enclosure with corner protectors that stands 14 inches tall. Build quality and fit and finish are impeccable.
You wouldn't want to drop it in the pool, but the speaker is built to resist light rain and splashes when you're lounging around the pool. Battery life is good for 20-plus hours when fully charged, which takes about two-and-a-half hours, but there's a quick-charge mode that provides 4 hours of play time after only 20 minutes of charging. I had a chance to check out the Tufton and was impressed with its ability to loud with surprisingly robust bass, making it perfect for use outdoors — especially a raucous backyard party (whenever we can get back to that — something not yet possible here in the NY metropolitan area).
marshallheadphones.com
Another portable speaker worth considering is the BF400 outdoor speaker from the car audio gods at Kicker. The first in the Bullfrog series of portable Bluetooth speakers when it came out in 2017, the BF400 features a superbly crafted rubberized enclosure that houses a full-range driver/3 x 4-inch bass radiator combo on each side — firing in opposite directions from behind weather-resistant metal grilles. With an IP66-rating, this thing is impervious to dust/dirt/sand and direct water sprays from a high-pressure nozzle and, unlike your everyday Bluetooth speaker, includes an FM tuner — a nice perk if you're of a certain age and still listen to the radio. Best of all, it will play loud and clear for up to 20 hours when fully charged. I don't know if they're running a special or if it's been discontinued, but the BF400 is currently selling for $200 on Amazon and kicker.com. You can read our original report here.
kicker.com
If you like the idea of a serious party vibe, complete with flashing lights and karaoke potential, you need to check out JBL's PartyBox line of Bluetooth speakers. The top PartyBox 300 model packs two 6.5-inch woofers and three 2.5-inch tweeters in a cabinet that 27 inches tall (or wide), depending on how it's situated, and has a rated battery life of about 18 hours. Okay, so it's not weather resistant but it does have a play/sing-along input for a guitar or microphone and is built for big bass (it's rated down to 45 Hz). If you're ready to get the party started, JBL is running a 25% off Memorial Day special offering the PartyBox 300 for $400 through Thursday (5/28/20). The smaller PartyBox 100 is $300 (33% off its regular price) and the medium-size PartyBox 200 is $350, about 30% off its regular price.
jbl.com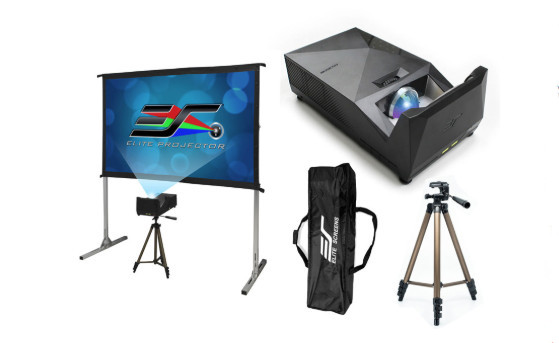 Want to inject a little video into the outdoor fun? Elite Projector, a division of projection screen specialist Elite Screens, offers a considerably less expensive path to big-screen outdoor entertainment than the Stealth Acoustics Patio Theater system mentioned earlier. The MosicGo Sport portable cinema bundle provides a battery-powered ultra-short-throw DLP projector with built-in speakers, a tripod, and a 58-inch (diagonal) Yard Master 2 screen for only $1,200. The 1080p projector uses an LED light source with a rated life of 20,000 hours and its integrated battery is said to last up to 3 hours when fully charged. The projector, which doubles as a Bluetooth speaker, is available separately for $999.
eliteprojector.com