IR or Not, These Apple Apps and Devices Put You in Control of the Remote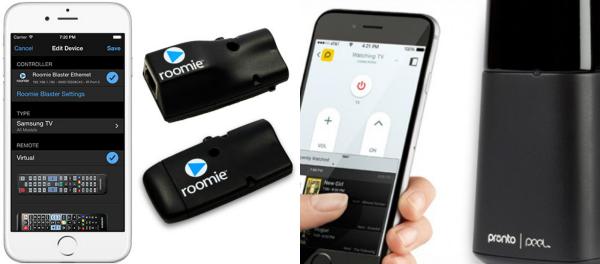 It's rare to be able to mention a feature that's found on an Android device that wasn't featured first on an iPhone, probably with a sleeker presentation. Somehow, however, IR remote control ability seems to have been left out of iPhones, even though it was rumored to be included on the iPhone 6. Samsung, LG and HTC all have managed to include IR blasters on their phones, yet Apple devotees have been out of luck if the want to control their home theaters, until now.
Two new products let users control their home theater devices via their Apple iOS devices. The first is the Roomie 3.0 app. It lets users control their devices over IP, which allows for two-way communications and live feedback. The Roomie is a virtual remote control for a huge library of devices. Its slick interface features gesture control, ideal for when you've gone a bit overboard buttering the popcorn on movie night.
The Roomie 3.0 interfaces with the DISH Hopper and Joey, Tivo, Roku, Amazon Fire TV and more. It even controls a Sonos system and library. For devices that aren't quite that smart, Roomie has two solutions. One is a wireless WiFi infrared control for all the devices in a single room and the other is a wired Ethernet controller. Both control devices in line-of-sight and also come with two wired emitters for hidden devices. Roomie 3.1.0 was just updated two weeks ago and is available for download in the iTunes store for $9.99.
The Pronto ($50) is an IR hub that interfaces with the Peel smart remote app, available naturally, on Apple's App Store for free. In collaboration with Philips (when was the last time we talked about Philips???) the Pronto uses a Bluetooth interface to communicate between your iPhone and your home theater components. It can control TVs, set-top boxes, Blu-ray players, DVDs, amplifiers and more. It is optimized for over 3000 devices from brands including Samsung, LG, Vizio, Philips, Toshiba, and Panasonic.
The Pronto hub runs on 4 AA batteries that are claimed to last up to one year. It pairs quickly to the iPhone via Bluetooth, and it supports multiple users, so whoever's watching TV can control it via their own phone. It is a 360-degree blaster, so it can be placed anywhere that's convenient for your setup - an IR extender cable is included in case you need to control a device that's located away from the rest of your devices - for example, the IR extender can be near the TV while the Pronto is stored in an equipment cabinet away from the TV. Besides getting rid of the clutter of multiple remotes, this also eliminates IR repeater clutter. Nice.
The Peel Smart Remote app is also quite handy. It learns viewers preferences and interests and provides recommendations on what to watch. It has a TV guide that you can view directly on the phone without turning on the TV or set-top box. Plus, it can send reminders that your favorite TV show is coming on so you don't miss it, or you can be reminded to schedule the DVR. The app is compatible with iPhone 4s, iPhone 5, iPhone 5c, iPhone 5s, iPhone 6, iPhone 6 Plus and iPod Touch, iOS 7.1.1 and higher.
As devices get smarter and smarter, it seems that their remotes make most users feel dumber and dumber. These two devices are easy to set up, and even easier to use. Plus, stashing that ever-growing pile of complicated remotes away, permanently, might be the smartest move ever.