Integra Previews New Flagship Receivers & Processor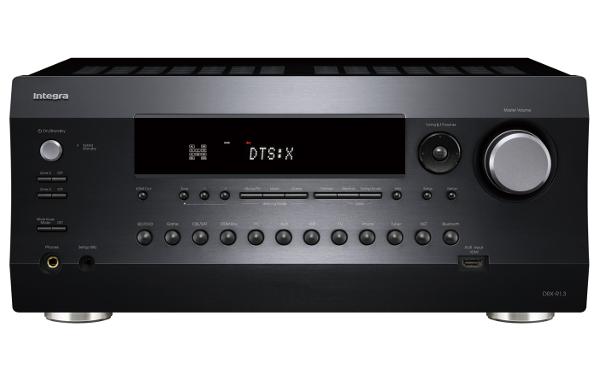 Integra today offered a sneak peek at three new "reference-grade" products that will be officially unveiled at
2019 CEDIA Expo
, which opens in Denver next week.
Leading the feature-packed, flagship lineup slated for delivery in October is the DRX-R1.3 11.2-channel AV receiver ($3,299) — the latest member of Integra's prestigious Research Series — which is joined by the DRC-R1.3 11.2-channel AV processor ($2,499) and DRX-7.3 9.2-channel AVR ($2,399) — all carrying the ".3" designation.
All boast IMAX Enhanced certification and support the 4K HDBaseT connectivity standard for sending 4K high dynamic range (HDR) video more than 300 feet over Cat 5/6/7 wiring, hi-res audio (64/128/256 DSD and PCM up to 24 bits/192 kHz), and Dolby Atmos and DTS:X processing for systems with up to 7.2.4 channels.
But that's just scratching the surface. Other shared features include multi-zone processing, compatibility with Sonos systems, and support for multiroom wireless streaming via DTS Play-Fi, Chromecast with Google Assistant voice control, and Apple AirPlay 2 with Siri voice control.
All three models boast seven HDMI inputs and support the Dolby Vision, HDR10, and HLG high dynamic range (HDR) formats in addition to 4K/60p passthrough, wide color gamut (WCG), 4:4:4/24-bit color, HDMI 2.1, HDCP 2.3, and eARC (enhanced Audio Return Channel).
The DRX-R1.3 receiver and DRC-R1.3 processor are THX Ultra2 certified and have modular circuitry that is locked down to a braced and double-skinned-insulated frame using copper screws. The DRX-7.3 carries THX Select certification and supports Dolby Atmos/DTS:X setups with up to 5.2.4 channels. Rated power is 11 x 140 watts for the DRX-R1.3 and 9 x 135 watts for the DRX-7.3 (both two channels driven into 8 ohms with 0.08% THD).
Highlights of the DRX-R1.3 receiver include a high-current amplifier, multiple 32-bit DSPs and DACs, a shielded power supply and amp section, custom low-hum power transformer, and gold-plated balanced XLR pre-outs for 11. 2 channels.
The DRC-R1.3 processor also has gold-plated balanced XLR outputs and supports 32-bit/384-kHz digital-to-analog (D/A) conversion with AK4490 32-bit/768-kHz DACs for front L/R channels, two AK4458 32-bit/768-kHz multichannel DACs (main channels), and a separate AK4388 DAC for multi-zone audio — features also offered on the DRX-R1.3.
Integra said the DRA-R1, an 11-channel companion amplifier for the DRC-R1.3, will be available in early 2020.
For more information, visit integrahometheater.com.