Integra DTR-8.8 A/V receiver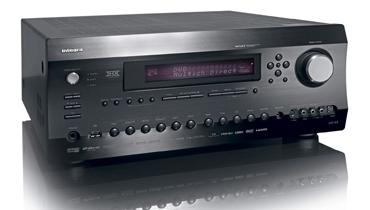 The ongoing evolution of the HDMI interconnect standard has caused practically every A/V company to regularly retool its receiver lineup over the past few years. This can't have been pleasant for the manufacturers' bean counters, but companies that wish to keep their brands up with the Joneses have had little choice but to bite down hard on the HDMI bullet as it progressed from Version 1.1 to the current 1.3.
Integra might have chipped a tooth in the process, but the result has been worth it. The new DTR-8.8 A/V receiver combines HDMI 1.3 switching with a solid set of power and processing abilities that make it an attractive "high-end on a budget" choice.
HDMI 1.3 brings to the table three features that are only beginning to be taken advantage of and that most people aren't even aware of. The first is the ability to carry bitstreams of the two next-gen multichannel audio formats, Dolby TrueHD and DTS-HD Master Audio, from a Blu-ray Disc player to the receiver for decoding (thus eliminating the need for in-player decoding, and for sloppy 6-channel analog-audio hookups). The second feature, Deep Color, which extends video's potential color depth to 36-bit (theoretically, even 48-bit), offers perhaps the greatest potential benefit but has yet to be encoded into any available movies or TV programs. And the same goes for the third main enhancement, automatic lip-sync-delay compensation.
SETUP
Like many other A/V receivers today, the Integra is equipped with Audyssey MultEQ automatic calibration and room-equalization processing. As usual, I plugged in the supplied microphone, ran the setup program through a half-dozen mike locations, and was rewarded by quite accurate settings for channel level and distance, and with reasonable crossover frequencies. I didn't have to make any effort beyond keeping the dog out of the room (he makes too much noise) and repositioning the mike. MultEQ also dials up room-correcting EQ, which as displayed by the Equalizer Settings page of the Integra's onscreen menu agreed pretty closely with results I've seen from other Audyssey-equipped units.
The DTR-8.8 also permits the usual HDMI and digital audio (multichannel analog audio, too) input assignments during setup. There's also a network-setup section (and a rear-panel Ethernet jack) for the unit's Internet/USB audio functions. This found my router's DHCP (automatic IP-address assignment) without fuss.