Integra DTR-8.8 A/V Receiver
From the company that goes itself one better.
Everybody's heard of Onkyo. Sister brand Integra is more of a well-kept secret. Like Pioneer Elite or Sony ES, Integra is a step-up brand for consumers who want a higher-performing or more versatile product. Integra is more oriented toward various aspects of custom installation, including high-end home theater, multizone audio, and networked audio. It's sold only through A/V specialty retailers, not online or via mail order.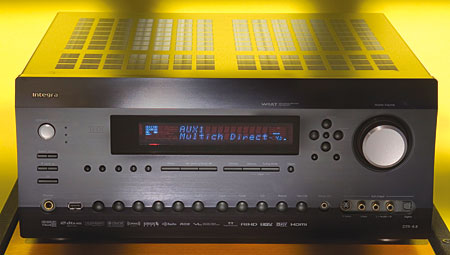 Products offered by Integra but not Onkyo: a hard-drive media center, a multizone amp, a pairing of surround pre/pro and multichannel amp. Products offered by Onkyo but not Integra: HTIBs, stereo micro-systems, speakers, cassette decks, iPod docks. Areas of overlap include A/V receivers and disc players, but you get the idea.
All in the Family
The Integra DTR-8.8 A/V receiver bears a strong family resemblance to my most significant reference signal source, the Integra DPS-10.5 SACD, DVD-Audio, and DVD-Video player. Both have a slightly concave black aluminum front panel—in lieu of the plastic front panels that are depressingly common even on some pricey receivers nowadays.
They share an excellent remote control design. The one that comes with the receiver has a couple of extra buttons, and, of course, some of the functions vary. However, both remotes use a joystick for menu navigation, surrounded by generous-sized volume and channel keys. Above the joystick are source-menu keys. Below the joystick are the setup and return buttons that navigate the receiver's menus. The latter buttons are large and easy to find—how I wish other manufacturers would follow Integra's example.
The connectivity suite is about what you'd expect from a high-end receiver. There are a total of seven inputs to connect a high-definition video device: four HDMI and three component video inputs. Integra earns admiration by providing two outputs of each type. Own both a front projector and a flat panel, and want to connect both of them with HDMI-out from the receiver? No problem. The HDMI is version 1.3a, supporting the latest in video and audio (onboard decoding for Dolby TrueHD, Dolby Digital Plus, and both of their DTS-HD equivalents).
When it comes to accommodating the latest technology, the DTR-8.8 doesn't miss a trick. Audyssey MultEQ XT goes way beyond most auto-setup and room-correction circuits by measuring up to eight points in the room, ensuring that every seat in the house gets a fair shot at sounding good. The video processor—the Silicon Optix HQV Reon-VX—will probably improve on that in your DVD player unless the latter is newish and expensive. Add the right antenna(s), and your Sirius, XM, FM, AM, or HD Radio fix is on the way.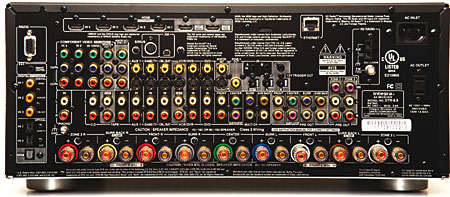 Your digital music library will not be neglected. You can stream MP3, WMA, WAV, and M4A files from your PC via the receiver's Ethernet jack. There's Internet radio capability with 20 presets. Front-panel USB enables you to connect not only a Windows PlaysForSure music player but also a USB thumb drive or external hard drive. With cheap hard drives costing roughly a hundred bucks, you can have the basic functionality of a hard-drive audio server without really paying for one. Sweet.
What with all the fancy stuff, it's easy to forget that the DTR-8.8 doesn't neglect the performance fundamentals. It's THX Ultra2 certified and, therefore, capable of running THX-certified speakers at high, perhaps even deafening, levels in rooms of up to 3,000 cubic feet.
If you'd rather have big front speakers than seven channels, you can configure the back-surround channels to biamplify the front left and right speakers. You can also bridge them to provide up to 220 watts times two. If you want to have subwoofers in your remote systems, both the second and third zones are 2.1-channel. A sheet of color-coded speaker-cable labels was tucked into the manual. How thoughtful.
Associated review gear included the aforementioned Integra DPS-10.5 universal disc player, a Pioneer BDP-HD1 Blu-ray player, and a Regza Planar 25 with a Shure M97xE phono cartridge (nothing special, but it'll do until I can afford something better). I used the turntable with the receiver's phono input. In what's become standard operating procedure for my receiver reviews, I ran five Paradigm Reference Studio/20 speakers full range. The advantage of eliminating the subwoofer is that it requires the receiver to handle bass frequencies, giving it a more challenging load.

A Little Herb Never Hurts
My reference standard for Beethoven symphony cycles is the one Herbert von Karajan recorded with the Berlin Philharmonic for DG in the early 1960s. I have it on vinyl, CD, and SACD. The SACD version of the seventh and eighth symphonies got a muscular workout from the Integra. It seemed to have no trouble blasting the basses through the Paradigms' quintet of 7-inch woofers. The dynamic range was wide and fulfilling. The receiver erred on the side of comfort in the leading edge of the string sound. It was rounded, not astringent.
Melodies from King Crimson's In the Wake of Poseidon, unplayed for years, were popping up in my head for days before I finally succumbed and pulled the well-preserved LP off the shelf. Greg Lake's double-tracked vocals cut through "Cat Food" like an electric guitar, while Gordon Haskell's softer-edged voice flowed through "Cadence and Cascade" like a wave of velvet. The mellotron—a peculiar analog forerunner of the synthesizer that reproduced string, flute, and other sounds with tape loops—sounded a little too forward, but it was recorded that way.
The USB jack beckoned. I quickly bumped Eric Dolphy in Europe: Vol. 1 to a thumb drive and plugged it into the front panel. When I repeatedly pressed the receiver's Net/USB button, the receiver cycled among the USB input, Internet radio, and server/PC access. I also had to set the remote to Net/USB mode. Then I was able to navigate the contents of the thumb drive with the remote's joystick. Dolphy's freewheeling flute and bass clarinet carried me away, as they always do, even though I was listening to lowly MP3s at a mere 192 kilobits per second. The occasional pop reminded me I'd ripped the album from vinyl.
Hot Trombones
El Cantante has the kind of DTS soundtrack that makes you fall in love with surround all over again. It's a movie that literally sings as it tells the story of salsa legend Hector Lavoe, his rise in the New York music scene of the early 1970s, his driven life, and his tragic end. The trombone-dominated brass section was sassy, forward, and hot—but not too much so for listening comfort. Recording-studio dialogue affirmed that it should be that way. Marc Anthony sang the title role, while Jennifer Lopez played Puchi Roman, his tempestuous soul mate, as a force of nature. The Integra was true to the first-rate soundtrack in its brassy top end, throbbing beat, rich dynamic contrasts, and exceptionally well-used soundfield.
Romania is the evocative setting of Blood and Chocolate, where humans turn into wolves and go out hunting for "meat." The handsome boulevards and atmospheric back streets of Bucharest were more arresting than the soundtrack. Although the Blu-ray Disc's PCM track did make most of the low-level dialogue commendably clear, the script was nothing to write home about.
Kings of South Beach in Dolby Digital 5.1 tracks Donnie Wahlberg through a true-life story of bad guys and badder guys. The receiver aced the bass bits of frequent nightclub scenes and was analytical enough to reveal the artificiality of overdubbed crowd noise. A scene dominated by smashing glass was suitably splashy. And, again, the receiver also kept up with deadly serious low-voiced dialogue without driving me to the volume knob.
Considering all the things it does (and better yet, does well), the Integra DTR-8.8 is an excellent buy, in addition to all its other strengths. This top-of-the-line receiver puts it all together—with THX Ultra2 certification, robust amplification, slick auto-setup, room EQ, up-to-the-minute video processing, the latest surround codecs, comprehensive connectivity, and digital-music networking. At $2,400, it's not cheap in absolute terms. But compare it with top-line models from other brands, some of which are less digital-music-savvy and cost a lot more. Suddenly, you have a high-end value player.
Eric Dolphy is still playing off the thumb drive as I finish this piece. Oh, right, that's why I got into this business.
Highlights
• Heavy-duty THX Ultra2–certified receiver with plenty of power
• Comprehensive connectivity and features set
• Digital-music options are big pluses