Insignia NS-SBar-A Soundbar Speaker Page 2
If you're using the soundbar with a select Insignia HDTV, you'll want to connect them using the InControl cable supplied with the soundbar. It allows the HDTV's remote to control the soundbar's volume.
Fun with Rocketboost and Audyssey
In addition to wired connectivity, the soundbar is also compatible with Rocketboost 2.4-gigahertz wireless technology. Remove the grille and plug in an RF-RBCard (optional, $40). Then the soundbar will stream audio signals to or from other products with Rocketboost adapters, thus allowing you to, for example, send music wirelessly from your MP3 player for playback via the soundbar. For more information, see rocketboost.com.
Once your system is properly outfitted, you can call up Rocketboost sources in your system via the soundbar remote or from the source buttons on the speaker's top panel. A Hub switch on the back allows you designate the soundbar as the hub of the Rocketboost network to facilitate its management, or you can switch that to off and designate a different Rocketboost product. You can also use Rocketboost to send low-frequency signals to a wireless sub.
It's noteworthy that Onkyo has adopted Rocketboost for its 2011 A/V receiver line. You can use it for both second-zone and wireless-speaker applications. Onkyo and Best Buy are both investors in Rocketboost developer Avnera. Avnera also supplies the soundbar's energy-efficient Class D amp and the digital signal processing that runs its Audyssey-related features.
As noted, while the soundbar has no surround processing, it does have four audio processing features licensed from Audyssey. Don't confuse the Audyssey EQ function with the auto setup and room correction schemes built into most A/V receivers. It's just a fixed algorithm that the Audyssey people chose for this soundbar's enclosure and drivers. Another feature, Audyssey BassXT, monitors incoming audio signals and extends the low frequencies to what the engineers determine is the soundbar's physical limits. While these probably help, the stars of the NS-SBar-A's Audyssey arsenal are Dynamic EQ and Dynamic Volume. Dynamic EQ remains on all the time, but you can switch Dynamic Volume on and off at will. If you're like me, you'll love using it to tame the dynamic extremes of movie soundtracks, keeping dialogue volume high enough to be heard and effects levels low enough not to grate.
Insignia probably could have stuck buyers of this inexpensive product with a crummy card-sized remote. Instead, it provides a nice boxy, shiny, black wand with the basic functions you'd expect—plus Subwoofer Level, which adjusts either the internal bass drivers or the external sub output—and four separate buttons for Audyssey Dynamic Volume. So, with one-button ease, you can select the low-volume listening mode's Heavy, Medium, Light, or Off settings.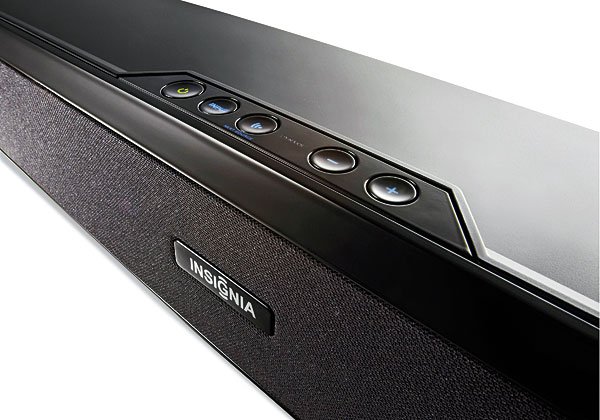 The system's major ergonomic drawback is its relative lack of visual command confirmation. There are no linear-bar indicators visible on the speaker for master volume or sub level. Of course, without video switching, there's no onscreen display, either. I found the lack of confirmation especially annoying when I was adjusting the sub level. I'd ramp it up all the way, then backtrack, counting button clicks as I went. When I altered the Audyssey low-volume modes, barely visible momentary dots of LED glimmered behind the cloth grille, although these modes do generate a faint pop from the soundbar when you turn them on or off.
Movies in 2.1
Ticking Clock (Blu-ray, DTS-HD Master Audio) is a psycho-killer thriller with a twist I won't reveal. The disc menu includes a brief passage of low synth notes, which I used to fine-tune the Subwoofer Level control as described above. Even at its loudest setting, it didn't generate gross distortion or make male voices sound unduly boomy, although at its lowest setting, the lack of bass did make the soundbar sound thin. Insignia/Audyssey erred (if at all) on the side of restraint, the right decision. Your five-year-old could get hold of the remote and still not manage to damage the woofers (probably). I listened to just about everything with the Subwoofer Level all or most of the way up.
LATEST VIDEO