Incredibles 2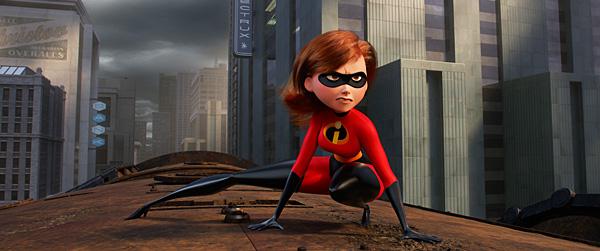 Soon afterwards, however, Helen Parr, AKA Elastigirl, is given an opportunity to save the reputation of the family—and of all Superheroes. Meanwhile, husband Bob Parr, AKA Mr. Incredible, stays home with the kids—fast-mover Dash, disappearing and force-field producing Violet, and baby Jack-Jack. With the latter just beginning to reveal his own weird and still uncontrolled superpowers, and the older kids undergoing teenage-angst or New Math issues, Bob has his hands more than full.
Loaded with Pixar's typically brilliant animation and clever plotting, Incredibles 2 is every bit as good as its predecessor—perhaps even better. As reviewed here on a 65-inch OLED TV, the Ultra HD disc's colors were vivid and true and the 4K resolution superb—but we expect no less from Pixar. The use of HDR is also effective. Bright highlights pop off the screen in a realistic, tangible, but also sometimes surprisingly subtle way that only well-produced HDR can offer.
The Dolby Atmos soundtrack (reviewed here in conventional 5.1 surround) is shiny and vivid, but as with many recent Disney releases it is recorded at an unusually low level. There are also some related dynamic range issues: I had to raise the volume level 3-4 dB higher than the first film required, and when I did so the louder bits were over the top. But many listeners won't mind this, and the soundtrack is otherwise excellent, especially Michael Giacchino's James Bond-flavored score.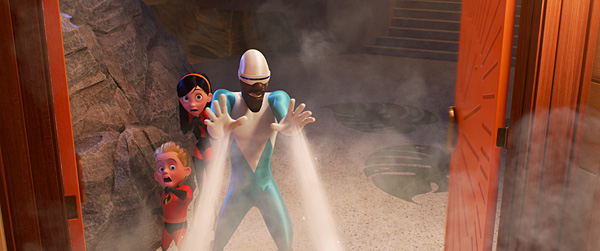 The extras (only on the included standard Blu-ray disc) include deleted scenes (though as with most such deleted scenes in animated films, they're roughly sketched), outtakes, a number of "making of" shorts, and a commentary track. There's also Bao, the theatrical short that accompanied the film in theaters (though as good as it is, I wonder when touchy-feely replaced humor and whimsy in Pixar's shorts). There are also two extras available only with the digital download of the film (which I view as an ominous development). But the highlight extra for me is the Auntie Edna Mini-Movie, in which the Incredibles' quirky costume/fashion designer and movie scene-stealer Edna Mode babysits for the unpredictable Jack-Jack.
Ultra HD Blu-ray
Studio: Disney/Pixar
Aspect Ratio: 2.39:1
HDR Format: HDR10
Audio Format: Dolby Atmos with True HD 7.1 core
Length: 118 minutes
Director: Brad Bird
Starring: Holly Hunter, Craig T. Nelson, Samuel L. Jackson
When we last left our intrepid superheroes (in 2004's The Incredibles) they had defeated the nasty villain Syndrome. The new film opens with the Incredibles battling the Underminer, the same villain they had encountered at the end of the previous film. They win the day with the help of their superhero buddy Frozone, but the resulting chaos puts the Incredibles back in the doghouse with the law and the public.