iLuv SyrenPro Portable Speakers with True Wireless Stereo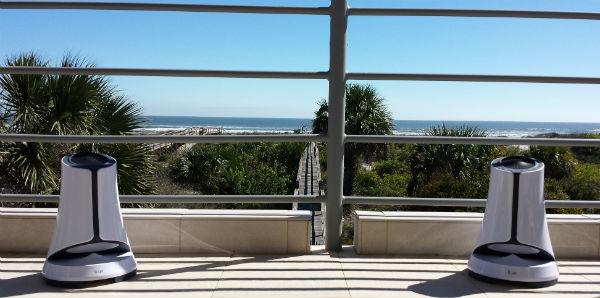 I'll admit it. I'm over it. Or at least I'm just a little tired of the endless parade of portable Bluetooth speakers that claim to be "stereo." Sure, if you hold your breath and keep your head positioned precisely in front of the 3-inch wide box, you can almost convince yourself there's a slight impression of stereo imaging. Worse are systems that claim you can easily pair two devices for true stereo but it turns out that pairing is funky and frustrating and never seems to work. When did stereo become so disposable? The iLuv SyrenPro claimed to be different. Let's just see about that.
An iLuv SyrenPro retails for $149, a pair for $298, so this is not an inexpensive endeavour. But the SyrenPro does have a lot going for it. It is a full-sized speaker in a weather-resistant/UV-resistant package that makes it suitable for outdoor use. The cylindrical tower (8.4" across and 11.6" high) features a tweeter, mid-range driver and downward-firing ported bass enhancer that provides a clean, full sound, but not what I would call earth-shaking. The round shape of the speaker gives it a 360-degree image that's great outdoors when users might not be always in the sweet spot. Interestingly, I did find that listening to it from the front provided the best bass performance. Like some other systems, performance is significantly improved if the system is plugged into power - louder and fuller bass response. Its output power is 10 watts on AC power, 6 watts on battery.
The SyrenPro is a portable system, so it will provide up to four hours of playback on a complete charge. The nicest feature, however, is its Bluetooth (3.0) capabilities. This is one of the simplest systems I've ever set up. Pairing to a single SyrenPro was simple and aided by pleasant voice prompts. Setting up two SyrenPros for stereo playback was almost as simple. A switch lets you select Left, Normal, or Right. (It is protected by a water-resistant covering that also covers the Aux Input and power port). Once you select stereo playback and power on both devices, they pair themselves automatically, indicating successful pairing with a pleasant melody. The rest of the controls are on top of the unit. Power, volume, Bluetooth pairing, and track controls buttons are behind a rubberized bezel that keeps out the elements.
I set up the pair on my outdoor balcony and cranked it up. I cued up Aloe Blacc's acoustic version of "Wake Me Up." While I loved the world beat of the Avicci version, this acoustic version lets the vibrato of Blacc's vocals shine. With the SyrenPros paired for stereo playback and plugged into AC power, the grittiness of his voice was pleasant. However, at the loudest volumes and on battery power, there was quite a bit of harshness in his voice. The acoustic kick had a good sound, but on other tracks with big dance mixes, the bass wasn't quite adequate. For a background music system, however, sound quality and bass response was fine.
There are plenty of times when a tiny portable system would be welcome. When backpacking, or hiking out to the beach, the really tiny ones are terrific. You sacrifice stereo for convenience. However, sometimes you just want a little music out on the patio. You need portable, but not tiny. A somewhat larger speaker is okay and you don't even mind carrying two of them. That's where a pair of iLuv SyrenPro speakers come into play. Battery power, easily moved around, simple pairing, and actual stereo playback. I'm quite happy listening to these and watching the ocean. Now if only someone would bring me another iced tea.