How to Train Your Dragon: The Hidden World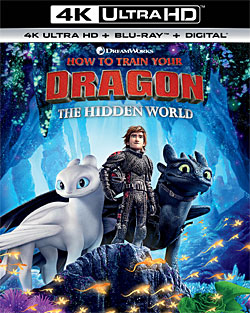 The colors in the town of Berk and its multi-hued dragon residents popped spectacularly on the Dragon Ultra HD disc. HDR (HDR10) was impressive as well, particularly in scenes with fire and bright torches, and picture detail was all you could ask for. The animation in this series has always been first-rate, but it looked even more striking here, from incredibly complex action scenes to small details such as hair blowing in the breeze. Character animation was also impressive.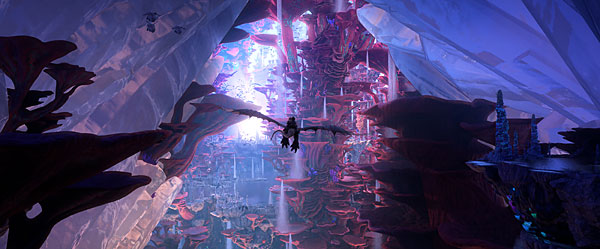 Dragon's Dolby Atmos soundtrack (with TrueHD 7.1 core) was impossible to fault. A slightly low mastering level (resulting in a higher volume setting than I normally use) proved to be no real issue, with the sound coming across as dynamic, but never overtly bright or edgy. The bass was deep and powerful, particularly in the action scenes. I was also so impressed by John Powell's evocative score (Powell has scored all of the Dragon films), that that I listened to the end credits all the way through to experience all of it, including some beautifully recorded choral passages.
The extras are present on both the regular Blu-ray and the Ultra HD disc (though 1080p and standard dynamic range on the latter). They include a full commentary track, deleted scenes, an alternate ending, and several short "Making Of" documentaries. There are also several fun and informative features on the film's dragons.
Ultra HD Blu-ray
Studio: Universal
Aspect Ratio: 2.35:1
HDR Format: HDR10
Audio Format: Dolby Atmos
Length: 104 minutes
Director: Dean DeBlois
Starring: Jay Baruchel, America Ferrera, F. Murray Abraham, Cate Blanchett

The village of Berk is now the overcrowded home not only of our favorite Viking clan, now led by a grown-up Hiccup, but also a huge and motley assortment of friendly dragons. After they encounter a revived gang of dragon-hunters led by the ruthless Grimmel, Hiccup decides that their only solution is to evacuate Berk, where they're an obvious target, and search for a new home where they'll be safe. Complications ensue with the arrival a white female Night Fury, soon dubbed a Light Fury. Toothless is smitten, threatening both the clan and the close friendship between Hiccup and Toothless. There's surprising depth to the final resolution, and it wraps up the third and likely final installment of this boy and his dragon saga in an emotional fashion that should please fans of the series. Keep a hanky handy.