Hogar Offers Smart Home Brains and Beauty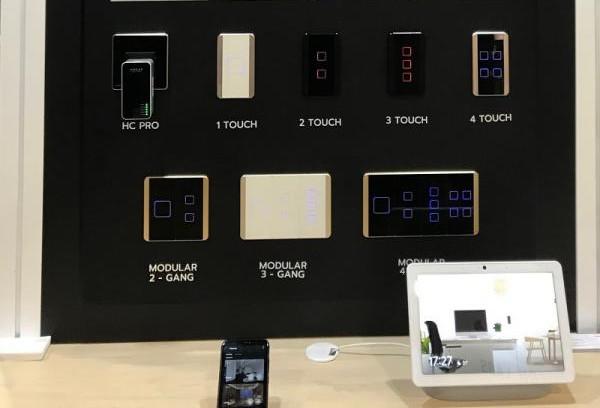 There have been lots of developments over the years in the category of smart lighting control, but most of these smart controls don't really look much different or nicer than a classic paddle switch you can pick up for a couple of bucks at your local Home Depot. Hogar Controls feels that the modern smart home deserves something that looks better than just an ordinary light switch, and the company's new Prima Touch Switch line offers a sleek designer finish that makes your modern home actually
look
modern!
This line of multi-function, modular switches replace standard push buttons with far more stylish capacitive touch controls. With a sleek, three-inch glass design, the switches are offered in a single, double, triple, and quadruple button configuration providing either basic lighting control with dimming for a single zone, or scene control to interface with a host of Z-Wave and Zigbee smart devices becoming a stylish point of control for lighting, comfort, entertainment, security and more. The buttons illuminate blue (off) and red (on) to provide quick visual feedback as to the state of the lighting or scene. (Yes, I felt that Red "on" was also a bit counterintuitive, but the company feels the blue lighting looks better when the system is in the "off" state.)
Once the Touch Switches have been programmed in the Hogar app, users can touch, tap, or finger swipe (dimmer only) to easily control virtually any connected device within the home. The modular design allows you to easily install the correct number of devices to accommodate existing wall boxes, with no new additional wiring required. The four-button touch can fit into a single-gang wall box and control up to four individual lighting circuits! (Though, if you've ever worked with ultra-stiff Romex power cabling, you'll appreciate how challenging it might be to wire four loads into a single-gang box!) The devices can control up to a 1000-watt lighting load, with only the single button model offering dimming.
A single HC Pro Hub ($399) is required to facilitate communication and programming of the Prima system, and it is compatible with over 600 smart home brands. Beyond Z-Wave and Zigbee, the system also supports Wi-Fi and Bluetooth communication.
Available in white or black glass with a black or gold bezel, the Hogar Prima Touch Switch series is now shipping with pricing at $104, $114, $124, and $134 for the one- to four-button configurations respectively.
Hogar also gave a sneak peek at their next generation of control solutions, the Aura Wall Touch Switches.
These look like in-wall versions of Android touchscreens and will offer high-end homes an even more modern aesthetic with additional control options. No pricing or availability was announced.