Here, There, and Everywhere
New streaming and networking options for the home and beyond.
Sling Media
I bet our founding fathers came to this same conclusion: One of the obstacles to true freedom is the necessity of wrapping your mind around the new benefits that await you. Take the Slingbox. It's a revolutionary piece of hardware, if you can grasp the relationship between audio, video, and networking. It takes the signal from any standard home entertainment device and streams it to a computer elsewhere in your house—or via the Internet to a laptop, desktop, and even certain phones. The best source component to use with the Slingbox is a DVR, as it combines live TV with stored content and recording capability, all of which you can control remotely.
Booked on suspicion of streaming digital media via the internet
The system requirements for the host PC are formidable but not brutal: a 1-gigahertz Intel Pentium 4 processor, Windows 2000 (with Service Pack 4) or a newer operating system, a wired or wireless home-network router, and a broadband Internet connection with a cable or DSL modem for away-from-home viewing. You'll need to install the SlingPlayer software on any device that will be receiving the stream, and, yes, you can receive on more than one, but not at the same time. The Slingbox unit's setup is straightforward. It achieves a passthrough via the two included audio/video cables—in from the source components and then on out to the TV again. With a device like my Samsung DirecTiVo, it's even simpler. The Samsung has multiple A/V outputs, so I just commandeered a set of the unused jacks. You'll also need to attach an IR blaster to whichever component you'll be streaming. For multiple devices, you can connect the composite or S-video cables to the DVD player's output and the TiVo's coaxial output to the Slingbox' coax input. You can even split the two-headed IR blaster and position it to control two devices. Of course, remote access of a single-disc DVD player would be tricky since you'd be limited to whatever disc was in the tray, if any. But imagine the possibilities with a fully loaded 200-disc changer.
With more complicated setups, you can use multiple Slingboxes. Configuration was refreshingly simple when I installed the Slingbox on my local area network. If you want to use it remotely, the process becomes more technically challenging. To watch outside of the home, the Slingbox requires an open port on the home-network router. Sling Media recommends a universal plug-and-play (UPnP) router, which will let you open the port automatically. Otherwise, you'd need to manually open the port using the host PC. Another wizard lets you optimize the settings for whichever device is displaying the stream, with sliders for brightness, contrast, saturation, hue, and volume.
Remote use of the Slingbox is similar to the in-home experience. Of course, there are variable factors, like Internet traffic, that might hinder the available bit rate, which the Slingbox displays below the picture. When I used the Slingbox remotely, the picture quality was definitely softer than what I'm used to, although it was still passable for typical NTSC content. When I watched in full-screen mode, the image was much smaller than my Samsung LCD monitor. The Slingbox was streaming the signal at standard TV resolution—well below my desktop settings—so it floated within a huge black border. Not surprisingly, when I clicked Fit TV to Player, I got a much bigger but much blurrier window. For fun, I tried the Small TV setting, which gave me an even smaller window than before—but it was remarkably sharp. Some hands-on time will help you determine exactly how you want to watch your streamed content. And think of all the fun you can have channel-surfing on the cable box from a hotel room in Shanghai.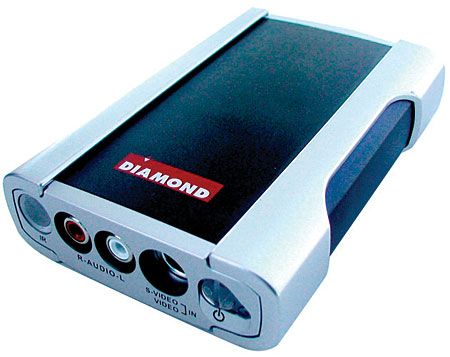 Diamond Multimedia's PVR660 tuner streams digital media across the Web to wherever you want to enjoy it.
Diamond Multimedia
If you're content to let your PC be your DVR but still want to enjoy your content elsewhere, consider the Diamond XtremeTV PVR660 USB 2.0 Power Pack Edition. It's a TV tuner with an MPEG-2 encoder in a form factor not much bigger than a pack of smokes. It offers easy USB installation and the convenience of a hardware video encoder that makes life less taxing for your overworked CPU. TV on the PC is nothing new, but the PVR660 offers a magnificent software bundle highlighted by Orb, a place-shifting application that allows for safe streaming of digital media across the Web to wherever you want to watch or listen. Plus, you can schedule recordings away from home. You also get the ArcSoft TotalMedia 2, a popular, easy-to-master, versatile PC-based entertainment center. It offers both a 2-foot and a 10-foot user interface to fit most displays, as well as the muvee autoProducer 5 software to help you create presentable DVDs. A wafer-thin credit-card-style remote is also in the box, along with generous cabling.
• $130
• (818) 534-1414
• www.diamondmm.com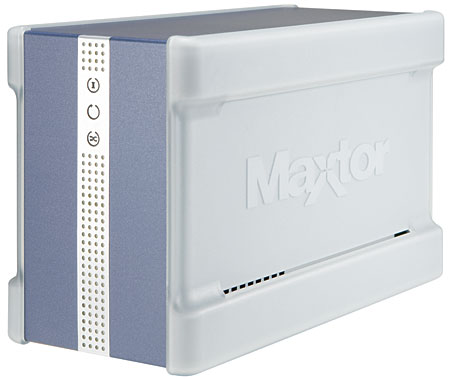 Maxtor's Shared Storage II external hard drive stores an incredible 1 terabyte.
Maxtor
But where will you store all that captured content, as well as all the rest of your ever-increasing media in this voracious digital age? The last word in storage (for now, anyway) is the Maxtor Shared Storage II external hard drive, a network-attachable storage device with an incredible 1 terabyte of capacity. Actual usable space will be slightly less, of course, but 1 TB is equal to 1,000 gigabytes. For some perspective, the first high-end entertainment PC I ever reviewed had a then-staggering hard-drive capacity of almost 17 GB. What could you do with 1,000? Well, depending on the resolution and compression, that's about three-quarters of a million digital photos, 100 weeks of nonstop music without hearing the same song twice, or three solid days of storage-intensive digital video. The single terabyte is actually two 500-GB drives inside the cool, quiet housing, and the many automatic-backup options include data mirroring between the two drives. This new consumer drive also supports the UPnP A/V standard, which can enable connectivity with devices such as TVs, DVD players, and even VCRs. It's just another boon to ease of use as you try to connect everything new to everything old. You can even access content on the Shared Storage II from a media center like the Xbox 360 when the host PC is powered off. It connects via 1,000/100/10-megabit-per-second Gigabit Ethernet, with two USB 2.0 ports. And it's all still well under the critical dollar-per-gigabyte price point.
• $900
• (800) 2-MAXTOR
• www.maxtorsolutions.com