Harman Kardon HKTS 30 Speaker System
Price
: $999
At A Glance
: Sleek, simple-looking satellites with removable pedestals • Small, sealed sub with 8-inch driver
Undercover Operative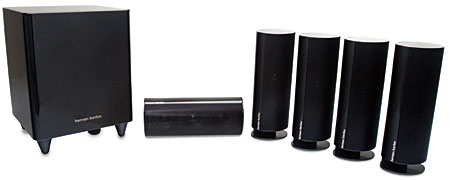 When agents for the federal government's most secretive intelligence agencies take up their sensitive duties, they are outfitted with trench coats and fedoras so that they can blend in with the general population. That's what I thought of when I uncrated the Harman Kardon HKTS 30 satellite/subwoofer system. To look at these speakers, you'd hardly suspect that they form a package that retails for just a buck shy of a thousand dollars. The look is strictly utilitarian, like something you'd see packaged with a less costly system. Yet under the metal grilles there lurk some nice silk-dome tweeters. And the speaker terminals aren't the flimsy plastic-tab wire clips you'll find in the cheapest speakers. Instead, Harman Kardon opts for a sturdy all-metal terminal, a spring-loaded cylinder of a type often seen in better-quality sat/sub sets. Clearly, there's more to this system than meets the eye.
Let's Call It a Package
Harman Kardon bills the HKTS 30 as a speaker package on its Website, although the press release that crossed my desk called it a home theater in a box. Indeed, it did come in a single box. However, the system doesn't come with amps or a signal source, so speaker package is the better description.
It consists of four identical satellites, a center-channel speaker, and a subwoofer. Although the center has exactly the same driver array as the satellites, the tweeter's waveguide is configured differently for optimal dispersion with the speaker's horizontal orientation.
All five speakers include the aforementioned 0.75-inch silk-dome tweeter and a pair of 3-inch woofers. The top panel has an oval shape that remains consistent all the way down to the bottom, where a removable plastic pedestal conceals the speaker terminals. Aside from the nondetachable metal grille, through which you can barely see the drivers, the enclosure is curved gloss-black plastic.
The subwoofer is a small, sealed unit with a down-firing 8-inch driver. It's reasonably attractive, with a gloss-plastic top that echoes the design of the speakers. It offers a choice of stereo or LFE (sub bypass) inputs. Among its few controls is a bass boost switch that "enhances low-frequency performance," according to the manual. I asked my source about the nature of the boost and was told that it's +3 decibels at 60 hertz.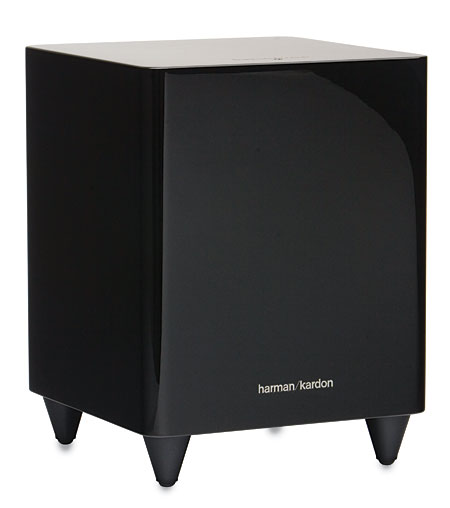 Commendably, Harman Kardon includes black zipcord speaker cables with the package. They are precut to lengths of 13.1 feet for the center, 16.4 feet for the front left and right, and 32.8 feet for the surrounds. The cables are 16-gauge in thickness and have soldered tips that are an excellent fit for not only the speaker terminals, but also for the collared binding posts found on most A/V receivers. By eliminating the need to cut cables and strip the tips, these supplied cables take the struggle out of system installation. Harman Kardon even provides color-coded tags to help you distinguish one channel from another. You also get a subwoofer cable with a purple plug. Add an AVR, a display, and a Blu-ray player, and you've got a home theater system.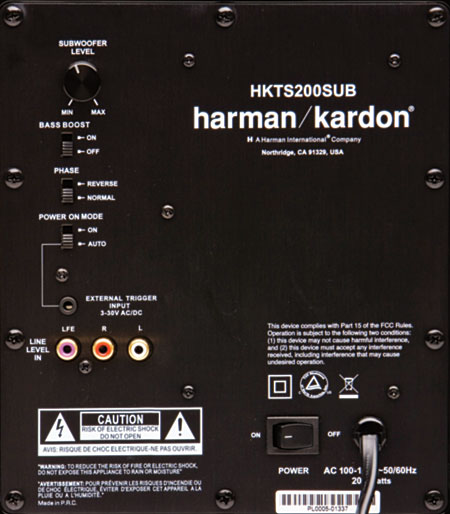 I added a Rotel RSX-1550 A/V receiver, an OPPO BDP-83SE universal disc player, Rega Planar 25 turntable, Shure M97xE cartridge, and Bellari VP530 phono preamp and got down to work. All of my movie demos (and the first music demo) were on Blu-ray Disc.
Little Fish
Ponyo is a Japanese animated tale about a little girl-fish who falls in love with a human boy and aspires to be human. The English-language DTS-HD Master Audio soundtrack features heavy hitters like Liam Neeson, Cate Blanchett, Tina Fey, Lily Tomlin, Betty White, and Cloris Leachman—along with the leads, Noah Cyrus and Frankie Jonas. When the movie reaches for a magical tone, chorus and orchestra swell up in all channels. This recognizable vocal and musical material sounded natural, not tinny, thanks to the smoothness of the system. It wasn't a high-end sound, but if you looked at these speakers and tried to guess how they sound, you'd probably underestimate them until you'd heard them.