Hands On: JBL Cinema Base Soundbar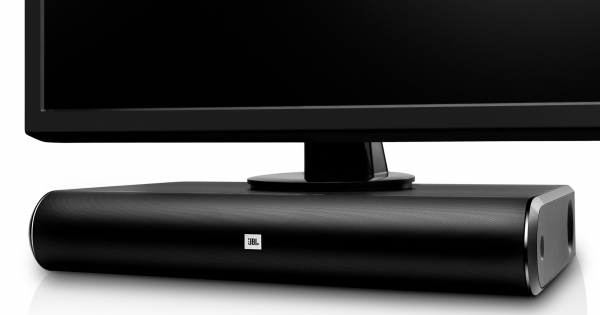 Home theater fashion comes and goes, with almost as much regularity as hemline heights and tie widths. Years ago, massive speaker arrays were in vogue, then tiny little home-theater-in-a-box cubes, and more recently, skinny little soundbars. The problem with soundbars was two-fold. First, they blocked the lower portion of some TV sets. Second, and more importantly, they tended to sound as thin as they looked—requiring a separate subwoofer to get any type of bass response. JBL has an elegant solution with the Cinema Base Soundbar with built-in subwoofer, Bluetooth, HDMI and optical inputs.
The Cinema Base (MSRP $350), as the name implies, serves as a base for your TV. It will support up to a 60-inch set on its wide, solid frame that measures 23.6 x 15.8 x 4 inches (WxDxH) and weighs in at a beefy 17.6 pounds. It is recommended that you limit the TV stand size to 23 inches x 13.5 inches and limit the TV weight to 150 pounds. The Cinema Base has an elegant curved metal grill on the front and just a minimum of buttons across the top edge—power, source select, volume, surround mode and a Bluetooth indicator. It has a built-in Bluetooth receiver, although it's not aptX. Rear panel connectivity is almost as sparse. All connections are in a recessed chamber, so the unit can be positioned almost flush to a wall. There's a power input, optical input, HDMI (ARC) connection, subwoofer output and aux input. There is a USB port on the side panel, but it's only for charging and software updates—you can't use it for an audio connection.
The unit uses an HDMI ARC output—this two-way Audio Return Channel needs to be activated on a compatible TV. The Cinema Base lacks a standard HDMI input. If necessary, you can just use the optical input. There is Dolby Digital decoding, but no support for DTS.
The Cinema Base has two 2.5-inch full-range drivers and two 3.5-inch bass drivers. The frequency response is rated at 45Hz-20kHz. The Cinema Base has Harman Display Surround, which extends the stereo imaging and creates a more enveloping sound stage. It also features Harman Volume, which keeps levels consistent between tracks, or program and commercials. This is also useful to keep sound effects in check when listening late at night when family or near-by neighbors might be sleeping.
The Cinema Base comes with a very small, basic remote. A magnifying glass might be a suggested accessory to read some of the labels for the buttons, although once you know what the icons mean, it will suffice. Luckily, the Cinema Base can be used with most learning IR remote controls. The remote features a separate bass control, and it also has an audio feedback button. When activated, it gives audible feedback for some buttons on the remote, since there is no on-screen display. For example, it uses ascending pitches when you're increasing the bass volume, and a descending pitch as you reduce the level, repeating the same pitch when you're at the end of the range. It's actually helpful to know you're at the end of the range when making adjustments, and reassuring to know that you're actually making a change when you hit the plus or minus button.
I preferred the system with the bass boost just a tad higher than midway. It has a round, full bass sound, and movie effects had good impact, but not the earth-shaking, chest-pounding feel you would get from a large, dedicated subwoofer, no matter how loud I cranked it. TV and movie dialogue sounded clear and natural, but music vocals had a slightly muffled, veiled quality, especially with female vocals like Adele and Ellie Goulding, who both have a bit of a raspy tone to their voices. The built-in amp has 240 watts of total power, with maximum SPL of 100 dB. When pushed, the system does get harsh with some distortion. This is especially pronounced when using the Bluetooth connection—use the aux input whenever possible to avoid this. Using the Harman Display Surround definitely increases the sound stage, but it's not obnoxiously expanded, and it introduces only a slight amount of phasing.
Overall, for ease of use and simplistic setup, the JBL Cinema Base is a great solution for many home theaters. As a secondary system, it's ideal—my home theater will remain as is with floorstanding speakers and a dedicated powered subwoofer. But for other TVs in the house, this will be a no-brainer solution. Good sound, practical and small footprint, one-wire connection plus Bluetooth for my phone—the JBL Cinema Bass has it all. This is one fashion statement that I hope stays in vogue for years to come.