Hands On: Fluance AB40 Wide Angle Soundbase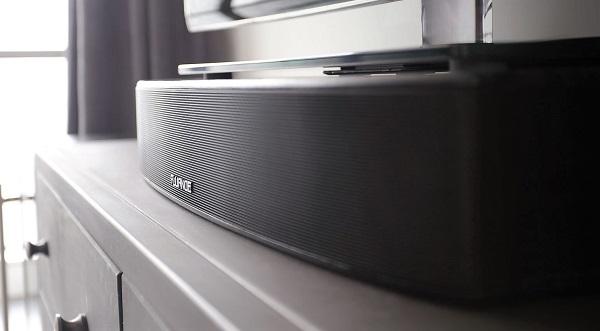 I have never been a fan of soundbars. How can a little row of speakers replace the full-range sound of a true home-theater speaker system? It just can't. However, soundbars heavy-set cousin, the soundbase, provides an interesting middle ground. I was skeptical of the Fluance AB40 Wide Angle soundbase when it first showed up, but after spending some time getting to know it, my opinion has changed—dramatically.
The Fluance AB40 soundbase (MSRP $250) is a large, hefty unit—it weighs 24 pounds. It isn't designed to sit in front of a tv—the tv is meant to sit on top of it. Supporting up to 150 lbs, it can hold a huge TV, as long as the base of the TV fits securely on top. The top surface of the AB40 measures 26 inches wide and 14 inches deep, and you'll want to allow a slight margin so your TV doesn't risk toppling over or sliding off the side. The AB40 is 3.9 inches tall, so it might be too tall to slip under the bottom of a TV set with edge-mounted feet. It fit nicely under my 55-inch Vizio.
The AB40 has AptX Bluetooth, an optical input, and a 3.5mm AUX input, all located on the rear in a recessed cubby. It does not have an HDMI input, or processing for Dolby—I had to switch the digital output of my TiVo to PCM. The whole cabinet is encased with a black ash wood finish except for the front metal speaker grills. A single LED supplies all the feedback for the unit, flashing once or twice to indicate different EQ and surround modes, and changing color for different inputs: blue for Bluetooth, green for AUX, and white for the optical input. There are capacitive touch controls on the top surface of the unit, but there is also a remote for more convenient control.
My problem with soundbars has always been how they sound. Typically fitted with small speakers and lacking a subwoofer, how could they possibly replace a home theater system? The Fluance AB40 quickly changed my tune. There are four 3-inch speakers and two 1-inch silk dome tweeters. There is a Class D 90-watt amplifier. Alas, there isn't a subwoofer output. However, there is a bass boost that provides an impressive amount of low-end information, using psychoacoustics instead of a true sub. Is it the same as a dedicated subwoofer? Not even close, but it is an elegant solution for homes and apartments that aren't suitable for a sub.
The Fluance AB40 has two of the speakers angled out at 35-degrees to provide a very wide stereo image. There is also a surprisingly immersive 3D mode. It's not surround sound, but in a small room with the listening position rather close to the speaker, it does provide a very convincing 180-degree sound field. To be most effective, I had to get a bit closer to the speaker than was optimal for viewing my TV, but the 3D effect was worth it.
The AB40 has a two EQ modes. The standard EQ was excellent for watching regular TV dramas and most music playback. Music was clean and lush, dialogue was crisp and clear. The bass boost EQ definitely improved the low-end response for action movies and music tracks with a big dance beat. It's not overpowering, and I felt I could watch a movie with the boost engaged without worrying about keeping the rest of the house awake at night. Some movie dialogue gets a touch muddy with the bass boost engaged, so I would recommend reserving the boost just for action movies with a lot of big sound effects. This is really only on deep male voices - female actresses sounded fine with or without the bass boost.
The Fluance AB40 won't replace a dedicated 5.1 (or higher) speaker system. However, it is a vast improvement over the speakers built into any TV out there. At $250, it is a must-have for anyone contemplating adding a TV where there isn't room or budget for a full system. How good does it sound? At one point, I got up and checked to make sure I hadn't accidently left my receiver and tower speakers on. That's about as good as it's going to get.