Halloween Kills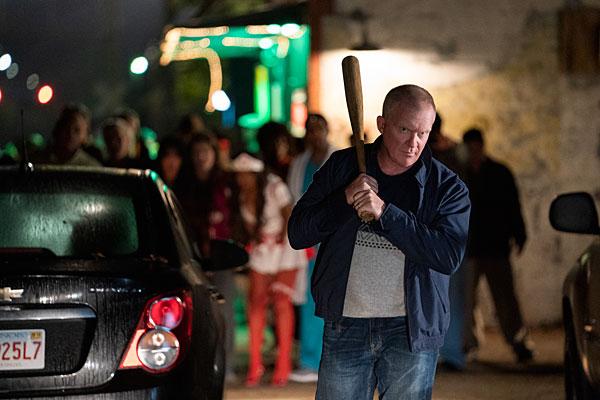 Halloween
franchise, picks up immediately following the events in the 2018 reboot of the original film of the same name. These latest entries were directed by David Gordon Green with a third installment,
Halloween Ends
, also to be directed by Green, planned for release later in 2022. Several of the original cast members reprise their roles, including Jamie Lee Curtis as Laurie Strode, and Nick Castle in a cameo as the psychotic killer, Michael Myers. Also joining for the new films is Judy Greer as Karen, Laurie's daughter. Considering that
Halloween Kills
is a fairly conventional slasher flick, the production values and acting are quite good, though the plot does become a bit tedious by the end.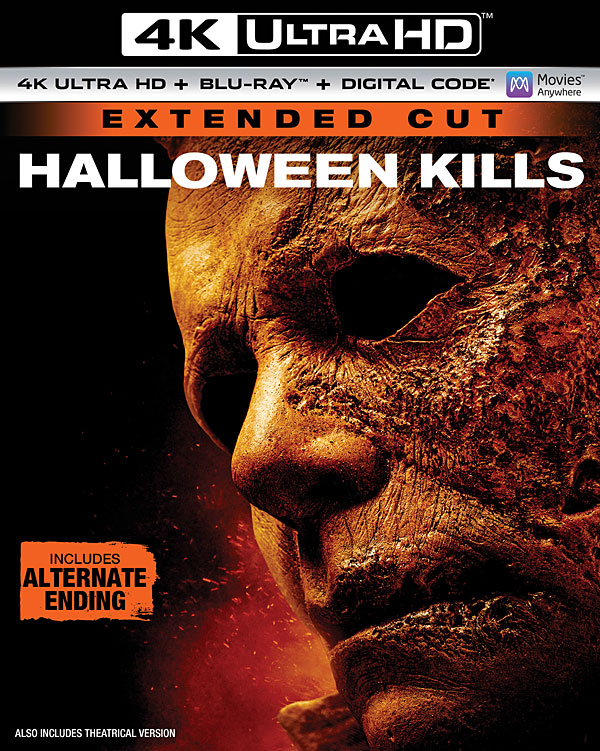 All scenes take place during one evening as Michael again stalks the people of Haddonfield, Illinois. Most shots, including interiors, are dimly lit, although the Dolby Vision HDR presentation does a good job bringing out highlights in the actors' faces and details in foreground objects. Many scenes are bathed in an eerie blue-green light that gives the film a stylized look, but it suits the surreal antagonist, the unstoppable and unkillable Michael Myers. A regular HD version of the film is provided on a standard Blu-ray disc and while it looks quite good, the 4K Ultra HD version is clearly superior. For example, some of the blue-green hue is lost in regular HD, making the cinematography look more conventional. Also, the lighting looks very high contrast, with less gradients to the shadows that are present in nearly every scene.
For a horror film with high production values, I was a bit surprised that Halloween Kills didn't make much use of surround and height channels for music and sound effects to increase suspense. But when those channels are used, they sound very good. For instance, at around the 7:30 mark, spooky sound effects and echoing voices fill the sound field and are followed by well-recorded and atmospheric piano about a minute later. To be fair, there is a near-constant ambient sound presence, but the effect is subtle and not as dynamic as I would have liked.
The film's extended cut has an additional four minutes of footage including a slightly altered ending. Atmos is available on both the standard and Ultra HD versions of the film, and a download code is provided. The same extras are on both discs: a gag reel, three deleted and extended scenes, five featurettes, a mash-up of all the killings titled "Kill Count," and an audio commentary track with David Gordon Green, Jamie Lee Curtis, and Judy Greer.
ULTRA HD BLU-RAY
STUDIO: Universal, 2021
ASPECT RATIO: 2.39
HDR FORMAT: Dolby Vision, HDR10
AUDIO FORMAT: Dolby Atmos with TrueHD 7.1 core
LENGTH: 105/109 mins. (Theatrical/Extended Cut)
DIRECTOR: David Gordon Green
STARRING: Jamie Lee Curtis, Judy Greer, Andi Matichak, Will Patton, Thomas Mann, Anthony Michael Hall
Halloween Kills, the twelfth film in the