Groundhog Day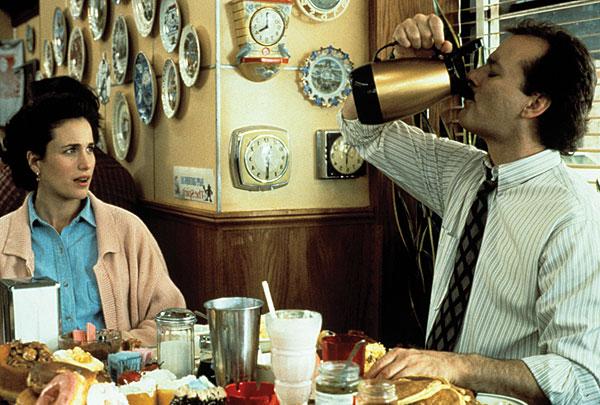 Bill Murray has had quite a career, and Groundhog Day was the vehicle that showed he was more than just a funnyman. The script from Harold Ramis and Danny Rubin plays perfectly with Murray's personality. Connors goes through several metamorphoses throughout the movie: sarcastic and pompous in the first act, scared and desperate in the second, and hero in the third. Reliving the same day presumably thousands of times would definitely give a person time to reflect on their life and improve themselves, and that's exactly what happens here. This is more than your average comedy.
I have to hand it to Sony on its UHD releases—they deliver a best-in-class experience. In lieu of taking an old 2K scan and upconverting it, the studio went through the process of taking the original 35mm elements and minting a terrific 4K scan of the comedy classic. Some may not like the grainy appearance if they're used to today's digital productions, but for us old fogies, this is how the movies looked when we were growing up. Colors are a tad laid-back given the settings, but there are a few scenes where the HDR comes into play.
Shockingly, Sony provides a Dolby Atmos track as well, which is surprising given the genre. Regardless, it's a welcome addition and sounds fantastic. Dialogue is crystal clear, there's plenty of openness in the exterior shots, and there's even an explosion that has some good LFE punch. The studio didn't skimp on any aspect of this release.
All of the supplements are housed on the bundled Blu-ray and include an audio commentary with director Ramis, an interview with the late director, two featurettes, a PiP track (remember those), and some deleted scenes. There's also a UV Digital Copy to redeem with your favorite streaming service.
Blu-Ray
Studio: Sony, 1993
Aspect Ratio: 1.85:1
Audio Format: Dolby Atmos
Length: 101 mins.
MPAA Rating: PG
Director: Harold Ramis
Starring: Bill Murray, Andie MacDowell, Chris Elliott
Phil Connors, a TV weatherman from Pittsburgh, is dispatched to Punxsutawney, Pennsylvania, to cover the annual Groundhog Day festivities where he's teamed up with a young and annoyingly cheerful producer and a smart-aleck cameraman. With impending offers from other stations, Connors has short-timer's disease and isn't what you'd call a pleasant guy to be around. In fact, he's a first-rate pain in the rear whom his coworkers want to spend as little time with as possible. After a surprise blizzard traps the team in the small town, things go from bad to worse; Phil wakes up the next morning to find it's Groundhog Day all over again…and again…and again.