Gregg Allman (1947-2017): A Personal Remembrance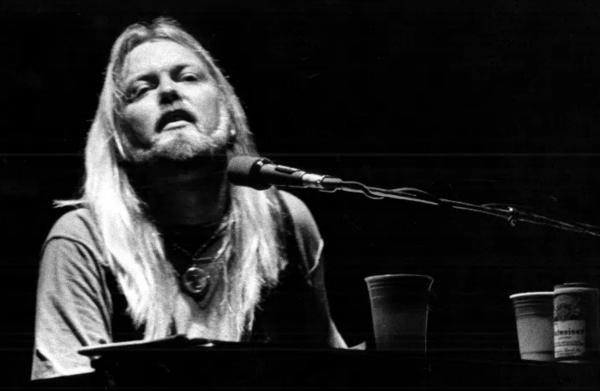 Founding member of the Allman Brothers Band with his brother Duane, Gregg was a legend in the music industry. His career spanned decades, starting in the late 60's and continuing throughout the years. His songs ranged from the raucous "Whipping Post" to the incredibly soulful and melodic "Melissa," with album titles as familiar as the songs themselves.
Eat a Peach
and
At Fillmore East
are staples in every rock album collection.
Although it was many years ago, I still cherish the time I worked with Gregg in the studio.
In 1986, Gregg went to Criteria Studios in Miami, Florida with the Gregg Allman Band to record I'm No Angel, his first solo album since 1977. By then, I had been working at Criteria for three years and was thrilled when the studio offered me the position of assistant recording engineer on the album. I had spent the previous year working with Tom Dowd, who had produced and engineered Fillmore and he had recommended me for the job.
Rodney Mills was the producer and engineer for I'm No Angel. Having produced bands such as Lynyrd Skynyrd and the Atlanta Rhythm Section, he was no stranger to Southern Rock. However, he was new to the band, and new to the studio. He walked into Criteria's Studio E, looked at the massive SSL console, turned to me, and said, "Well, young lady, I sure hope you know what all those knobs do, because I sure don't." I was thrilled because that meant I got to do a lot of the hands-on engineering while Rodney did his magic as producer. The band took little time to warm up to Rodney, and they welcomed me into their circle quickly, and pretty soon, we were all working together like family.
The amount of talent in that group was staggering. Some recording sessions are struggles—tediously doing take after take to get something, anything acceptable on tape. This session was different. Every solo played by the band members was better than the last. The Toler Brothers, Chaz Trippy, Tim Heding (who rented my Yamaha DX7 keyboard for the album) and Bruce Waibel were all great musicians on their own, and together, the band was on fire. The struggle was picking out what was the best material. In fact, a few of the songs were left over and immediately used for the follow-up album, Just Before the Bullets Fly. My friend Ed Calle was brought in to play sax on some of the tracks, and I recommended another friend, Eric F. White to do the horn arrangements on the tracks. Even Don Johnson spent a few days with us recording a duet with Gregg—it was in the heyday of Miami Vice.
Gregg's struggle with substance abuse was already common knowledge back then, and those demons followed him into the studio. We usually worked from noon until late—typically 3 or 4 am. When we were working on vocals, Gregg would drink quite a bit—his voice would get that wonderful growl; the more he drank, the more sultry his voice became, but obviously, the clarity of the lyrics was getting lost. He would regularly call me in the mornings after these late-night vocal sessions to ask if he had recorded any "keeper" takes. "Hey, did I do anything good last night?" He couldn't remember the session from the night before. I would always encourage him by saying that we got some magic on tape, but we'll have to work on it some more that evening. "Get some rest, Gregg, I'll see you tonight."
The drinking kept getting worse. We had most of the instrument tracks down and just had to finish the vocals and some solos when the record company insisted that we stop the session; Gregg went to rehab for a few weeks.
Gregg came back to Criteria looking incredible—rested and relaxed. He was sober, but was still smoking some pot to take the edge off. We were able to wrap up the album in just a few weeks, with Gregg focused and working hard, producing some amazing music. His energy on the Hammond B-3 solos was exhilarating, and watching him perform hour after hour, day after day, was a highlight of my career.
The Gregg Allman Band returned to Criteria shortly after to record Just Before the Bullets Fly with Rodney Mills again as producer. By then, however, I had left Criteria and moved to Atlanta to begin my career as a recording engineer in post-production for TV. I lost touch with Gregg and the rest of the band, but considered them all friends. As any recording engineer will tell you, working together in such tight confines for months and months creates a unique relationship. I truly regret not staying in touch with him and now it's too late. Get some rest, Gregg.