Google Chromecast Streaming Media Player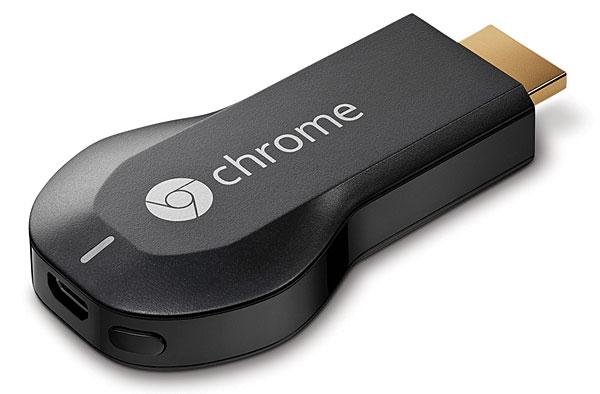 PRICE
$35
AT A GLANCE
Plus
Streams full-screen videos from Netflix and YouTube
Mirrors Websites
Control videos from computer or mobile device
Minus
Must go to Chromecast Website to learn when new apps become compatible
No central control panel or app
Clumsy to pause video streaming from a phone when a call comes in
THE VERDICT
For $35 and a little practice, this is the best streaming solution available to date.
The Google Chromecast was an instant hit when it came on the tech scene, selling out before its release date last August. At $35, it's the least expensive way to stream movies and music to your TV and view photos from online. Unique in its approach to streaming media, the Chromecast dongle can stream from a Chrome Web browser (PC or Mac) and from certain apps on iPhones, iPads, and Android phones and tablets.
The Chromecast is a small, 3-inch-long dongle that connects directly into an HDMI port on your TV. Included with the device is an HDMI extension cable that is also about 3 inches long. The cable is not only handy to fit into an HDMI port where the dongle might otherwise block a nearby port; it also houses a Wi-Fi amplifier to help lock onto the best signal from your home router. Some users connect the Chromecast directly to an A/V receiver to stream music without going through the TV.
Because the Chromecast has no remote control, it initially creates a direct connection so you can set it up via computer or use the Chromecast app for Android or iPhone/iPad. To set it up on your computer, you must use the Google Chrome Web browser, a free download from Google. You'll also need to download and install the Chromecast extension (an add-on for the browser). Once it's installed, you'll find the Google Cast icon (a square icon with Wi-Fi semicircles) on Web pages you visit; click on it, and the Chromecast will mirror the page on your TV.
The Chromecast doesn't actually stream from a computer or device. Instead, it receives the URL (Web address) of the video itself (from YouTube or Netflix) or of the Web page that's open in Chrome on a computer. It uses Discovery and Launch protocol (DIAL), which allows you to find a video on a device and control it (from the originating device) while it plays on the second screen. With DIAL, once the video starts playing on the Chromecast, you can go about your business on the device that called it up—reading e-mail, calling a friend to talk about the movie you're watching, or otherwise using your phone or tablet. As long as you haven't opted to view a video in full-screen mode, you can likewise use other programs on your computer while you watch a video that's playing on the Chromecast from a Web browser.
Not only can you navigate away from the video app on a mobile phone; another smartphone connected to your home network can take over control of playback on the Chromecast. Or you can stop watching the movie on the Chromecast and continue watching on any smartphone or tablet, whether or not it was the one that originated playback. The switching is nearly instantaneous. I tested this while watching Titanic on Netflix. I started by sending the movie from the Netflix app on my Samsung Galaxy 4S to the Chromecast connected to my TV. I picked up my iPhone, opened Netflix, and paused the movie at the dinner scene. Next, I opened Netflix on my iPad, chose to play on my iPad instead of the Chromecast, and the movie did exactly as I had instructed, continuing from the dinner scene where I had paused it.
Content
In the months since the Chromecast was released, more apps have been added to the initial offering of Netflix, YouTube, and the Google Play Movies and Music apps. Pandora, Songza, RedBull TV, (Washington) PostTV, and Viki (a foreign video streaming site) were added at the end of the year. Google TV holdouts HBO Go and Hulu Plus can also be streamed from apps to Chromecast. The Plex app streams photos, music, and movies from media libraries on your home network. In February, Chromecast was opened to developers. Many companies have said they will be creating an app to work with Chromecast, including the PlayOn media server. If you can't find what you want from the compatible apps, you can use the Chrome Web browser to bring an unlimited array of content from any Website.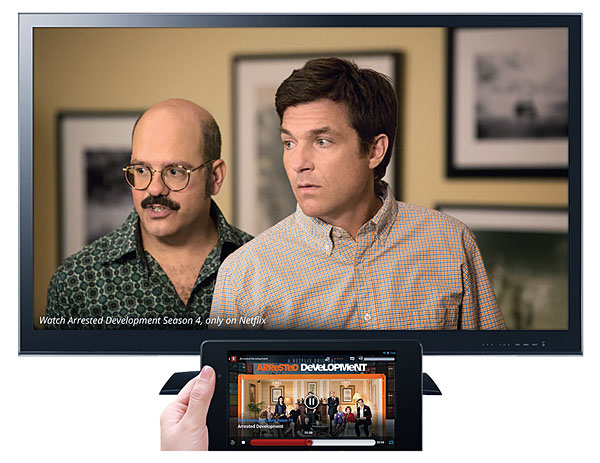 Critically, while Google TV devices are restricted from streaming a number of network TV Websites to their built-in Web browser, Chromecast does not suffer this problem. With the Chromecast, all networks and other typically blocked content will play. I tested streaming videos from NBC, other network Websites, and more, and Chromecast played the videos from every one of them.
Performance
Videos play in full 1080p high definition with surround sound. My Vudu go-to test movie, now Men in Black III, was clear in both picture and sound as the Vudu Website now supports HDX 1080p movies with digital surround sound. Videos streamed smoothly without buffering or stalling.
Still photos viewed through Chromecast are stunning, but Web page text is a bit jagged, to the point where I wouldn't want to read large amounts of text. There's also a short latency issue where you might notice that the video playing on a computer screen is a nanosecond ahead of the video on the Chromecast. But unless you're trying to play an online game (which is not the purpose of the Chromecast), there shouldn't be a problem.
Like its Google TV cousin, most files that can play in a Chrome browser page can stream to the Chromecast, but it can't play DTS sound. In fact, MKV files with DTS sound won't play at all on the Chromecast.
Final Thoughts
If I had to have a complaint about the Chromecast, it would be that in order to watch videos streamed from a computer, you have to sit near the computer to control playback. But you can use a Bluetooth mouse communicating with the computer to circumvent that problem. Beyond this, occasional Websites accessed via your computer's Chrome browser will not be compatible and won't appear on the Chromecast. Otherwise, it's a very reliable device, a bargain for streaming video to your TV, and a great solution for anyone who doesn't own a streaming player. Even more, it is a great addition if you have a Smart TV or other media player (particularly a Google TV that has many sources blocked). The bottom line is that the Chromecast is a must-have addition to your home theater.