Goldilocks and the Three Chairs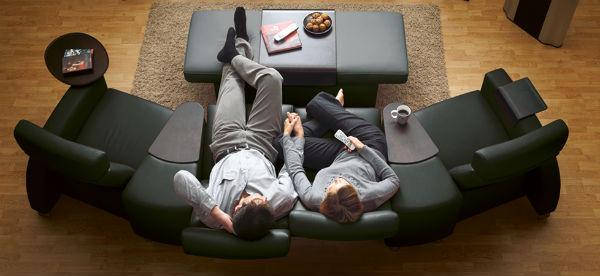 Life is good. Having just moved into a house with a room for a dedicated home theater, it was time to get set up. More to the point, time for shopping. Usually, the last thing I want to do is to buy furniture, but the search for the perfect chairs for my home theater became my quest. Seeking perfection, I pored over furniture catalogs, websites and scoured any furniture in my path. A woman's home theater is her castle, right? I already had furnished my girl-cave, I mean home office, and the A/V room, although last on the decorating list, was in my mind, the most crucial.
I never really cared what types of chairs went in the theater until I thought about how the chairs need to perform. Obviously, they needed to be comfortable. Very comfortable. However, the longer I looked, the more subtle things became apparent. Back support was essential, and good neck support turned out to be important too. And, of course, the chairs should look cool. But there was more too.
I started my search at your typical furniture store. Ugh. Most of the retailers had such generic (read: ugly) furniture that while comfortable, were just too Lazy-boy-ish. I wanted my theater to look cool, not like a rec room from the 70's. Other chairs were just too stuffy—too much like my grandmother's sitting room. No offense, Grandma.
I looked at Ikea too. Cool, hip, and well, cheap. Sadly, also cheaply made. This is my forever-house, and I wanted to furnished it with good quality materials. Thanks Ikea—bought some Swedish meatballs and grabbed a few cinnamon rolls for the road before bolting.
On the opposite side of the spectrum, I found some amazingly retro chairs at Restoration Hardware. The "Copenhagen" chair is a beautiful copy of classic chairs designed for a hotel in Denmark. However, the big rounded cocoon backs created a parabolic reflector that completely messed up stereo imaging. Great chairs for my girl-cave, lousy chairs for my home theater.
Then the strangest thing happened. On my way to get take-out at my new local Chinese restaurant, I saw a sign on a small little storefront furniture store: Stressless. I've never heard of this brand, but who doesn't want a Stressless chair? I certainly don't want a Stressful chair, that's for sure. I wandered in and took a seat.
The clouds parted, angels sang, and I found Nirvana. I had discovered the perfect chair for my home theater. Stressless, by Ekornes, based in Norway, was just right. The furniture is built there and then shipped to North Carolina for assembly in the US. And, it turns out, Norwegians are the Albert Einsteins of chair design. Who knew? Ekornes makes their Stressless recliners, desk chairs and sofas all with the same basic framework. The basic construction is a steel frame with rows of springs stretched from side-to-side. The entire frame is then encased in high-density foam, then a thinner foam cushion, and finally your choice of fabrics or leather. (Of course, mine was going to be black leather.)
The beauty of the system, however, isn't revealed until you sit on it. The chairs recline in a most delightful way. Traditional recliners typically just lean back—feet up, head back, eyes staring at the ceiling. The Stressless moves differently throughout the range of rotation. When you first lean back slightly, one row of springs moves forward to support your lower back. Then as you lean back further, the most amazing thing happens. Instead of tilting your head back, leaving you staring at the ceiling, the Stressless head rest remains upright, giving you a perfect view of the TV screen in front of you. Even if the chair wasn't amazingly comfortable (and trust me, it is), this feature alone would have convinced me to buy it. This is just brilliant. There's also a way to defeat this feature if you do want to completely recline for a nap. Not that I would know anything about that.
My dream chair avoids another problem that I've noticed with most recliners. Although this is my home theater room, it is also primarily a listening room. I found most recliners tend to encase my head (albeit in pillows of comfort) and muffle the sound. Even less cushy chairs are big and bulky and block the sound from my surround speakers. Many models in the Stressless line have adjustable headrests that can be raised or lowered for comfort, and in my case, I can lower them to prevent the sound from being altered. Specifically, I can lower the headrest so my ears are above it, yet my neck is still supported for hours and hours of movie or music magic.
How does my Stressless chair fit me so perfectly? Their chairs and recliners are available in three sizes (small, medium, and large), and most of the sofas are available in two sizes (medium and large). This allows you to make sure your head is supported properly, in addition to ensuring the width of the seat is right for you. For me, the small was too narrow (I tend to sit Indian-style with my feet up), the large was too tall, but the medium was just right. Goldilocks, eat your heart out.
The Stressless home theater seating is the same as some of the sofas, but instead of connecting two or three seats together to form a sofa, they can be configured with a wedge-shaped piece that doubles as a table and remote storage. They can all be configured in a variety of ways to produce the home theater seating of your dreams. From a single chair to double rows of stadium seating, every home theater can be accommodated.
This type of luxury doesn't come cheap. The recliners start over $2,000 and the sofa and theater configurations start around $3,000, depending on the style, and fabric or leather choices. However, for seating in your home theater, it pays to pay attention to details—details like good neck support at a good viewing angle, and ear position that isn't blocked. A great home theater with terrific gear deserves equally terrific chairs. Scrimp on wallpaper in the powder room or linens for the guest room. Your theater deserves the best.
This Goldilocks finally found her perfect chair—not too big, not too small, not too squishy, not to firm. Plus, it's ideal for listening and movie viewing. My Stressless home theater seating is just right.