Free Fire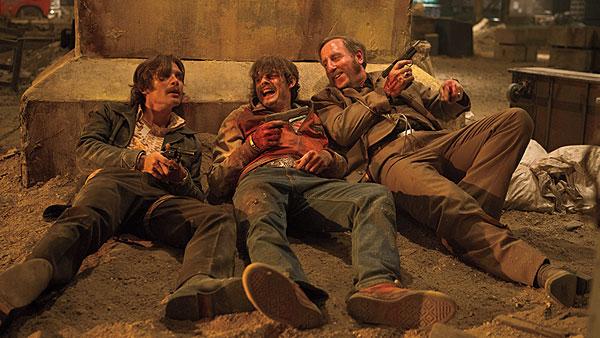 While not expressly stated, the setting is the 1970s, and gun buyers and sellers assemble in an abandoned factory on the edge of town, but some decidedly unprofessional behavior degenerates rapidly into a firefight. Kill shots are apparently quite difficult, owing to poor aim and faulty weapons, so this is going to take a while to work itself out, with taunts, alliances, schemes and a lot of hot lead. Talented filmmaker Ben Wheatley accomplishes a lot with a modest budget and ultimately delivers an engaging thriller with ample undertones of dark comedy.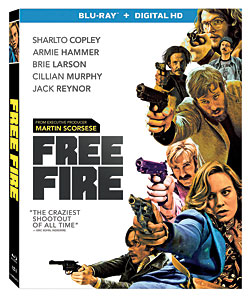 There's forgivable noise in dark and out-of-focus areas of the 2.39:1 frame, which is otherwise clean for the most part. The black levels go deep and are largely organic, although shadows could be more detailed. The warm palette is full of authentic golds and browns without crossing over into any sort of hokey faux-vintage yellow look. The glow of headlights is natural and stable, and only one shot displays an overtly stark, "video" appearance.
From the very first gunshot, the DTS-HD Master Audio soundtrack earns high marks, showcasing the requisite crack and boom that such fare demands. The boundaries of this controlled space are clearly defined, with a pleasing zip and directionality to the ricochets in particular. Each of the bullets hitting different targets (metal, cement, meat, etc.) displays a distinct quality. Some noteworthy song choices are mixed across the 5.1 channels in a fresh, charming fashion, and the use of John Denver's "Annie's Song" is as brutally original as that of any pop song since Tarantino cued up Stealers Wheel's "Stuck in the Middle with You." The rears are employed for subtle resonance but also hard surrounds including the discrete placement of voices. Center-channel dialogue is consistently strong.
To my pleasant surprise, the 16-minute making-of offers some genuine insight into the inspirations and creative intentions here—interspersed with a lot of the usual thespian gushing. It's a concise alternative for those who don't want to commit to the enjoyable audio commentary. An UltraViolet Digital Copy rounds out this modest package.
Blu-Ray
Studio: Lionsgate, 2016
Aspect Ratio: 2.39:1
Audio Format: DTS-HD Master Audio 5.1
Length: 91 mins.
MPAA Rating: R
Director: Ben Wheatley
Starring: Sharlto Copley, Armie Hammer, Brie Larson
Although Martin Scorsese is listed as one of the executive producers, Free Fire actually seems to exude more of the DNA from Reservoir Dogs. This impressively tight hour-and-a-half plays out as essentially one long scene—an arms deal gone bad—with a diverse group of tough guys (and gal) brought to life by a well-chosen international cast.