Focal Sib Evo Dolby Atmos 5.1.2 Speaker System Review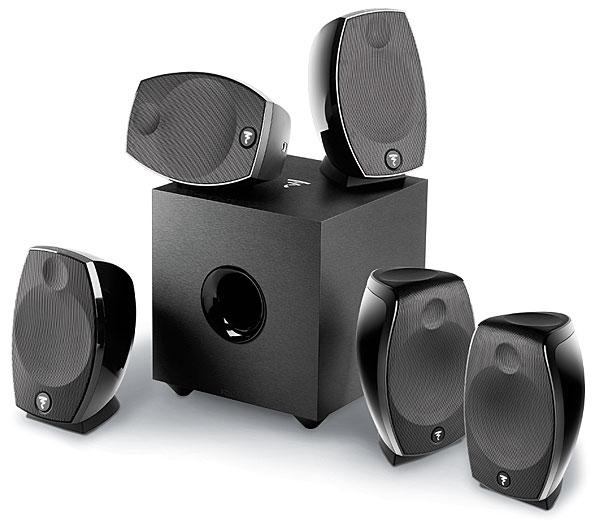 PRICE
$1,299
AT A GLANCE
Plus
Excellent sound quality
Great subwoofer/satellite integration
Plays louder, cleaner than some similarly sized systems
Atmos on board
Minus
Spring-loaded push connectors can be irritating
No prepackaged 5.1.4-channel option
THE VERDICT
A high-performing, moderately compact, one-carton speaker solution for serious home theater—with Atmos.
Focal, the French loudspeaker maker—the French loudspeaker maker (there are others, but really, name one)—is best known on these shores for the Utopia series of haute-highend ultra-towers, which, cresting at something like $185,000 for a pair, step well over what I think of as the Che Guevara line. (That's the line across which, following the revolution, anyone owning a pair can count on a very long vacation at state expense in a re-education camp.) But while Focal's top models are rightfully renowned (they are indeed fabulous), the company produces a full range of loudspeaker (and headphone) designs, from the made-in-France flagships to vastly more affordable, off-shored options like the Sib Evo series under examination here.
The Sib Evo is, unsurprisingly, an evolution of the Sib & Co subcompact satellite/subwoofer models introduced more than a decade ago by the firm from Saint-Étienne. (That's just southwest of Lyon; they thus get the very best food, the very best wine, and universal healthcare. No, life is not fair.) Conceptually, the original Sib sat was little different from a host of other made-in-Asia sats with molded-composite (plastic, to you and me) cabinets: It was a small two-way in a cleverly ported enclosure tuned to go low enough to deliver fairly satisfying bass. The Sib Evo is evolved to a slightly larger and lower-going form, and the new series adds a Dolby Enabled Speaker (DES) Atmos variant, roughly half again larger and with the up-firing driver set into its top; an up-and-down wraparound grille conceals all three drivers. The Cub Evo subwoofer—or, simply, the Cub sub (I love saying that)— is an unadorned, compact, vented, down-firing 8-incher, less than a foot cubed.
Focal markets the whole business together for $1,299: a pair of the Atmos-ized sats for front, a trio of the plain two-ways (the center-channel assignee can be rotated sideways on its integral stand, but should be used upright whenever possible for best performance), and the subwoofer, all shoehorned into a single, reasonably portable carton. (The company also offers a 5.1 boxed set of five non-Atmos sats with the same sub for $999, as well as a pair of the Atmos sats alone for $599.)
Setup and Listening
Unboxing and setting up the Focal sextet proved fairly undemanding. The worst aspect: All of the satellites employ those wretched spring-loaded push connectors, sized for 14-gauge or smaller bare wire (or pins, I suppose) and just too small for banana plugs. What's more, the connectors share a single pushbutton release for the plus and minus sides, which means that once you get, say, the "+" wire in, you have to press-release the clamping mechanism again to insert the "–" wire, risking "+" escaping if you're not careful. And the Atmos-enabled sats have two sets of these hateful things (one for the main two-way, one for the Atmos driver), with a split clamp-mechanism pushbutton, doubling the pleasure.
Fortunately, that's pretty much my only complaint with the Focal sats. They're beautifully made: not expensive, maybe, but expensive-looking, with a pristine glossblack finish and perfectly formed, perforated-steel grilles, wrapping around to the top on the Atmos sats. Each of the Atmos sats is vented on the front, below the woofer and behind the grilles, via twin ports, while the non-Atmos sat is rear-vented via a single curvaceous port cast into the cabinet's top rear.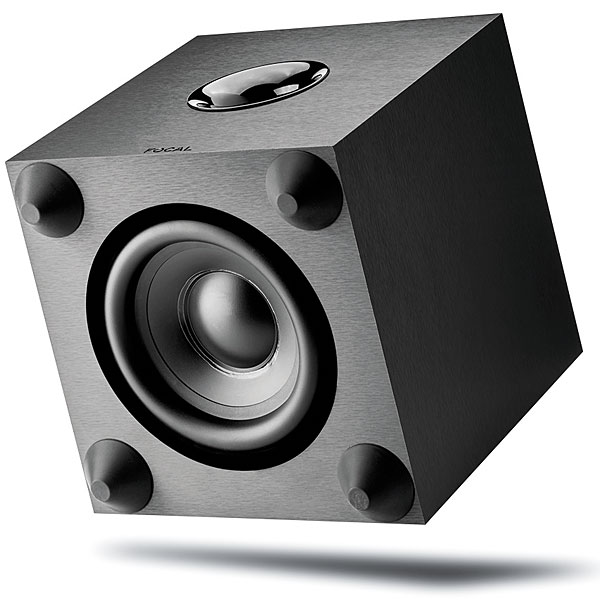 The Cub sub (I still love saying it) is a plain black cube, unrelieved by so much as heatsinks on its business face (because, Class D is efficient enough to rarely require them). The down-firing transducer is unprotected by a grille of any kind, so if your pet ferret has the run of the joint, you may want to think twice. The front (rear?) face—the one opposite the controls/input panel, in any event— is mostly taken up by a single large port, likewise unscreened. So if the ferret has a habit of going missing, see above.
The Sib Evo package proved to be that rara avis, a system that comes out of its box and more or less has been balanced for you by the designers. The only controls on the sub are a volume knob, a crossover frequency knob (irrelevant in most AVR or pre/pro systems), and phase-invert and power toggles. I placed the sub in my usual position, somewhat out from the right-front corner—and save for a tweak or two of the volume knob to around the 11:30 position, nothing more was required to achieve a nearly perfect sub/sat blend. The front left/right sats went on the solid stands flanking my 55-inch screen, and the center speaker went on a low stand in the middle. (I did not turn that speaker sideways, preferring a consistent radiating pattern, and I suggest you follow suit; reclining the center speaker saves you only some 3 inches or so of height, in any case.)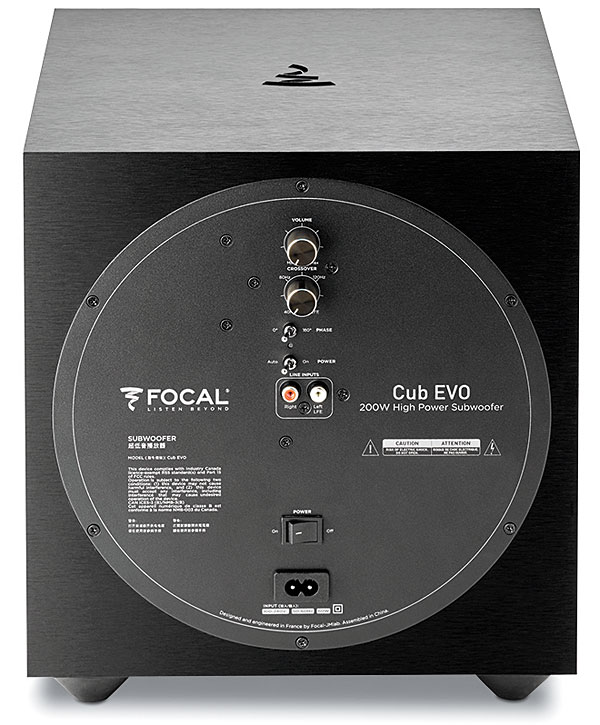 Focal includes a break-in recommendation in their mostly graphical manual, so I left the system to a week-plus of casual movie/TV/background-music chores before I settled in for serious listening. Beginning as usual with two-channel, fullrange (no sub) music, I determined fairly quickly that the Sib Evo Dolby Atmos speaker, while capable of quite respectable and modestly satisfying bass, is clearly meant to meld with the Cub Evo subwoofer. Focal specifically recommends an 80-hertz crossover (the THX default), so I started there and, as noted, got a near-perfect blend almost instantly. Bass on rich material like Jackson Browne's "The Fuse" was well integrated, full, and warm—and while not at all excessive, it had just a touch of that extra body that plagues so many smaller systems. My room has some modal bass buildup in the 50-to-100-Hz octave. So after listening intently to a few alternatives, I ultimately settled on a 70-Hz crossover, which tightened things up just that tiny but valuable degree. Still auditioning "The Fuse" in plain ol' stereo, I heard remarkable imaging and timbral distinction: The piano/Fender bass notes that open the tune were crisp yet gooey, Browne's slightly nasal baritone strongly projected front and center, and details like the snare rimshots that accentuate the chorus floated overhead.