Focal Dôme Speaker System
Price
: $2,599
At A Glance
: Unusual shapes and many choices of color • Better build quality than most sat/sub sets • Balanced performance
From People Who Do It Right
Whenever the depravity of the human race plunges me into despair, I think of Paris. Then I feel better.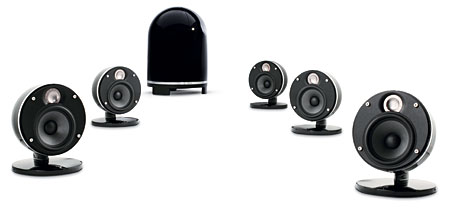 That I cannot speak to French people in their own language is one of my lasting regrets. Whenever I try to speak even a few words, I sound like I have a ping-pong ball in my mouth. I order meals in French restaurants by pointing at things on the menu and gazing up at the waiter with a plea for mercy on my face.
Nonetheless, I am a Francophile of sorts. I like the French. I feel comfortable on French soil because the people who live there organize everything brilliantly. Their high-speed trains are the world's fastest. Baron Haussmann's redesign of the streets of Paris became the template for the 19th-century reorganization of other European cities. Of course, the food and wine are superb.
I knew I was in good company when I waltzed the Focal Dôme speaker system's large carton into my listening room and began unpacking the speakers from their cartons and soft drawstring bags. The Dôme satellite and subwoofer are both French-manufactured works of art. They also happen to be excellent loudspeakers.
Grilled to Perfection
The Dôme satellite is available in Gloss Black with black grilles, Gloss White with white grilles, or Gloss Imperial Red with black grilles. Optional red, blue, or yellow grilles are available for $15 each. The sub is available in Gloss Black, White, or Red. As a down-firing design, it doesn't have a grille.
At just above 4 pounds, the Dôme earns part of its price tag with solidity. My review sample's extruded-aluminum enclosure had a beautiful Gloss Black finish that extends to its 5.75-inch pedestal. If you look very carefully at the top of the grille, you'll see a stepped seam that runs down the back of the speaker. That allows a vertical angle adjustment, so the speaker can fire either straight ahead or at an upward angle. You can wall-mount it with the supplied bracket, or it can sit on a table with a flat-panel TV, perhaps with the center speaker on a shelf below the set, firing up toward the listening position. All five sats are identical, so with proper place- ment, side-to-side panning should not suffer from discontinuity.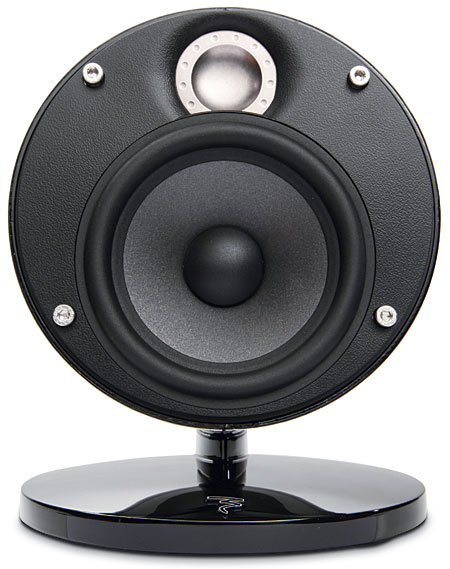 Beneath the round bayonet-mount grille are a 1-inch tweeter and a 4-inch woofer. As I learned in a white paper, Focal arrived at this driver array after it tested several other configurations.
The tweeter, which the spec sheet identifies as Al/Mg, is an alloy of 82 percent aluminum for high rigidity and 18 percent magnesium for resonance control. Both provide for low mass. Focal notes that it was difficult to manipulate the die for magnesium's low melting point. It required a patented process that's based on what the manufacturer learned from forming beryllium for some of its other speakers.
The woofer (Focal prefers the term midbass) is made of Polyglass, or paper with hollow glass spheres glued to its surface. The coating applies a trace of the inherent stiffness of glass to "combat the ever so slight overly damped characteristic of paper alone." Because the speaker sounded like it has more bass response than small satellites typically do, I used a sub crossover of 100 hertz (versus the 120 Hz typical for more bass-starved sats).
The speaker seems to be innocent of terminals until you pull the rubber plate off the bottom of the pedestal. You'll find the terminals there, which take the form of two holes where the cable tips fasten down with hex screws.
You'll find a supplied Allen wrench in the pedestal. The holes are partly obstructed by an island that you can guide the two leads around. While this will help prevent the leads from short-circuiting, it also leaves just a quarter-inch of space in front of the cable holes. Fortunately, it has space at the sides for maneuvering.