Five for Five Adrienne Maxwell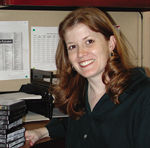 Adrienne Maxwell Says:
Epson LS47P1 47-Inch LCD HD Monitor with a Photo Printer $3,499
Pioneer HTZ-940DV HTIB with a Universal Disc Player $1,400
Total $4,899
Apartment dwellers want and deserve a good home theater system as much as anyone else, but we're forced to make some additional compromises in the process. That $5,000 price tag is likely more of a rule than a guideline for someone (like me) who's confined to apartment living. The good news is, since we're dealing with a smaller space, we don't need big mega-bucks tower speakers to fill our rooms with sound. The bad news is, cool flat-panel technologies like plasma and LCD—while perfect for our confined space—don't lend themselves to a $5,000 budget, especially if you want a high-def display.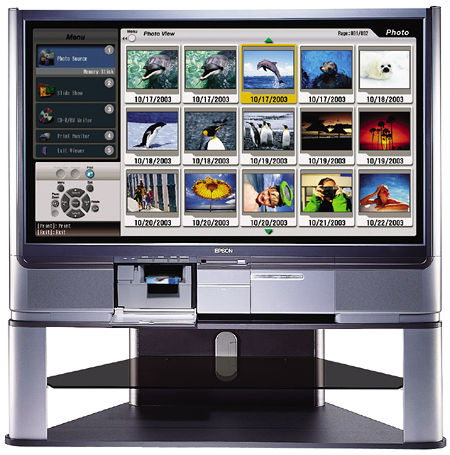 Epson's new Livingstation LS47P1 LCD rear-projection TV might just be the perfect compromise. As it also utilizes LCD technology, this 47-inch, 16:9 TV has a slimmer footprint than your average CRT rear-pro, measuring just 14.8 inches deep. It includes dual NTSC tuners for picture-on-picture action and sports an attractive silver aesthetic. Best of all, it's an HD monitor with a 1,280-by-720 resolution. It doesn't have an internal ATSC tuner, so it's not officially an HDTV; however, if you receive your HDTV signals via a cable or satellite set-top box—which is more common now that the cable companies have stepped up to the plate—you won't need the tuner. Input options include composite, component, RGB, antenna, and DVI with HDCP.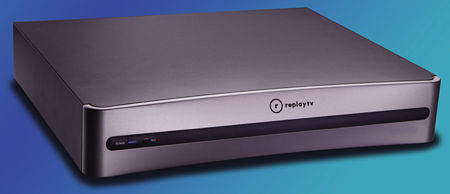 Oh, and one more thing. This TV just so happens to include a built-in photo printer and memory card slots that accept MultiMedia, CompactFlash, Memory Stick, SmartMedia, and SD cards. You can view digital photos on the 16:9 screen, print 4-by-6 pictures using the internal 300dpi printer, and store the photos on the included CD-R/-RW drive. PC? We don't need no stinkin' PC.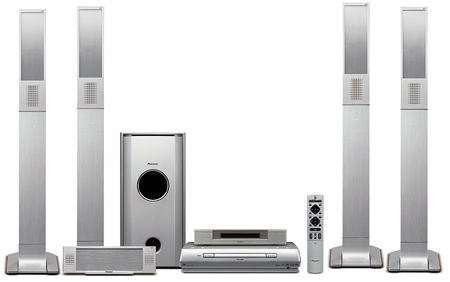 So the LS47P1 covers your video needs. What about speakers and sources? The HTIB may not be perfect, but it's getting better all the time and is the ideal choice for the space-conscious shopper who might also be new to this whole home theater thing. Consider Pioneer's new HTZ-940DV HTIB, which should be hitting the shelves this month. Talk about doing it all. This system includes five NXT flat-panel speakers (with both tower stands and wall-mounts for the satellites), a subwoofer, and a single-disc, progressive-scan DVD receiver unit that will handle just about any source you feed it: SACD, DVD-Audio, DVD-R/-RW, CD-R/-RW, videoCD, MP3, and digital photos. The player's innards are similar to those found in Pioneer's DV-563A universal player, so you should be quite happy with the performance you get.
Last year, I reviewed an NXT-based flat-panel speaker system and instantly appreciated the way such small speakers filled my room with spacious sound. Also, because of their panel design, they like to be placed close to the walls and generally aren't as placement-sensitive as many driver-based speakers. All of these characteristics are a good fit for the apartment lifestyle.
With the purchase of just two products—the $3,499 LS47P1 and the $1,400 HTZ-904DV—you get to sample many of the hottest new technologies for a cool $4,899. Should you find either product for slightly less than its MSRP (which is fairly likely), I recommend that you add an oh-so-addictive digital video recorder to the mix; the 40-gigabyte ReplayTV 5504 is only $149, plus the monthly service fee. Then you really will have covered all of the audio and video bases in a package that's not too hard on your room, your budget, or your eyes.—AM
Epson
(800) 922-8911
www.epson.com
Dealer Locator Code EPS
Pioneer Electronics
(800) PIONEER
www.pioneerelectronics.com
Dealer Locator Code PIO
Replay
(800) 933-5899
www.replaytv.com
Dealer Locator Code REP
LATEST VIDEO